Copper CRM + Dialpad
28 Jul 2023

5 Minutes to read
Copper CRM + Dialpad
Updated on 28 Jul 2023

5 Minutes to read
---
Share feedback
Thanks for sharing your feedback!
Never miss an opportunity with Dialpad's seamless integration with Copper CRM, providing high-level visibility into your pipelines.
The Dialpad Copper Integration allows you to connect with your Copper CRM to:
Let's take a look at how this integration works.
Copper API Key
To configure Copper to your Dialpad account, first, you must generate your API key from your Copper CRM Account.
Navigate to your Copper CRM Settings
Navigate to Integration
Navigate to API Keys
Click Generate API Key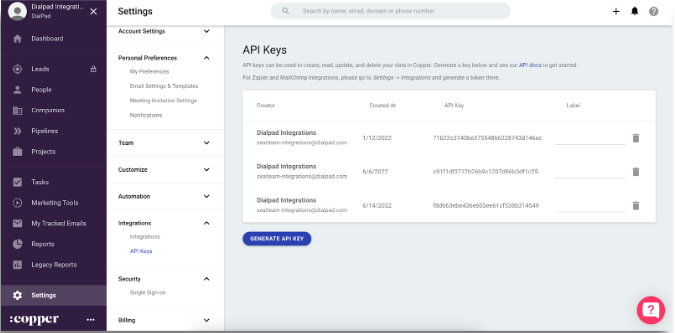 Note:
You must be a Copper Admin to generate an API key. If you want to control the API keys that Users can create, one easy solution is to temporarily make the User admin, thereby allowing them to create an API key, and then removing Admin access.
Alternatively, provide this link to the Users and replace the XXXXXX with your Company ID. By accessing this URL, Users can create an API key. Remember, you'll need to log in to access this URL and the API key will only be generated for the email id specified.
Enable Copper CRM for the Company
Copper must be enabled for the entire Company before it can be used by Offices, Departments or Contact Centers.
To do this, head to your Company Settings from Dialpad.com
Navigate to Integrations
Navigate to Copper
Select Options
Select Manage Settings
Check the box beside Enable

Navigate to Settings
Enter your Copper API
Select your Leads/People preference

Select Save
Configure Copper Call Logging for the Company
Company Admins can configure company-wide settings for this integration.
Head to your Company Settings from Dialpad.com
Navigate to Integrations
Navigate to Copper
Select Options
Select Manage Settings
Check the desired Call Logging preferences
Select Save

Configure Copper for an Individual Office
Office Admins can configure Copper CRM to inherit the company-wide settings or to use their own unique settings.
When customizing at the individual office level, settings apply to departments, Contact Centers, and groups.
Navigate to your Admin Settings at Dialpad.com
Click Admin Settings and navigate to Office Settings
Navigate to Integrations
Beside Copper, click Options
Select Manage Settings
At the top right, click Customize for this Office
Select your call logging and lead preferences

Select Save
Call Logging Preferences
Select what to call activities to log into Copper:
Calls -

When enabled, a call activity is automatically created for each call.

Recordings - When enabled, a link to the user's call recording is posted to the Copper activity.
Transcripts - When enabled, a link to the call's Ai transcript is posted to the Copper activity.
Leads and People Creation Settings
Decide which object to create in case no match is found:
You can then log the call to the newly created object.
Set up Copper as an Agent
Once Copper has been enabled for your company, it's time to configure Copper as an agent.
This configuration is a one-time setup and can be done during an active call, or when viewing a contact.
On the sidebar of your call, or when viewing your contact, scroll through the integration list until you see Copper.

Click Connect Copper CRM

Click Proceed in the pop-up window that appears


Enter your API key and email address

Select Save

Logging a Call
Calls can be logged to Copper Leads or Copper People and can be logged as a new object, or logged to an existing object.
When you receive an incoming call that has no contact match, it's time to create a new object (either a person or lead).
Click 'Create Lead'
Enter the contact name, the subject, and the call descriptions and click 'Save'
That's it, it's that easy! The lead is now created within Copper and the call is logged.
Logging a call to an existing object
When you receive a call from a known contact (via a contact search in Dialpad and Copper), all you need to do is add a subject and description – the contact details will auto-populate based on your records.
Enter the subject and description

Select Log Call
Your call will now appear in your Copper call logs (and will be listed in Dialpad, too), with links to the call summary and recordings.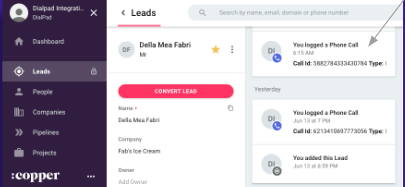 Multiple Contact Matches
In the event that you receive a call and find that you have multiple contact matches, our Copper integration allows you to select the correct one.
Click the checkbox beside the correct match

Click 'Connect'
Your call will now be logged with the correct contact.
Note:
Copper does not support 'Shared User' environments — a 'Named Copper User' is required to match each Dialpad User for any integration between platforms. Copper doesn't support a "Shared User" environment.
Call Review and History
Call details are stored not only inside Copper but also in Dialpad, giving you access to our amazing Ai features.
The following records are noted within Copper:
Call ID

Type

Number from

Duration

Link to transcript

Subject of the agent notes

Agent notes
Click the call link to instantly access the following Dialpad features:
Call Recording

Dialpad Comments

Dialpad Transcript

QA scorecards

Frequently Asked Questions (FAQs)
What does 'wrong match' do?
If there are multiple contacts with the same name or number, we list all records so that you can associate the correct Lead/ Person.
Will they be able to search People or Lead from the search bar?
Currently, we are not supporting search functionality.
Can I create an object when the call is not active?
No, the call has to be active in order to create an object.
I received app_call_event not found error!
Sometimes, even if there is a Lead created, Copper will display 0 matches found and throw an "App_call_event not found" or "unknown error" occurred. If that happens, please Contact Support.
Are SMS or Screenpop Supported?
Not at this time, but stay tuned!
What are the accepted number formats?
Dialpad stores numbers in +E. 164 format, and may fail to discover a match if Copper Leads or People are created in a different format.
Can I log missed calls as People or Leads?
Missed call logging is not supported.
Why does Copper keep showing me Log notes?
Notes taken during your call will be concatenated and saved as one log note.
If you do not wish to log the call, simply "Cancel" it.
What should I do if I find duplicates in the CRM system?
There are several scenarios where the system will create a duplicate person, company, or lead record. Easily consolidate duplicate records by merging them within Copper.
Note:
Merging multiple records is final and cannot be undone.
What happens if I did not create a Dialpad contact, but simply wanted to create an Object?
There is no requirement to create a Dialpad contact for trying to match the contact in Copper. We use the phone number to search Copper.
---
Was this article helpful?
---
What's Next