Your Dialpad Profile
24 Oct 2023

4 Minutes to read
Your Dialpad Profile
Updated on 24 Oct 2023

4 Minutes to read
---
Share feedback
Thanks for sharing your feedback!
Find your Dialpad profile in the Dialpad web portal. We've made it nice and easy to make changes to any personal settings in just a few clicks.
Quickly access a specific section in your Dialpad profile's personal setting using a bookmark — Dialpad Ai, Call Handling & Voice, Devices, Executive Assistant, For Your Safety, Scheduled Reports, and Dialpad Meetings — you'll notice that each directs to a unique URL.
Let's take a closer look at your Dialpad profile and what you'll find there.
Access your profile
Access your profile from Your Settings at Dialpad.com, or by selecting Profile from your in-app settings menu.
If you're a Google G Suite or Microsoft Office 365 user with a profile picture, you'll see it displayed in Dialpad as well. You'll also see your name, job title, and Dialpad-associated email address.
Your profile contains public information such as your name, photo, job title, and pronouns.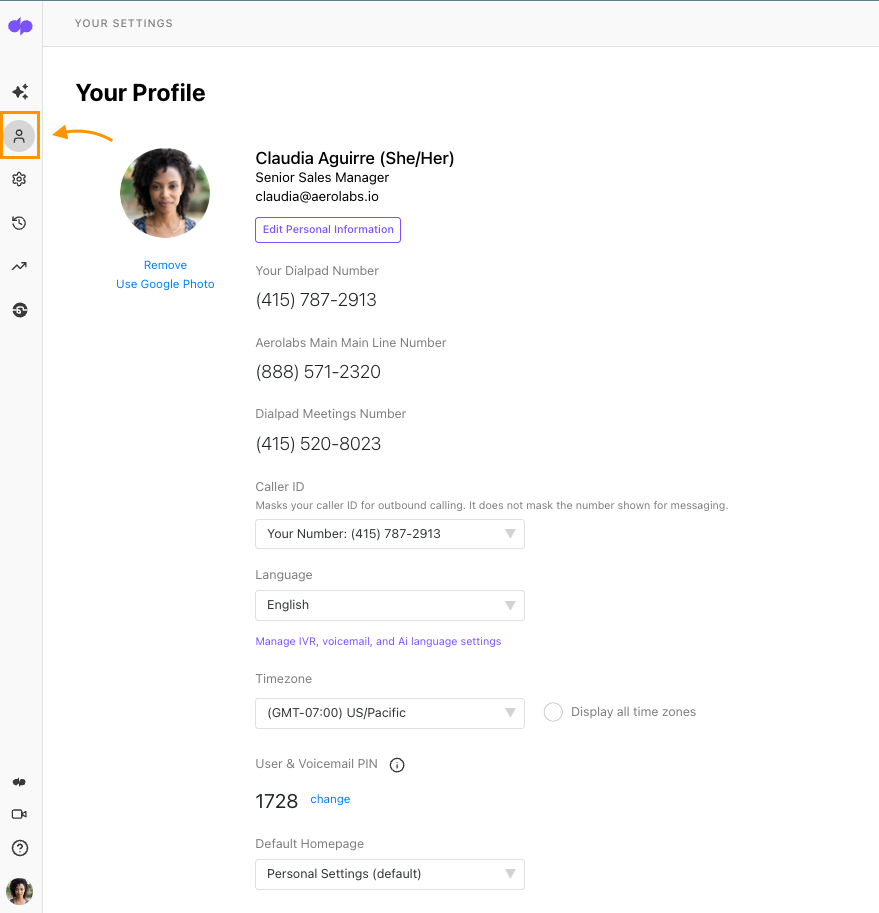 Select Edit Personal Information to manually any details.
Be sure to read this Help Center article for more information on changing your profile.
Dialpad numbers
Every user is assigned a direct Dialpad number under Your Dialpad Numbers. If your Admin has added a fax line or a Dialpad Meetings account, you'll see those numbers appear as well.
Why do I have two numbers?
When you sign up for a Dialpad account, we automatically give you a free local Main Line number which cannot be removed. This number is considered your Company's phone number that your callers can call to reach out to any operator assigned to your mainline.
The second number you receive is your direct Dialpad number, which callers would use to reach out to you directly.
Don't like the numbers you were assigned? No problem!—in fact, you'll have the option after you finish the sign-up flow to port in an existing local or toll-free number.
Caller ID
Under Caller ID, you'll discover a drop-down to change global caller ID across your devices connected to Dialpad.
It is set to your direct number by default, but you may see other options if you're also assigned as an Operator or Agent, or if your Admin chose to enable office-wide caller ID settings.
Language
Office Settings will determine a user's default language; however, it can also be changed for their own Dialpad account.
Dialpad supports the following languages:
English
German (Deutsch)
Spanish (Espanol)
French (Francais)
Italian (Italiano)
Japanese
Dutch
Portuguese
Russian
Chinese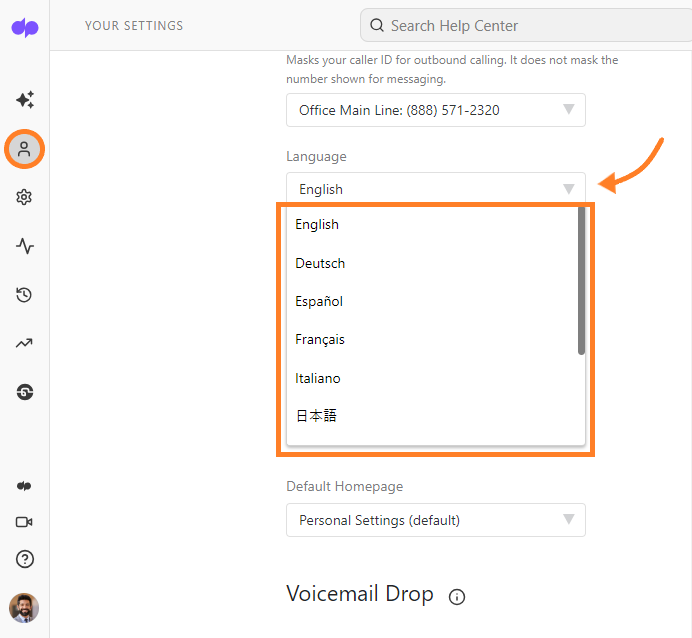 Timezone
Timezone is set to Pacific Standard Time (PST) by default, so don't forget to update your timezone if you are located in a different region.
From your profile settings, navigate to Timezone
Select the desired timezone

If you don't see your timezone listed, check 'Display all timezones' to see more options

User & voicemail PIN
Dialpad issues an auto-generated PIN; users can change it, and this PIN is needed for actions such as checking voicemails, recording a voicemail greeting, and toggling Do Not Disturb mode.
To change your PIN:
Navigate to User & Voicemail PIN
Select change
Enter your new PIN
Select save


Voicemail drop
Voicemail drop plays a pre-recorded message to a voicemail for an outbound call.
Dialpad lets you choose between the default greeting or a custom greeting set by you. If you choose a custom greeting, you can upload an MP3 file or record audio from within Dialpad.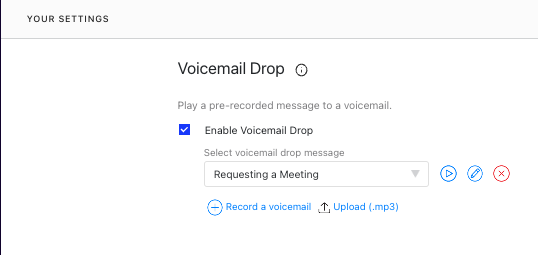 Dialpad Ai
Turn on Ai capabilities such as auto-start for calls and showing real-time transcription at the start of a call or conference.
*Ai is available for US, Canadian, Australian, and New Zealand offices only.
Call handling & voicemail
In the Call Handling & Voicemail section, adjust your voicemail settings and manage spam prevention.
You can also choose to open a conversation view automatically during a call, and enable/disable automatic call recording (if allowed by your office administrator).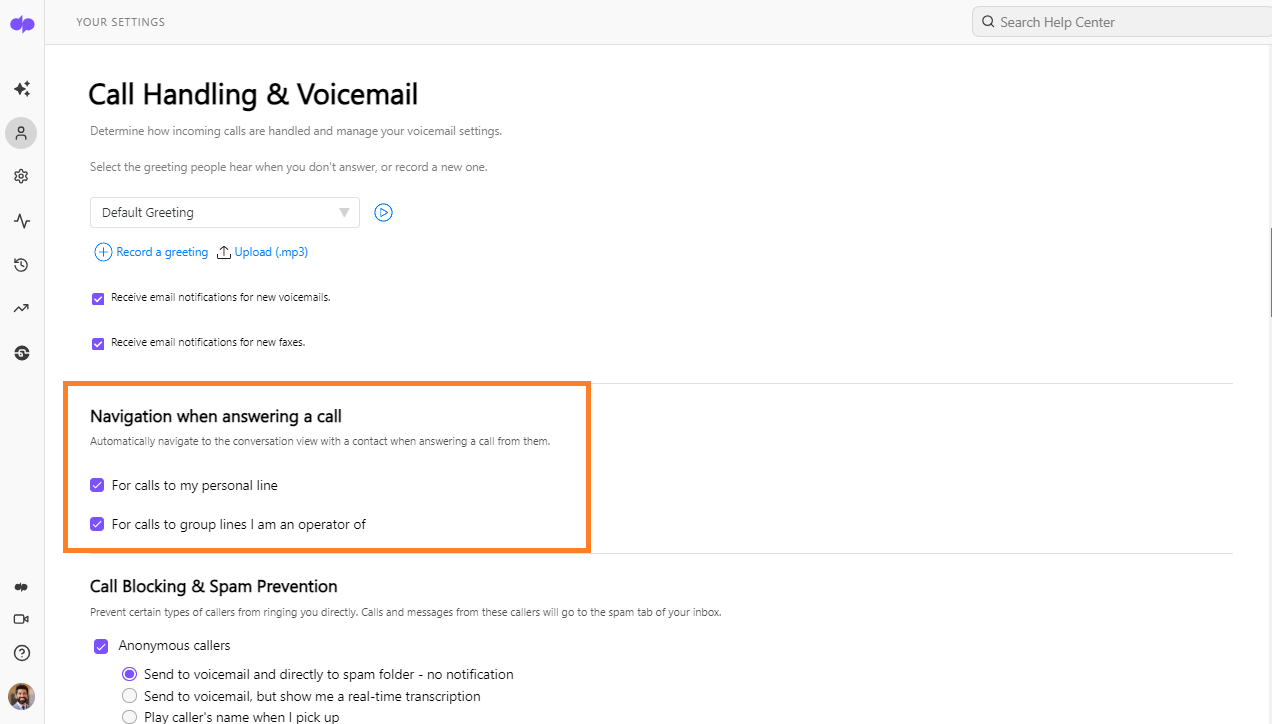 Below that you'll see the option to select Show Advanced Options.
Ring duration
The first is setting the Ring duration which allows you to set how long your devices will ring.

Call handling
Next, you'll see options that allow you to set how an incoming call is handled while you're on another call.
Call Waiting: You receive an on-screen alert, the caller hears ringing
Play Busy Signal: You won't receive an alert, the caller hears a busy signal
Go to Advanced Routing Options:

You'll see selections to send the caller directly to voicemail, a message, another team member or room phone, a Department, or an automated response menu.



Additional call handling & voicemail advanced options
The advanced options section also contains the ability to adjust the following settings:
Your devices
In this section, you'll see a list of connected devices and related information such as forwarding number (if applicable), last date connected, and if this device is set to ring.
Select Add New to add a desk phone (if your Admin already provisioned one) or forwarding number.
You can also use this section to logout from a device remotely.
Select Advanced Settings to choose the caller ID you want to see when receiving an inbound call to a forwarding number, e.g. Dialpad calls forwarded to your mobile phone.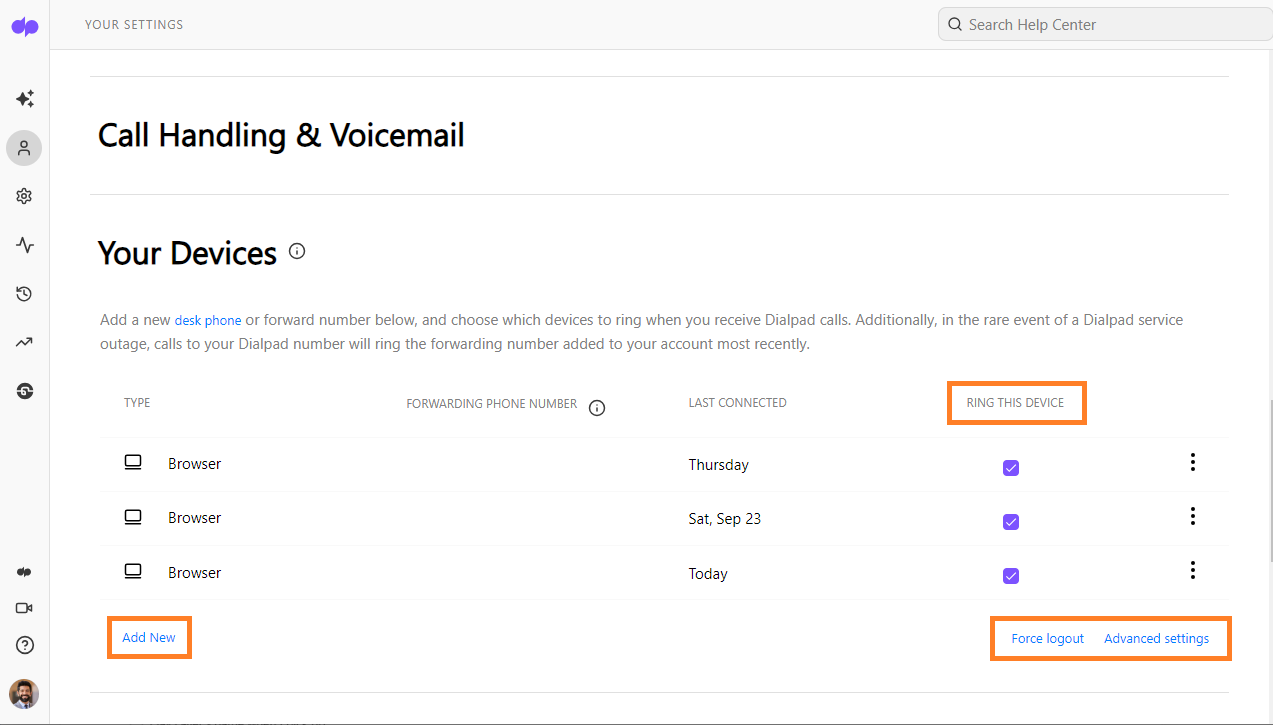 Executive Assistant
Admins normally create Executive Assistant pairings, but we also allow individual users the ability to pair up as an Executive or an Assistant.
Select + Add a new Assistant to create a new assistant pairing.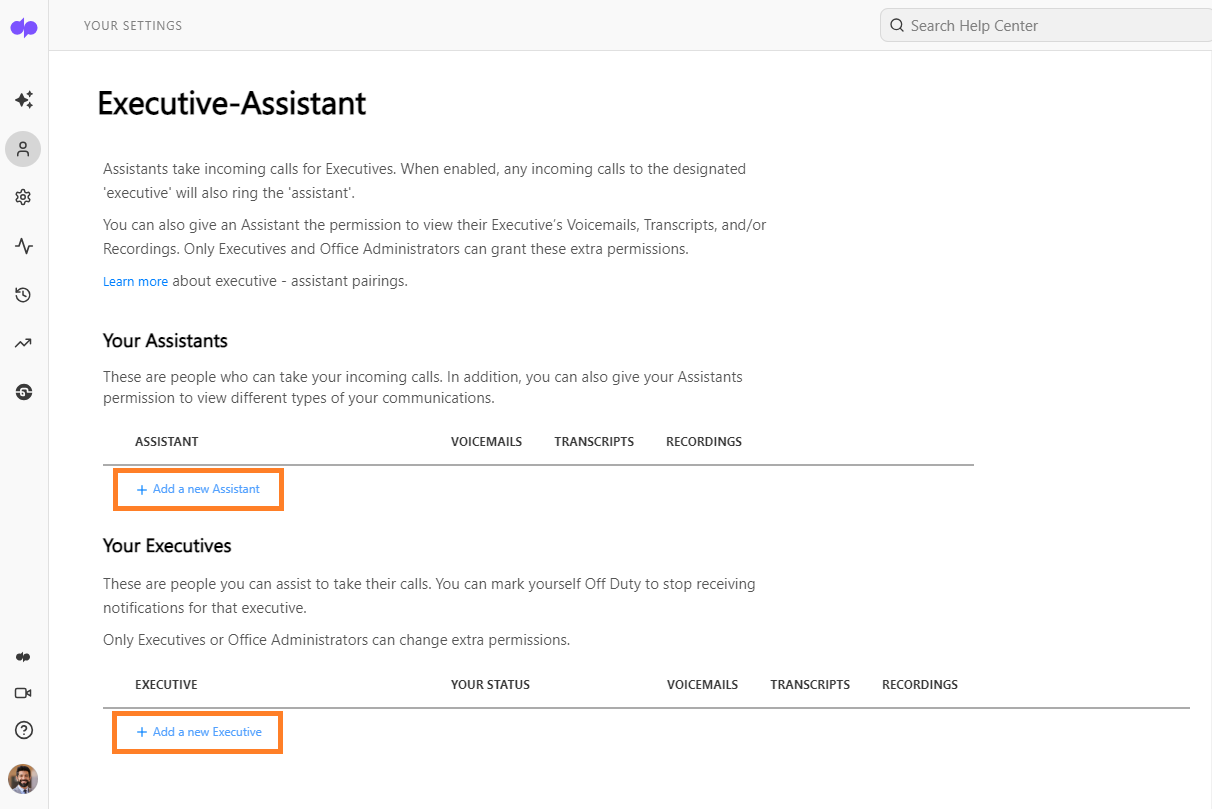 In either case, both parties will have to confirm from an emailed notification before the changes take place.
For your safety
Ensure that First Responders can locate the correct location for your office or co-working space.
You can change the physical address by selecting Edit and entering your current physical address.
Emails and alerts
In the Email and Alerts section, you can review and edit your scheduled reports and change your office notification settings.
To enable notifications for specific Contact Centers, select the desired Contact Center from the drop-down menu and check the boxes beside the topics you'd like to be notified for.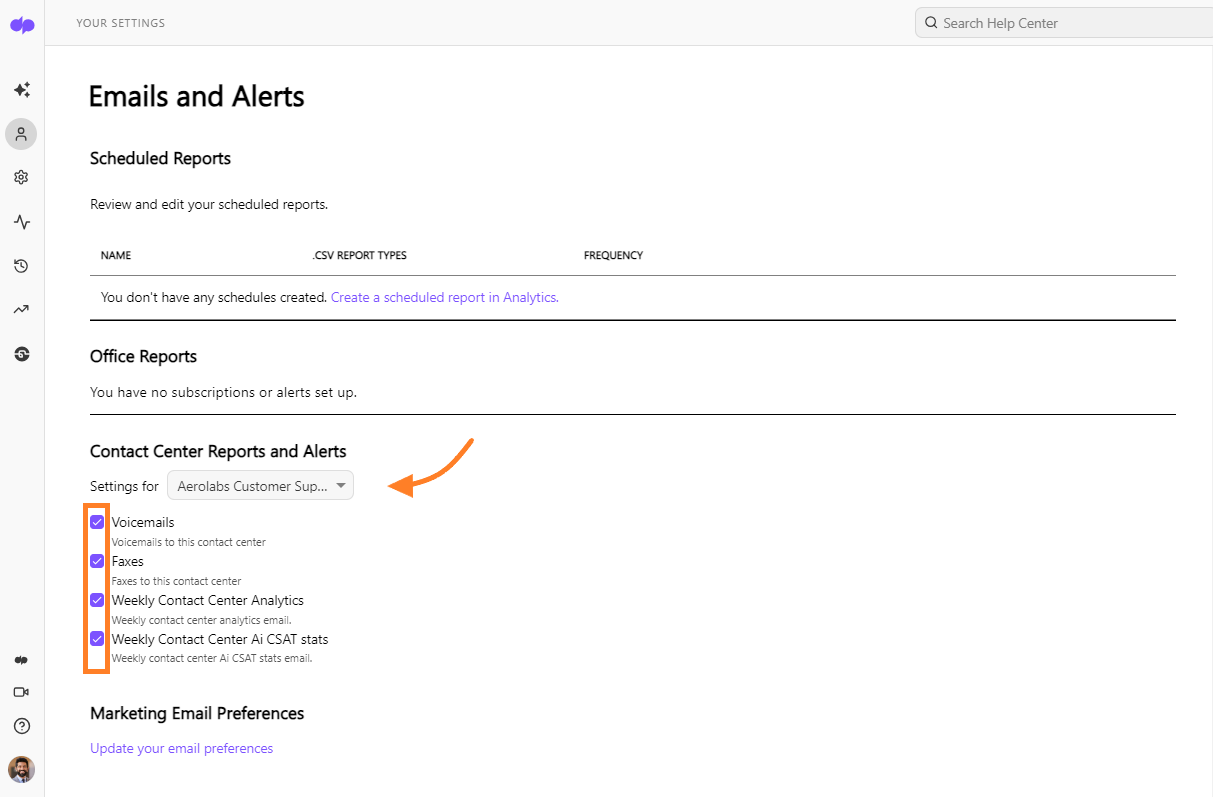 If you're the admin or operator for a Contact Center, you can also manage your notifications for that Contact Center here.
My Dialpad Meetings settings
If your Dialpad Meetings account is linked, adjust your personal Dialpad Meetings settings just as you would from within Dialpad Meetings.
Dialpad Meetings Admins can also select Dialpad Meetings Team Settings from the left-side tabs to adjust team-wide settings. It will only appear as an option if you're a Dialpad Meetings Admin.
---
Was this article helpful?
---
---
What's Next