Working as a Contact Center Agent
22 Sep 2023

5 Minutes to read
Working as a Contact Center Agent
Updated on 22 Sep 2023

5 Minutes to read
---
Share feedback
Thanks for sharing your feedback!
Agents assigned to a Contact Center are able to interact with callers in real-time, answering questions and offering assistance efficiently.
Let's take a look at working as a Contact CenterAgent in Dialpad.
Answer a call
In order to receive any calls, you'll need to adjust your availability status to Available and turn off Do Not Disturb mode.
Click the Off Duty button beside Contact Centers
Select Available
Slide the Do Not Disturb toggle to off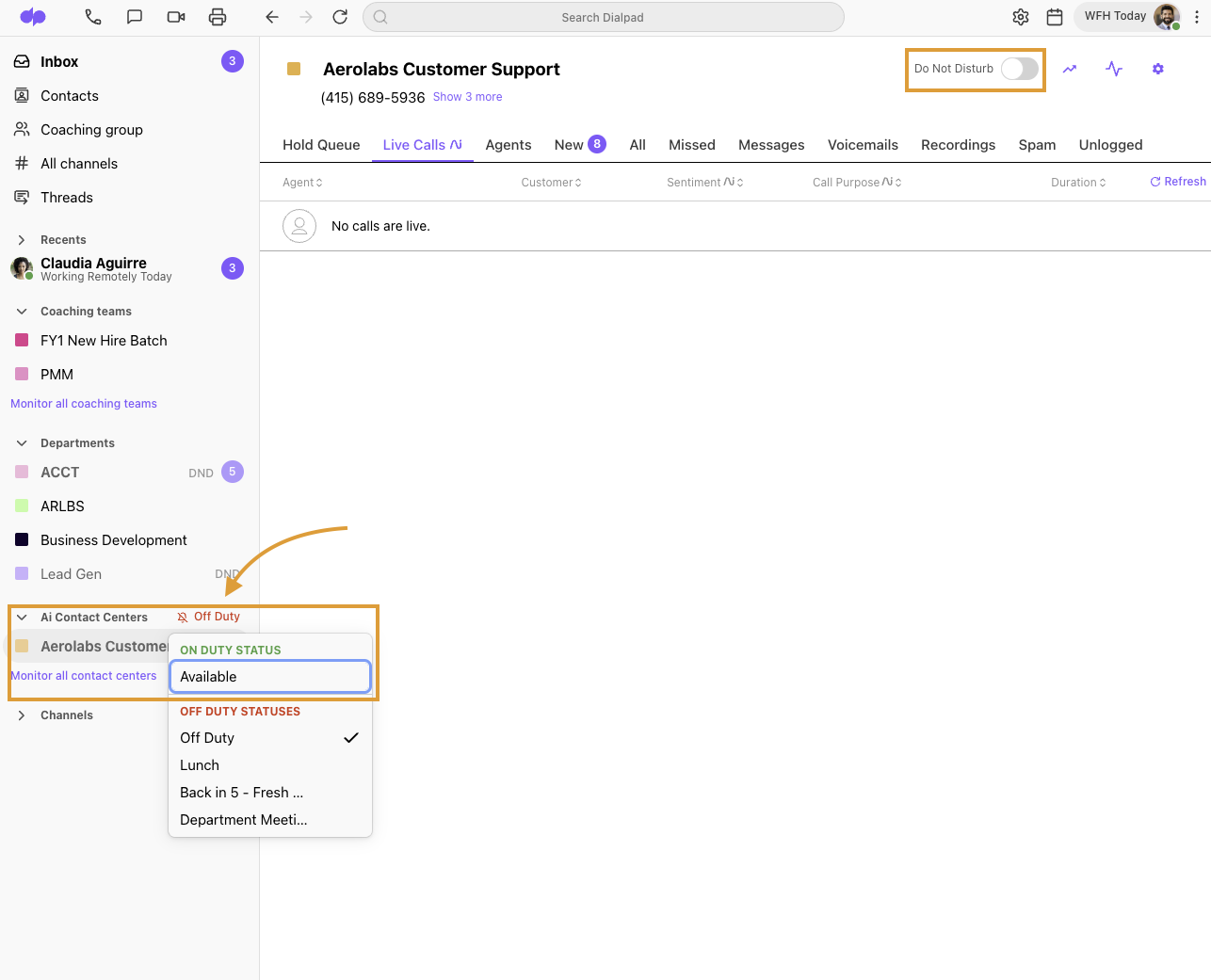 Answer a call from the Dialpad app, or by using the floating notification — simply press Answer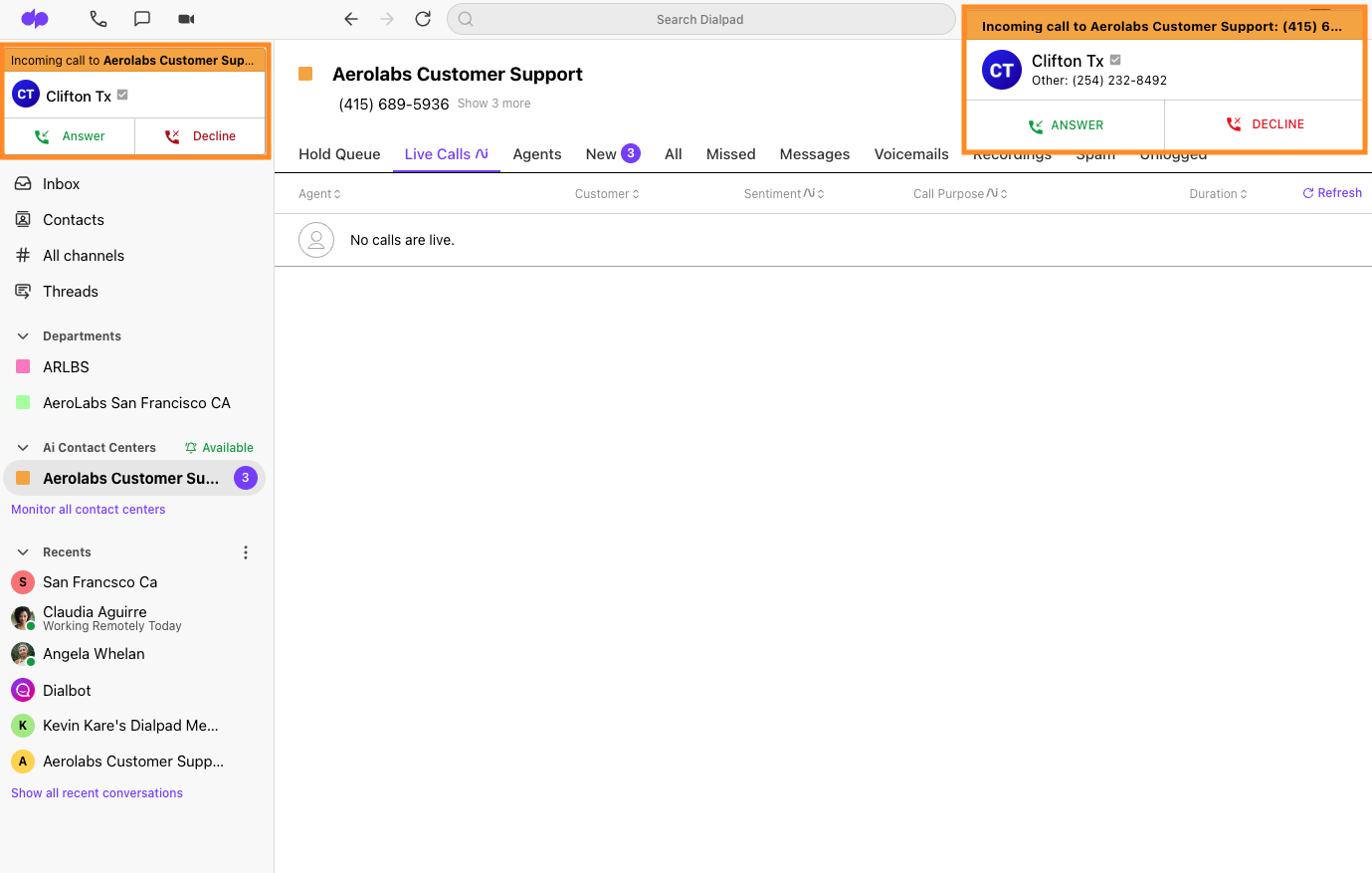 While you're being rung, and during an active call, Dialpad disables the ability to change your availability status. As soon as the call ends, you can modify your availability status again.
Contact Centers ring out to Agents based on routing rules, which are set by the Contact Center's Admin(s). If no Agent answers, the call gets moved into the hold queue or a fallback option.
Declined and missed calls
When you decline or miss a call, and Dialpad automatically sets your availability status to Off Duty.
We'll alert you via pop-up and push notification, so you can decide whether to stay in that state or return to Available. Depending on your Contact Center's settings, you may also hear an audible notification to signal that you have been placed into an off-duty state.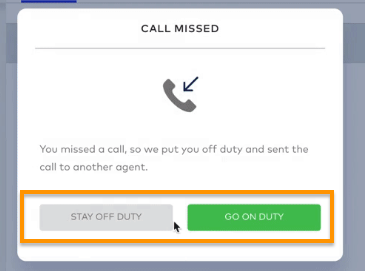 Note:
If the caller hangs up before you're able to answer the call, you will not be set to Off-Duty and the call will display in your missed call statistics.
Keep in mind that Agents cannot block a number; only Admins can block a number for a Shared Line.
Call recording
Many Contact Centers will enable automatic-call recording. If a call is being recorded, you'll see a notification at the bottom of your active call.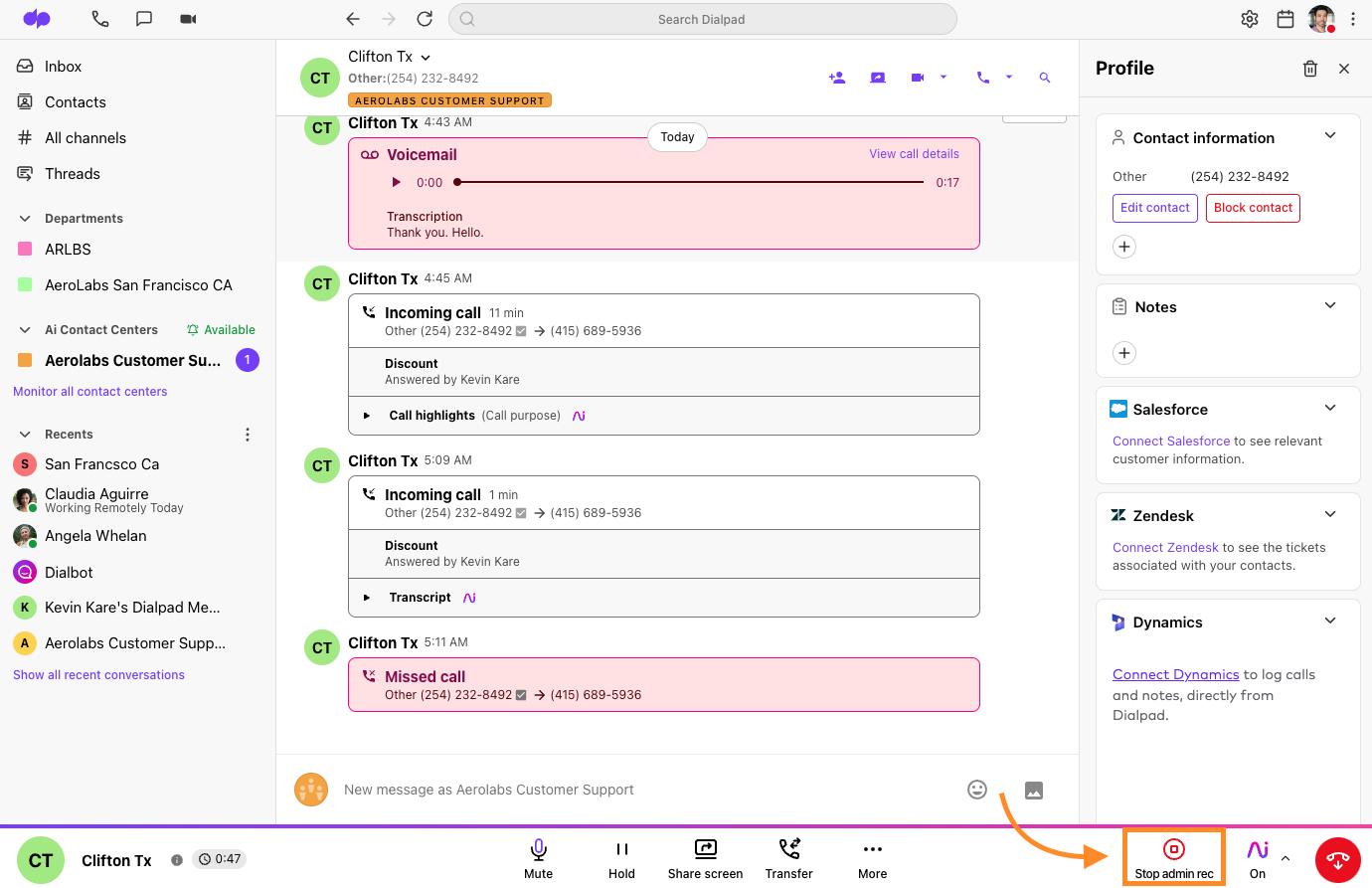 Note:
Contact Center calls inherit the Automatic Recording settings as defined by the Contact Center Admin. Calls cannot be manually recorded by an Agent.
Place a call
Agents can place calls using the Contact Center's number rather than their own direct number.
From the Dialpad app, select Make A Call > New Call From and choose the Contact Center's number from the drop-down. Both primary and secondary numbers belonging to this Shared Line can be used to place outbound calls.
The selected number will remain as your caller ID until changed again.
Note:
If you're an Agent and place an outbound call while on duty, your status will be set to occupied (same as if you answer an inbound call); however, if you are off duty when placing the outbound call, you will remain off duty for the duration of the call.
Wrap-up time
Wrap-up time is the period between the end of an Agent's last call and an open opportunity to receive a new call; it must be enabled by your Supervisor.
When you're in the post-call wrap-up period, you'll see the banner at the top of your screen.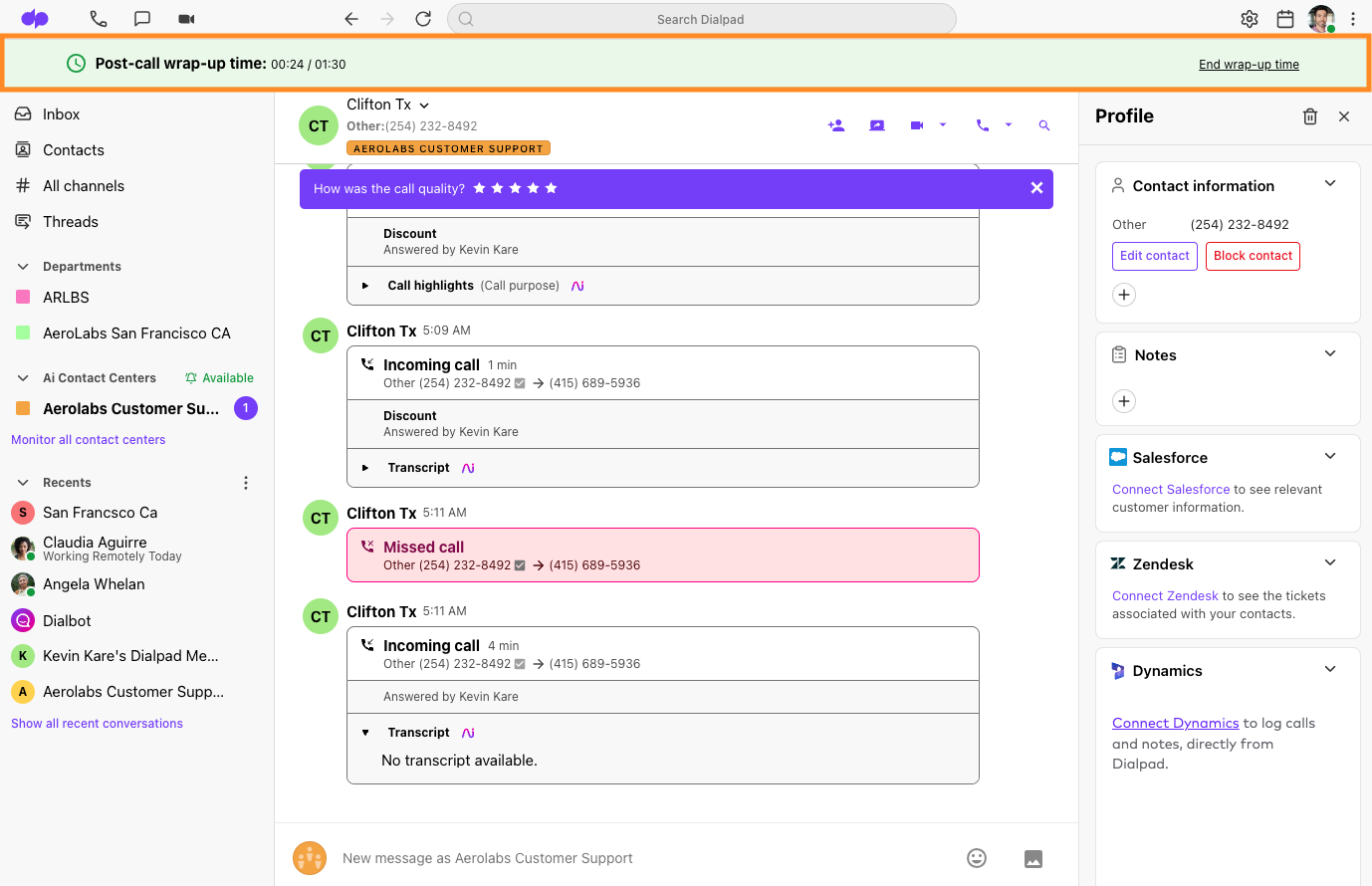 Once you've entered the details in the wrap-up window, the banner will disappear.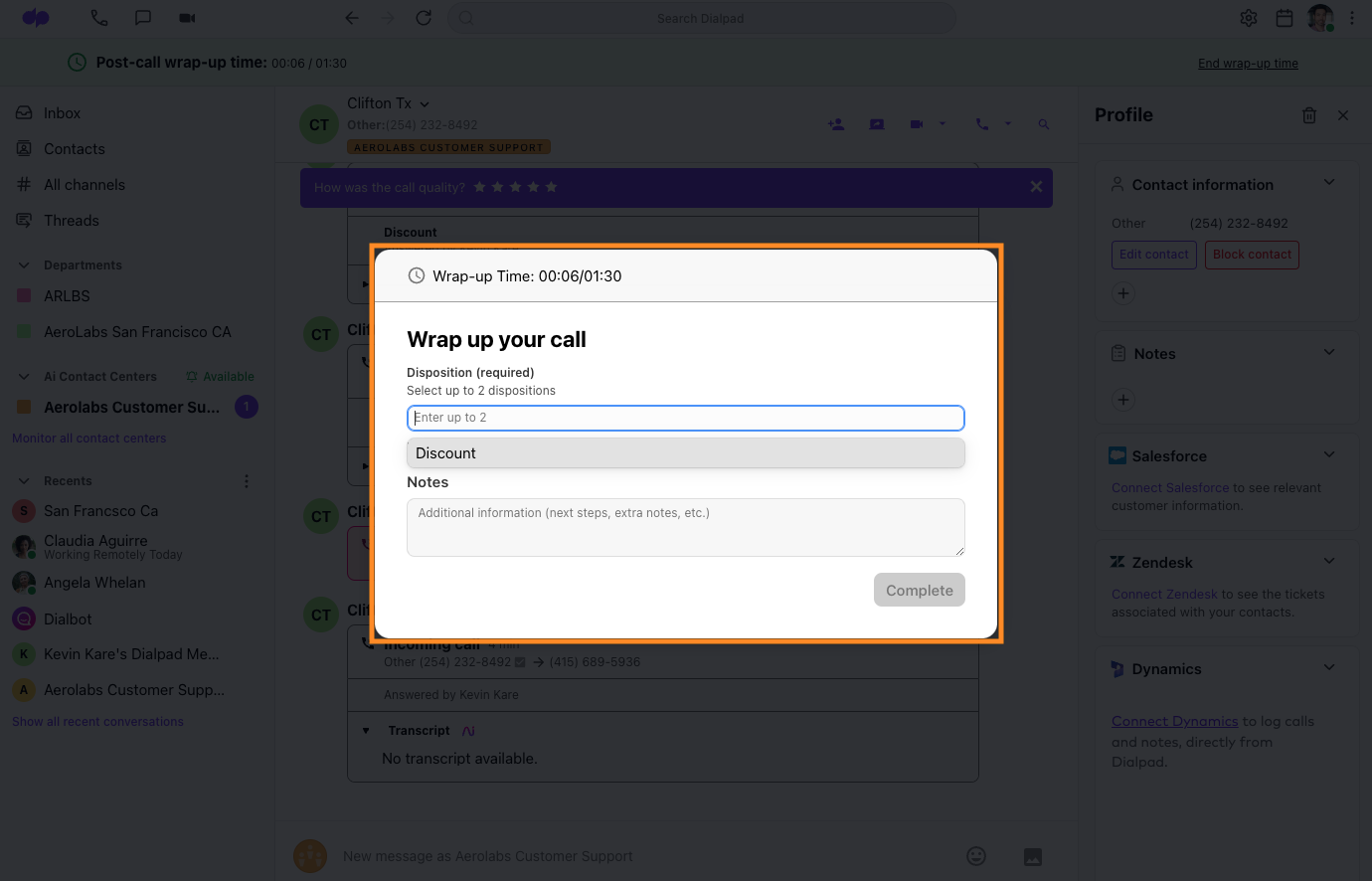 Transfer a call
Contact Center agents can transfer calls to another Shared Line or person.
To transfer a call:
Select Transfer



Enter a name or number to transfer the call to



Choose the transfer type (Ask First or Transfer Now)
Recipients of a transferred call will have the option to answer or decline.
When a call is transferred between multiple Contact Centers, the incoming transfer will display only the Contact Center name that the call is being directly transferred from, not the details of previous transfers.
Note:
Calls can only be warm transferred to a Contact Center or a Department if they already have an assigned number.
Send a message
Agents can send and receive messages from any lines they've been assigned.
During an active call, type your message in the text box and press enter to send.
Contact Center inbox
Contact Center inbox displays the hold queue, live calls, Agents and their statuses, new notifications, all notifications, voicemails, and recordings.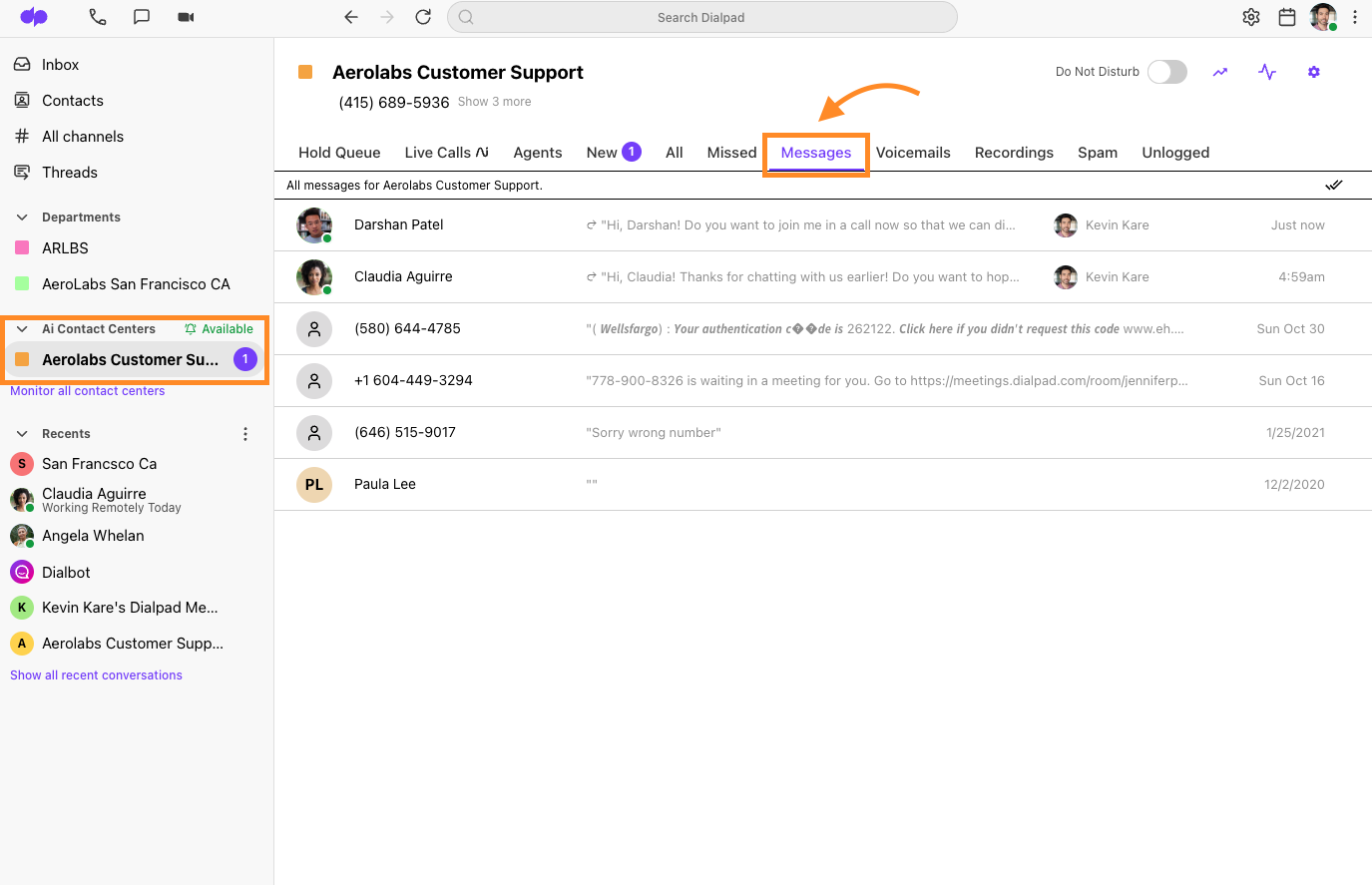 Note:
Inbox notifications are visible to all Agents and Supervisors assigned to the Contact Center.
When a notification is marked as read, the notification clears for all other Agents and Supervisors.
Hold queue
Agents can see a list of all calls awaiting an Agent from the Contact Center Inbox.
From the Dialpad app, navigate to your Contact Center Inbox and select Hold Queue.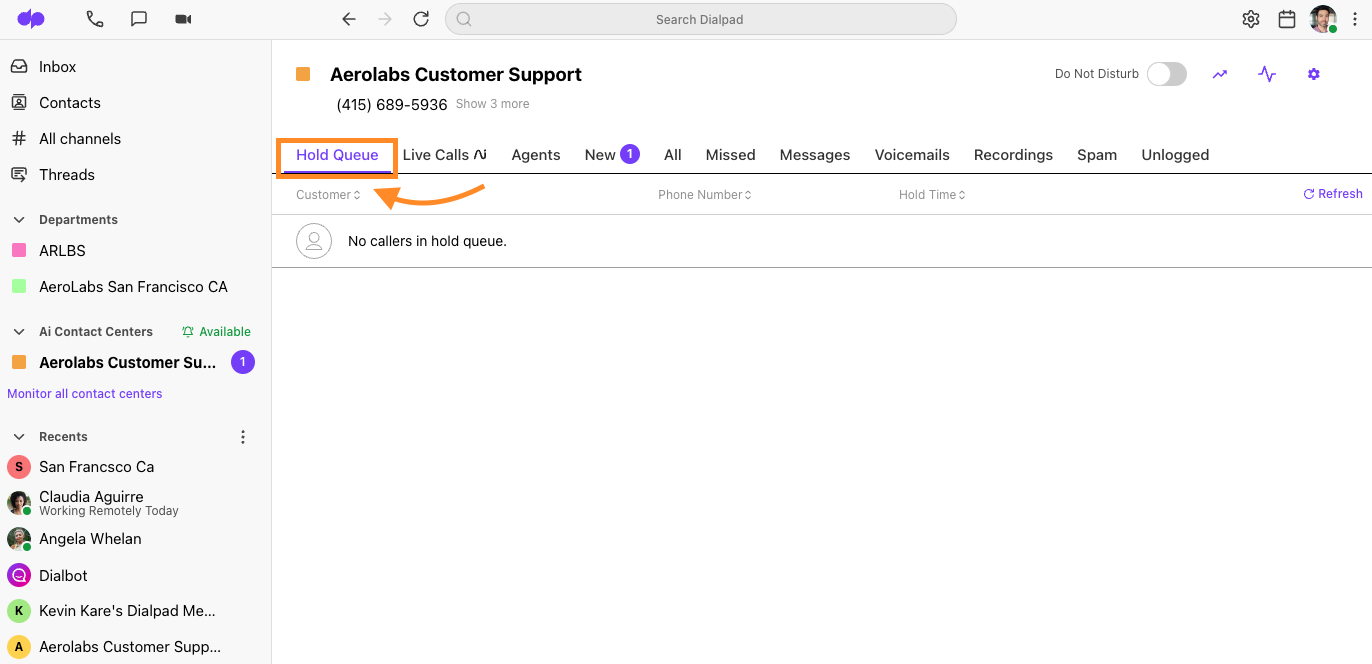 Callers are redirected to the hold queue only if no Agents aren't available (such as they're already on active calls).
The caller will hear hold music until they connect to an Agent, or can be configured to allow callers to press a key to leave a voicemail.
If all Agents are listed as Off Duty, they'll be routed to the secondary handling option set by the Contact Center's Supervisor.
Enable email notifications
Choose how you'd like to receive notifications in addition to the types of notifications this Contact Center shares with you.
From Dialpad.com, navigate to Admin Settings
Navigate to Contact Centers
Select the Contact Center
Navigate to Dashboards and Alerts
Select Edit Alert
Update your preferences
Select Close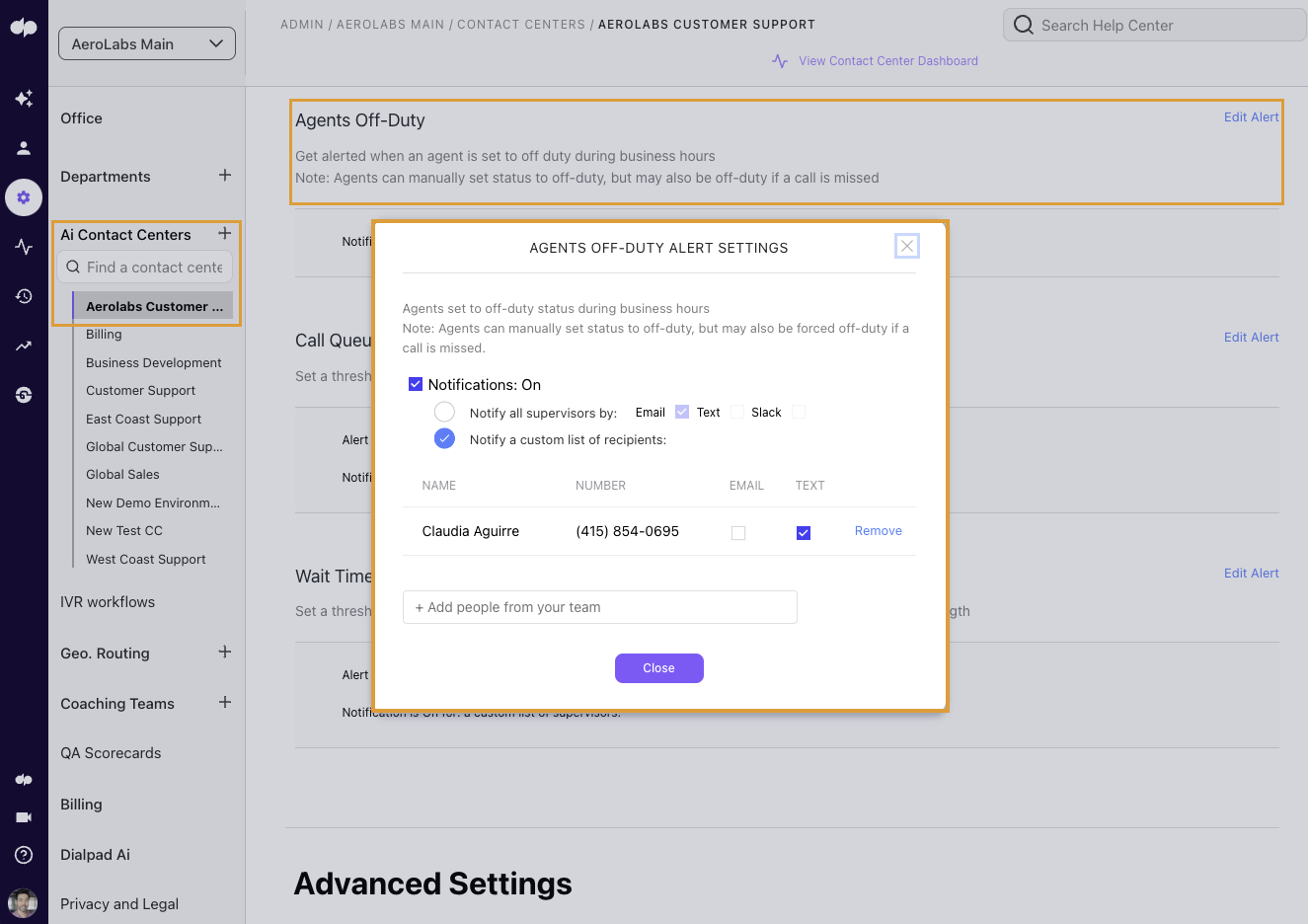 Assigned calls
Supervisors and Contact Center Admins assign calls to Agents based on skill sets, call volumes and individual preference. When a call is assigned, whether you're in wrap up, on a call, or break, you will receive a notification that you've been assigned a call.
When using Chrome, a notification will indicate a call has been assigned, from what queue and by which supervisor. Chrome notifications must be enabled in order to receive the alert.
When using the Desktop App, a message will be pushed, alerting you a call has been assigned.
Note:
You will not receive a notification when a call assignment has been removed.
.
Global DND status vs off duty status
Setting your Global Status to DND does not impact the ability to receive Contact Center calls, it only impacts individual, department, and mainline calls.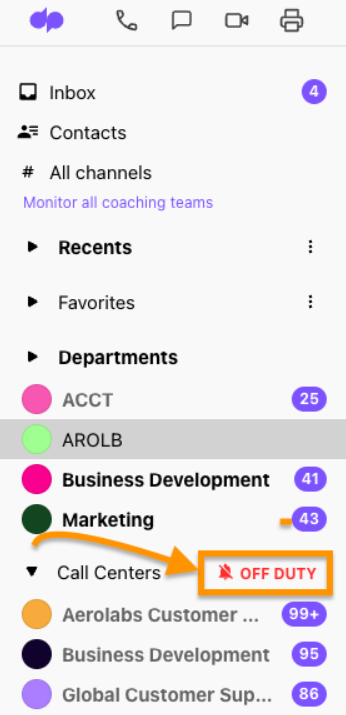 To disable the ability to receive inbound Contact Center calls, Agents must put themselves in an Off-Duty state, or set themselves to DND for that specific Contact Center.
The Off-Duty toggle disables an Agent's ability to receive calls to any Contact Center they are assigned to, regardless of their DND settings for that Contact Center.
Contact Center personal working hours
Personal Working Hours do not apply to Contact Centers. Even if you have determined your Personal Working Hours, and present as Unavailable for personal, department and mainline calls, you will still be able to receive Contact Center calls as long as you are On- Duty.
When set as On-Duty, your status displays as Available in the Contact Center, and you can still receive Contact Center calls.
To prevent inbound Contact Center calls, Agents must set themselves to an Off-Duty status or DND for that specific Contact Center.
Note:
When you 'Sign Out' of Dialpad, your Agent State automatically updates to Off Duty.

If you do not actively sign out, your Agent State will remain as available.
Interested in learning more about Contact Centers? Visit this Help Center article for more details.
---
Was this article helpful?
---
---
What's Next