Customer Satisfaction (CSAT) Surveys
04 Oct 2023

6 Minutes to read
Customer Satisfaction (CSAT) Surveys
Updated on 04 Oct 2023

6 Minutes to read
---
Share feedback
Thanks for sharing your feedback!
Customer Satisfaction Surveys give you a way to measure customer satisfaction (CSAT) by collecting data on the experience you're providing to your callers. Learn more about Ai CSAT and dramatically increase CSAT insights 
across your customer base.
CSAT insight for every customer interaction – Ai CSAT analyzes 100% of your inbound calls
More accurate view of CSAT – balance out polarized high, or low CSAT dominating opinions found in traditional surveys with Ai on every call
Increased response rates – move from a 5% to 75% response rate
Identify Agent performance – granularity down to the agent. See how work-from-home agents are performing as easily as in the office
Democratize CSAT – businesses that don't even collect CSAT still get benefit from Ai
Let's dig into the details of CSAT surveys.
Create a CSAT survey
Dialpad offers two different types of CSAT surveys:
In-Call IVR Survey:

This survey plays over the phone to the caller immediately after the agent hangs up.

SMS Survey: Mobile clients will receive an SMS immediately after the call ends, asking them to complete a survey.
To create a CSAT Survey, head to your Admin Settings at Dialpad.com
Navigate to Office
Select Office Settings
Select Contact Center Surveys
Select Add CSAT Survey

Select Voice/DTMF or SMS
Enter the survey name

Select Create
Use the slide-out menu to customize your survey with the following options:
Survey Pre-amble: Let your customers know there will be a short survey at the end of their call.

This message will be played after your Contact Center welcome message before your customer is connected to an Agent.

Survey Intro: This message plays to the caller immediately after the Agent hangs up.

Use it to let your caller know you appreciate them staying on the line for a quick survey.

Survey Question: Ask your customers how satisfied they were with their experience today.

Don't forget to ask them to leave a rating where 1 is the lowest and 5 is the highest.

Enhance with Ai: Once your caller has provided their rating, you can optionally ask them to explain why they chose that score.

Let your callers know how to press 1 to save their response. Dialpad Ai will record and transcribe their response.

Thank You Message: Plays after your customer's response has been received.
You can edit these options at any time even after the CSAT survey is created.
We recommend starting with text-to-speech for each, then you can try audio recording.
Note:
Only
one question
can be asked per survey
— this keeps Analytics simple and your response rates high
Apply a CSAT survey
To apply a CSAT Survey to your Contact Center, head to your Admin Settings at Dialpad.com
Navigate to Office
Select Office Settings
Select Contact Center Surveys
Select the drop-down Options menu Options
Select Apply to Contact Centers and select which Contact Centers will use the survey
CSAT analytics
To access your CSAT Analytics, head to your Admin Settings at Dialpad.com
Select Analytics
Select Ai CSAT
Choose the desired Contact Center and date range
That's it! You'll now see scores and response rates over time.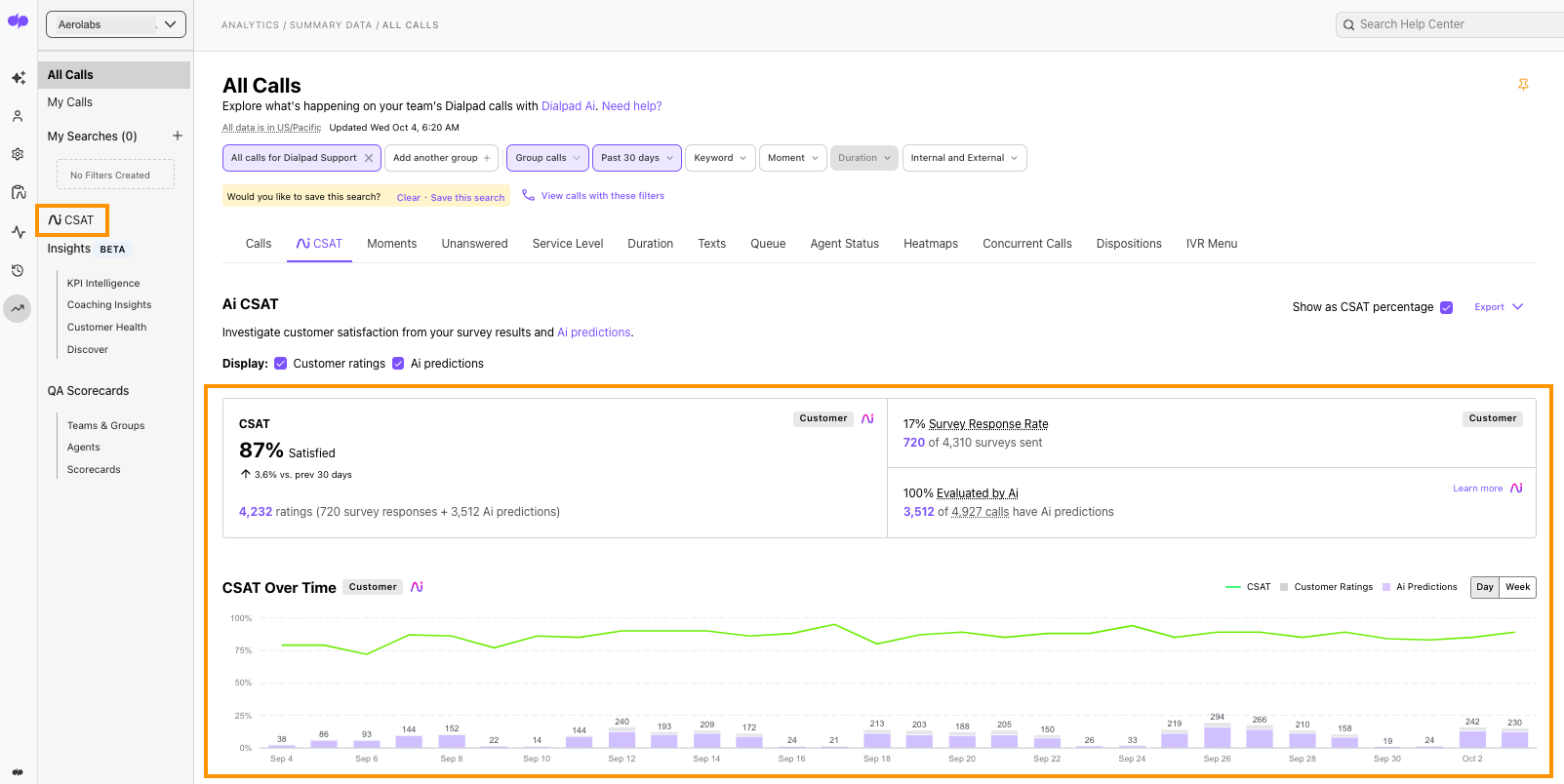 If you scroll to the bottom, you'll see an Agent leaderboard. It organizes the average CSAT score for an Agent, the change from the last period compared to the current filtered time period, as well as the number of responses they've received.
Export CSAT survey results
To export your CSAT survey results, head to your Admin Settings at Dialpad.com
Select Analytics
Filter for the Contact Center you'd like to observe
Select Ai CSAT
Select Export
Select Send Report

to receive a CSV file via email that includes records of all survey responses.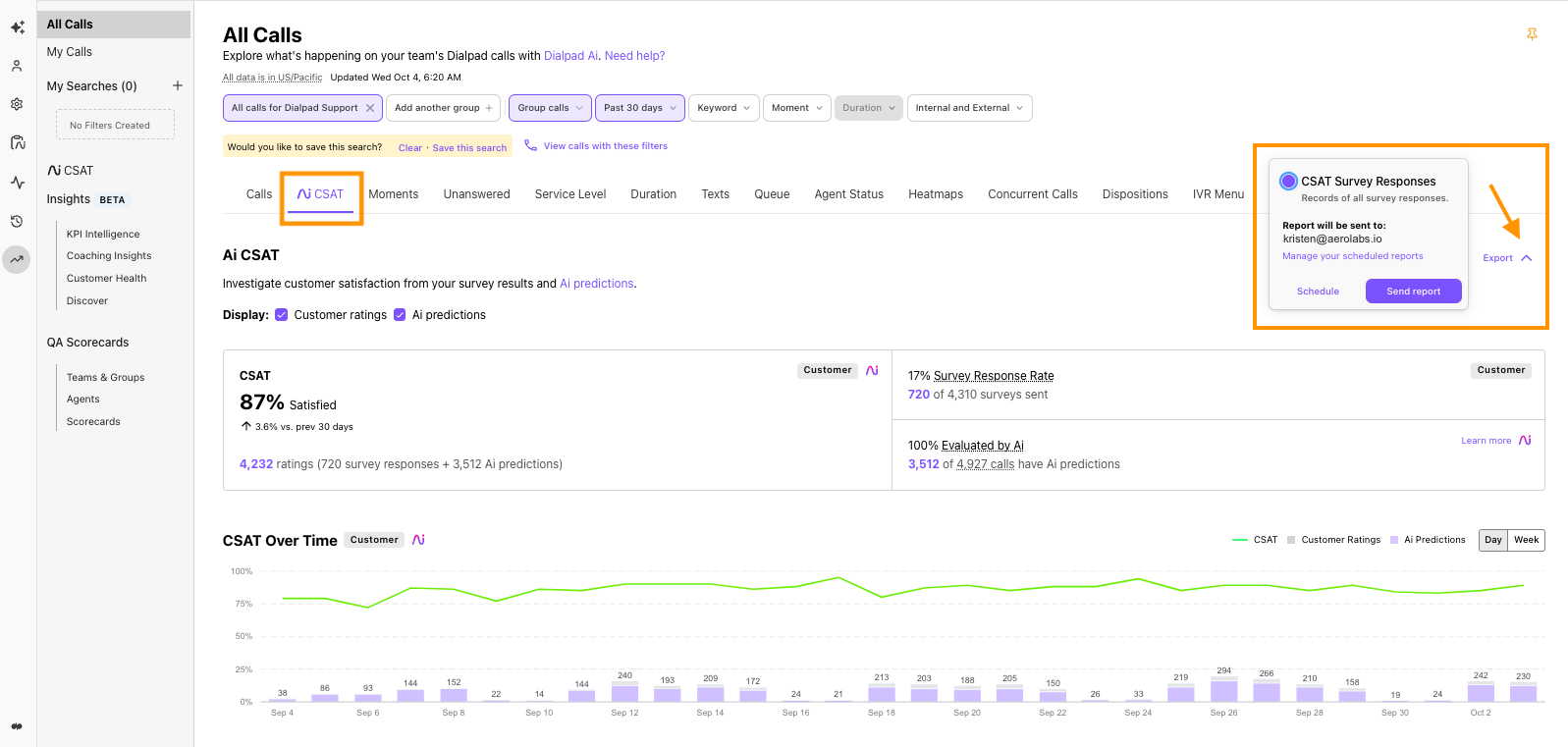 Your report will reveal caller information, agent information, and the scores received.
Other areas you'll find CSAT results are in your Call History page and at the top of your Call Summary. When you create a shared Call Summary link, we currently exclude the CSAT response for that call for viewers of your shared link.
SMS CSAT surveys
SMS surveys give you the ability to send Customer Satisfaction Surveys via SMS rather than the traditional IVR surveys that come at the end of the call when your customer is eager to move on. SMS surveys can have a tremendous effect on increasing your response rates — giving you the data you need to make informed decisions, and providing your clients with the flexibility to complete the survey on their own time.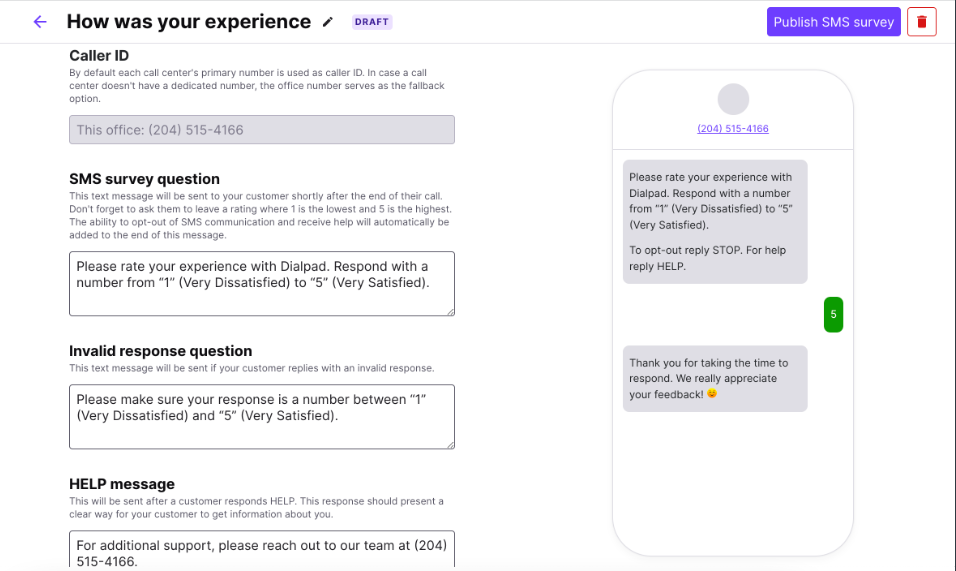 When setting up your SMS CSAT survey, there are a few key points to remember:
You must have an SMS-enabled number assigned to your Contact Center

If you haven't done so already, go through the Campaign Registry process to ensure you are in compliance with A2P regulations. To register customers can fill out the form linked within the Help Center

As an Admin, you will build out the survey within the Office level settings and then assign the survey to the appropriate Contact Center(s); the survey can be assigned to more than one at a time

Because no more than one CSAT survey can be assigned to a call, the supervisor or admin must select within the Contact Center specific settings, which survey they want to utilize

SMS surveys can have only one question.
Frequently asked questions
What call types can be used with CSAT surveys?
Inbound Calls only at this time.
How can I find call recordings of the calls with surveys?
Once you've downloaded a CSV file, you can take that information to your Calls List to filter for that agent as well as the date and time of the call. If you have call recording set up, you can listen or download the recording from here.
Which agent receives the CSAT survey results if multiple agents handled a call?
If a call is transferred from one Agent to another Agent, the last Agent will receive the associated CSAT score.
How is the traditional survey response rate calculated?
The survey response rate is the percentage of surveys with responses out of all the surveys sent. Read our article on changes made to Survey Response rate in March 2022.
For IVR (DTMF):

All Surveys with responses / All surveys where the survey audio started

If the customer hangs up before the survey is presented to them, it is not counted in the number of surveys sent, however if they hang up during the survey they are considered to have had the survey sent to them.

For SMS:

See our

Ai CSAT

article to learn more about how to get access to SMS surveys.

All surveys with responses / All surveys sent over SMS

We do not send SMS texts to numbers that cannot receive them.
How is the SMS survey response rate calculated?
The percent of SMS survey responses out of all surveys sent.

We do not send SMS to numbers that cannot receive them.
How is the prediction rate calculated?
The percentage of calls that have an Ai CSAT prediction out of all inbound answered calls.
Does the SMS survey expire?
Yes, the expiry time is 24 hours. If the caller replies after the window, the response is ignored.
What is the CSAT score when it's shown as a percentage?
We've added the CSAT score as a percentage to follow industry standards of reporting CSAT as a percentage of satisfied customers.

It is calculated by: Positive CSAT responses (4 & 5s) / all CSAT responses
Can CSAT surveys be applied to direct lines?
CSAT surveys are currently only available for Contact Centers and not direct lines. Stay tuned though, we're working on this!
Can admins delete a CSAT survey score if they think it is incorrect?
Not at this time.
Can I add a follow-up question to a Voice/DTMF CSAT survey?
No, follow-up questions are only available for SMS CSAT surveys.
Why did my response rate decrease for my IVR(DTMF) CSAT survey after March 31, 2022?
In creating the new experience we found a bug in the calculation of survey responses that was not computing it as a total of surveys sent. We've corrected this so that now all survey response rates are retroactively fixed. Read our recent changes made to Survey Response rate.
---
Was this article helpful?
---
---
What's Next