Manage Contact Center Alerts
04 Oct 2023

2 Minutes to read
Manage Contact Center Alerts
Updated on 04 Oct 2023

2 Minutes to read
---
Share feedback
Thanks for sharing your feedback!
Keep tabs on the health of your Contact Center with managed alerts. Visible from the dashboard, alerts can also be sent via text message, email, or to a Slack channel.
Let's take a look at Contact Center alerts in Dialpad.
Admins can set alerts for activities such as:
Service Level (calls received, threshold, etc.)
Agent Duty Status
Queue Size & Wait Time
If sending via text or email, you can choose to send to all Admins and Supervisors, or to a custom list of recipients.
Set alerts for your contact center
To set an alert for your Contact Center, head to your Admin Settings from Dialpad.com
Navigate to Ai Contact Centers
Choose the desired Contact Center
Navigate to Dashboard and Alerts
Select Edit beside the alert you'd like to configure
Choose the desired alert parameters
Select Close
Any time you'd like to adjust Contact Center alerts, return to this menu.
Let's go over each of these alerts and settings.
Short abandoned call threshold
The Short abandoned call threshold alert notifies you when a caller hangs up within the specific timeframe that you defined — these are excluded from your service level calculations.
Supervisors can set this threshold to anywhere between 0 and 60 seconds.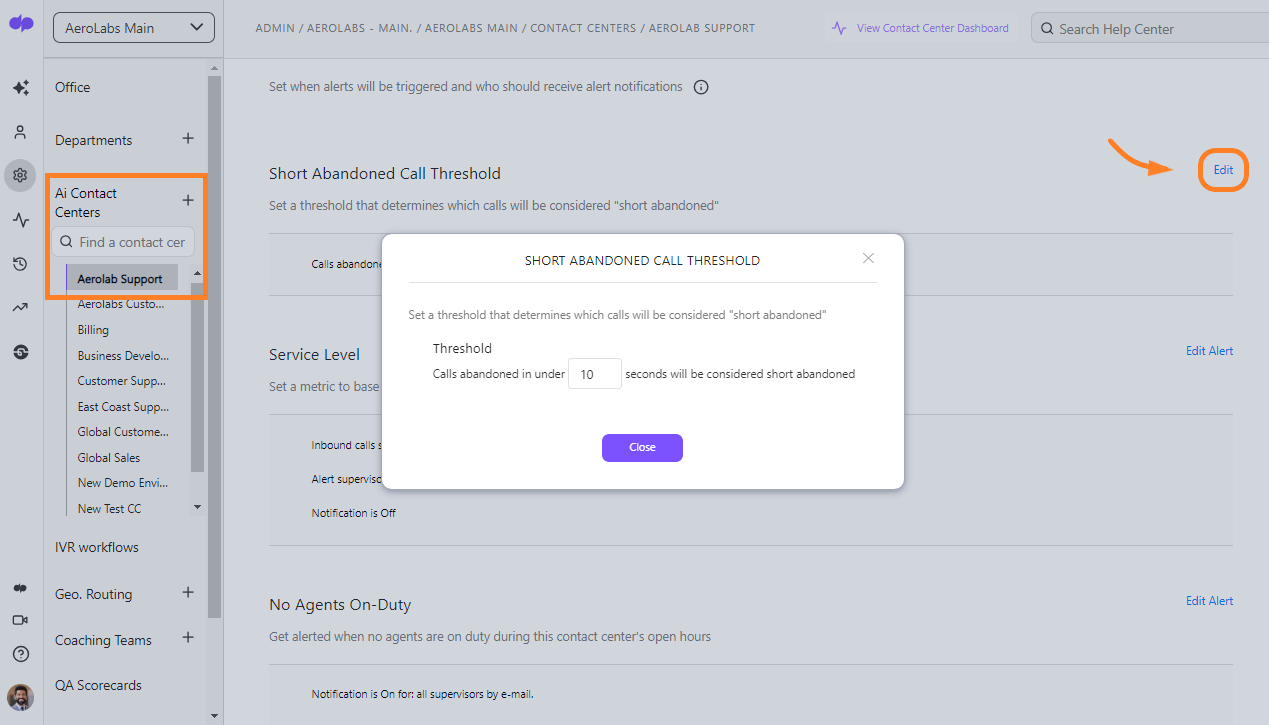 Service level
Service level alerts are triggered during open hours, on the hour, and are calculated over the preceding hour.
Calculations include the duration of the call from the point it enters the Contact Center until an Operator answers. If there is a welcome greeting, the length of the greeting will be included in the duration as well. This also applies if the call is routed to a hold queue.
Supervisors can set the following service level alerts:
Seconds within which inbound calls should be answered

Threshold for the % of calls to meet the set time above
Admins can also set a custom list of recipients to push alerts beyond any other assigned Admins or Supervisors.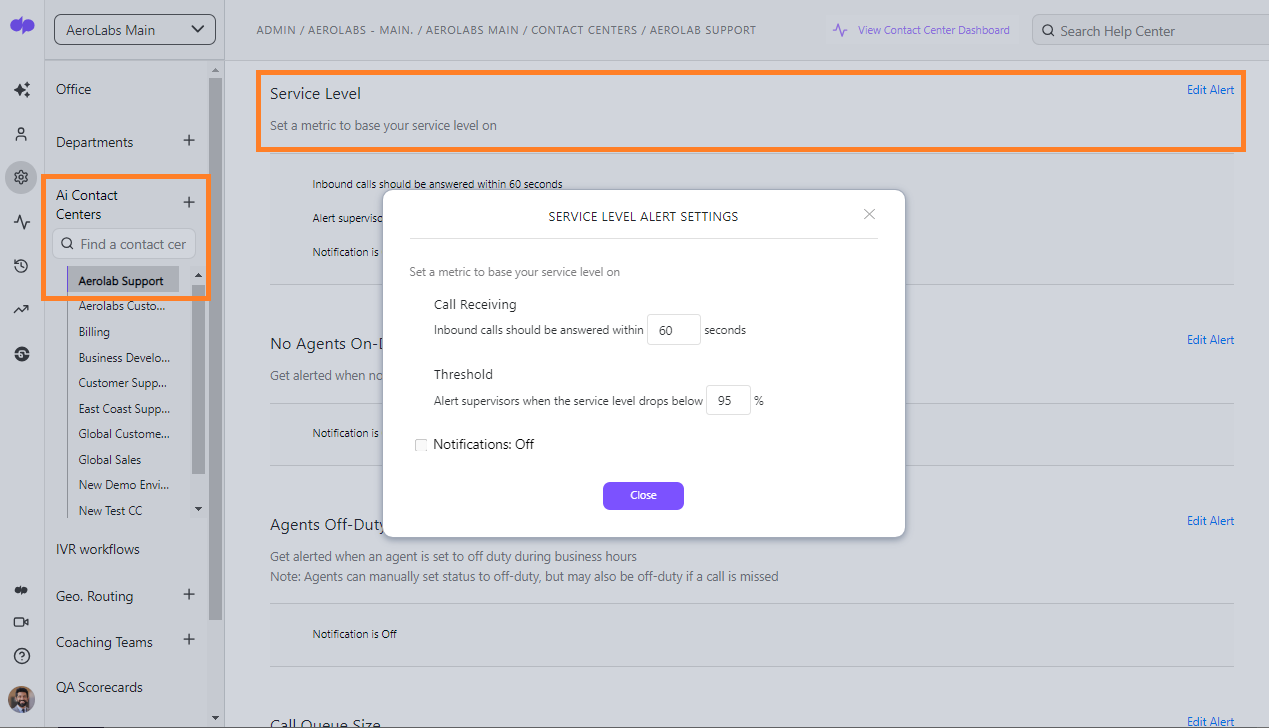 Agent duty status
Agent duty status alerts ensure Supervisors and Admins are aware of their Agent's activity and availability.
Dialpad offers several different types of Agent duty alerts.
No agents on-duty
The No Agents On-Duty alert lets you know that there is no one available to take calls during your Contact Center's open hours. The alert is sent when an agent manually changes their status to "off-duty" during open hours, leaving no one available in queue.
It does not support sending an alert when Contact Centers go from closed to open and there are no agents on duty.
Customize the notification method (email, text, or Slack) and who receives the alerts.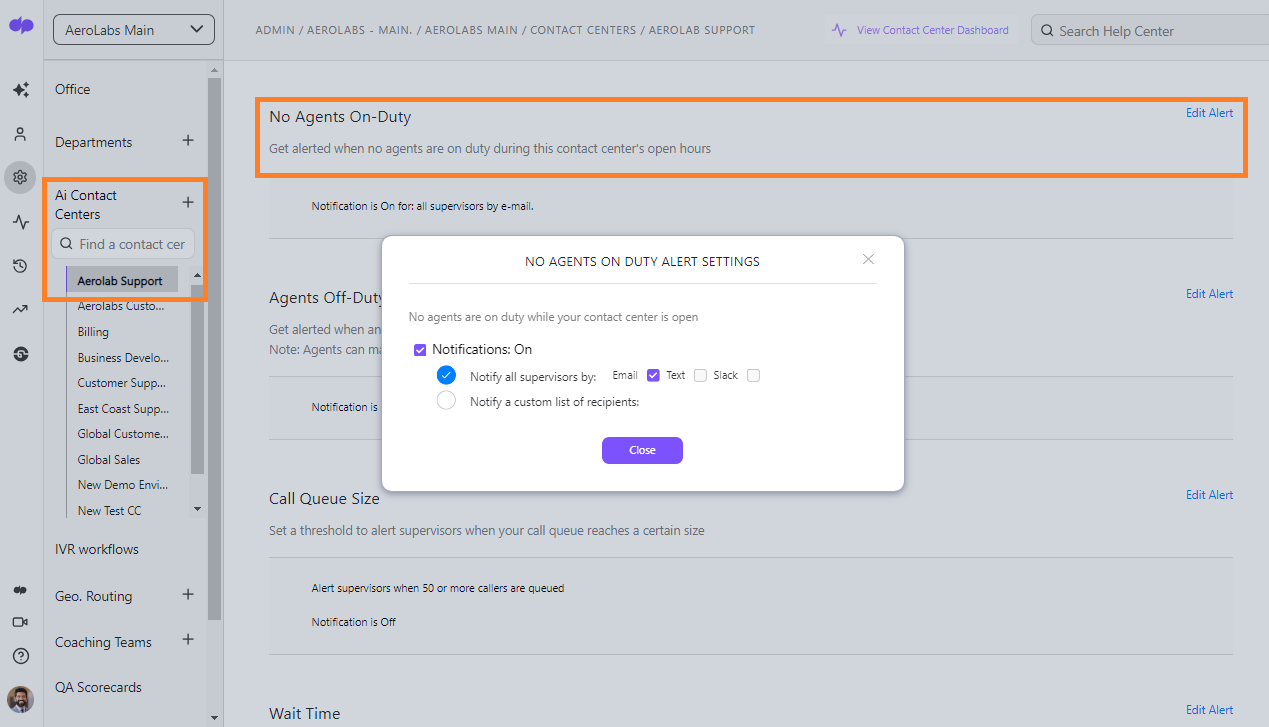 Agents off-duty
The Agents off-duty alert notifies Admins and Supervisors when agents set themselves into an off-duty status.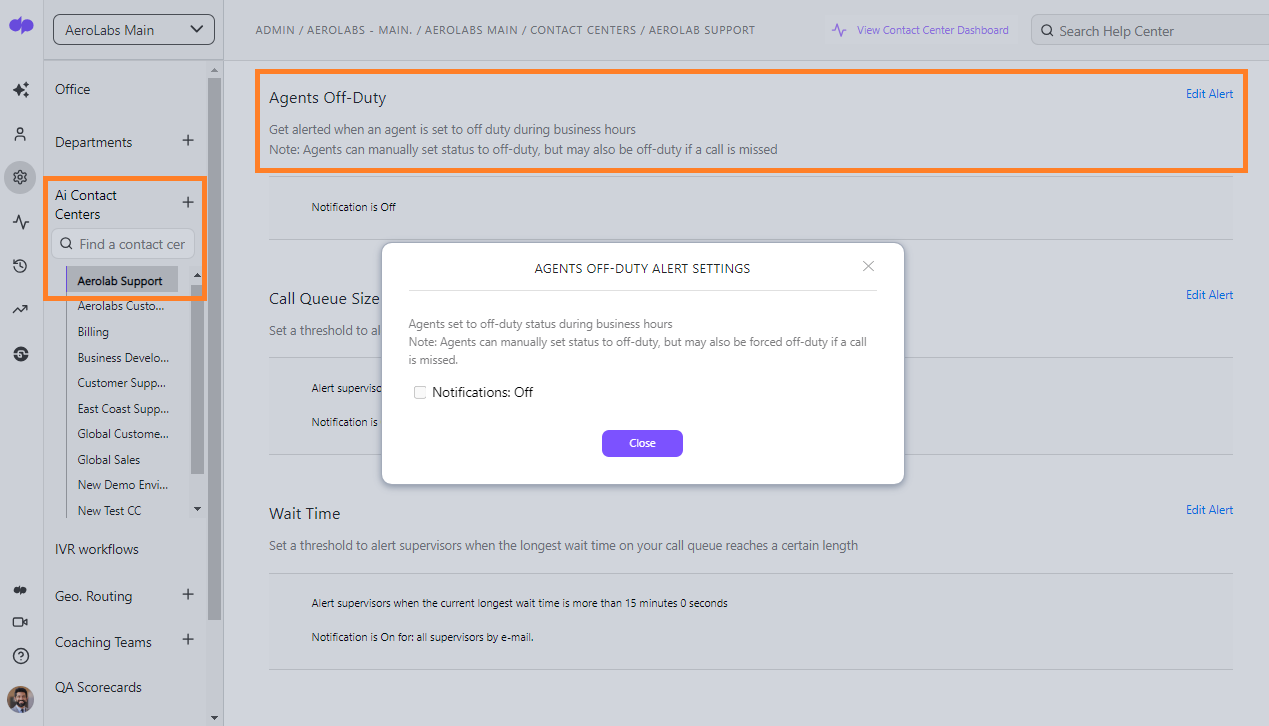 'No agents on duty' email
Use the No agents on duty email feature to notify Admins that there are no agents on duty. The email also mentions who the last Agent on duty was, and the reason they went off duty.

Dialpad Tip:
Don't forget that Agents can switch themselves to off-duty or be moved off-duty if a Supervisor sets the Agent to unavailable.
Call queue size
The Call queue size alert lets an Admin know when their hold queue limit is reached.
It is also triggered if the hold queue size decreases from the threshold and then hits the limit again.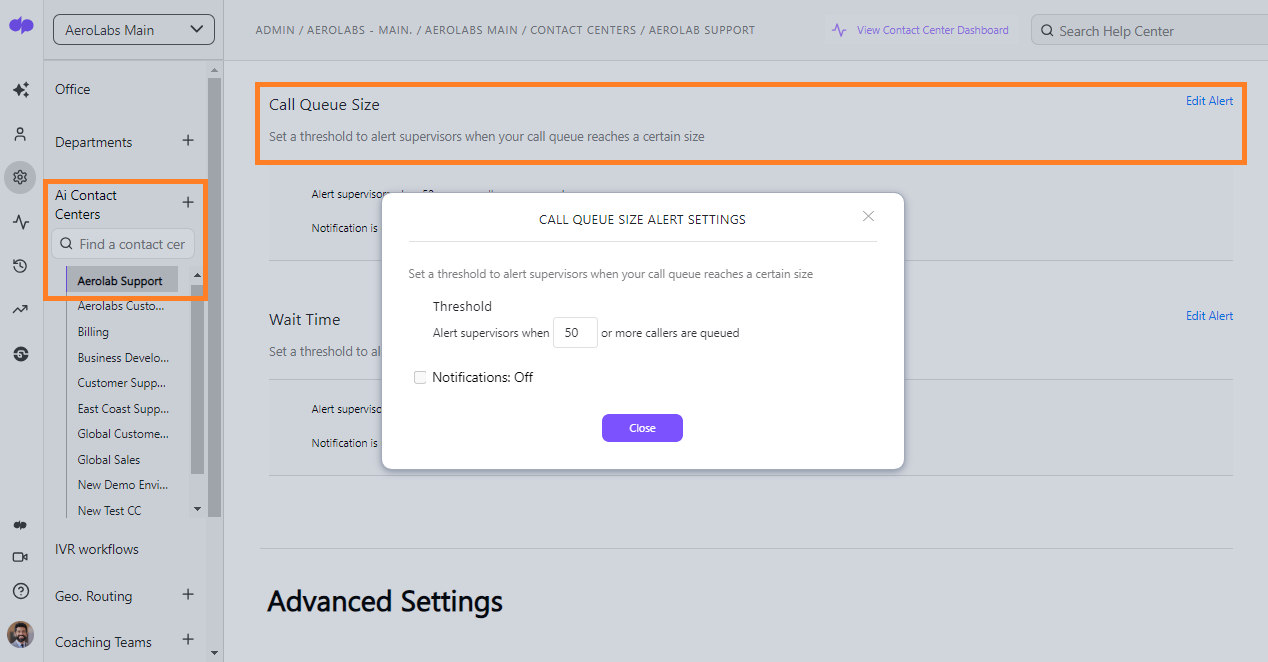 Wait time
The Wait time alert lets an Admin know when the current longest hold time reaches a certain length.
Customize the notification method (email, text or Slack) and who receives the alerts.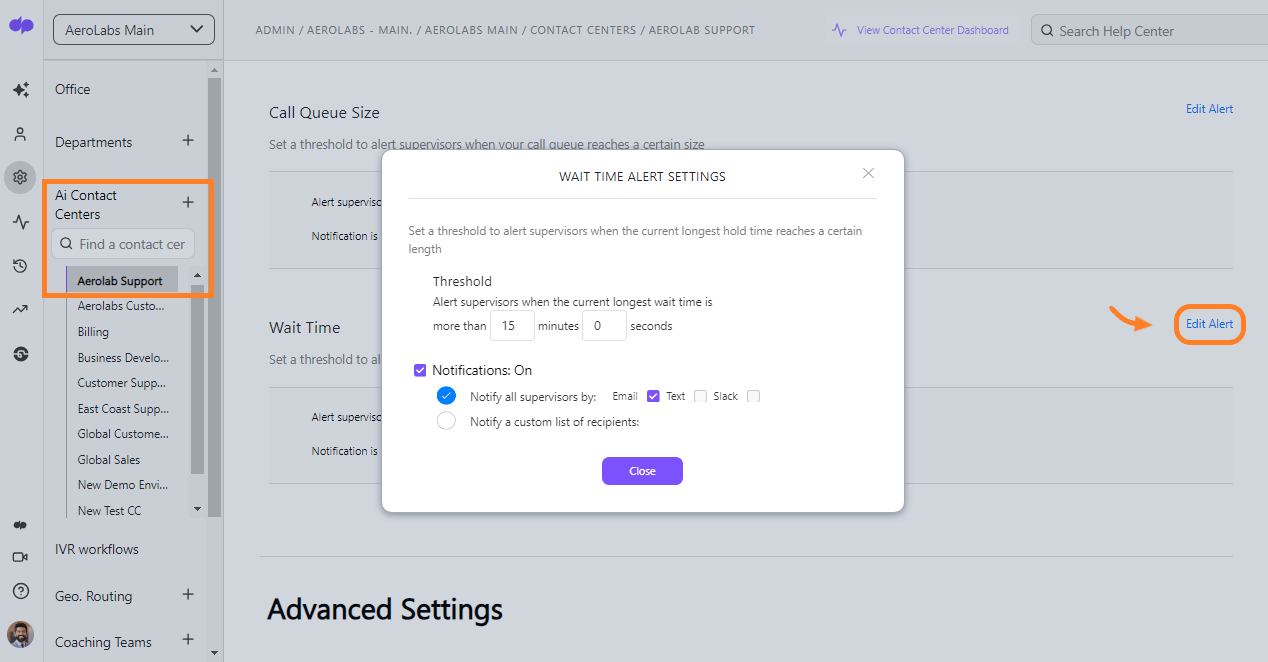 Interested in learning more about Contact Centers? Visit this Help Center article to get answers to frequently asked questions.
---
Was this article helpful?
---
---
What's Next