Working as an Operator
13 Sep 2023

3 Minutes to read
Working as an Operator
Updated on 13 Sep 2023

3 Minutes to read
---
Share feedback
Thanks for sharing your feedback!
Operators assigned to a Department are able to interact with callers in real-time, answering questions and offering assistance efficiently.
Let's take a look at working as an Operator in Dialpad.
Answer a call
To answer a Department call, you'll need to be available in Dialpad with Do Not Disturb mode turned off.
Answer calls from within the Dialpad app, or by using the floating notification — simply click Answer and you'll pick up on behalf of the Department.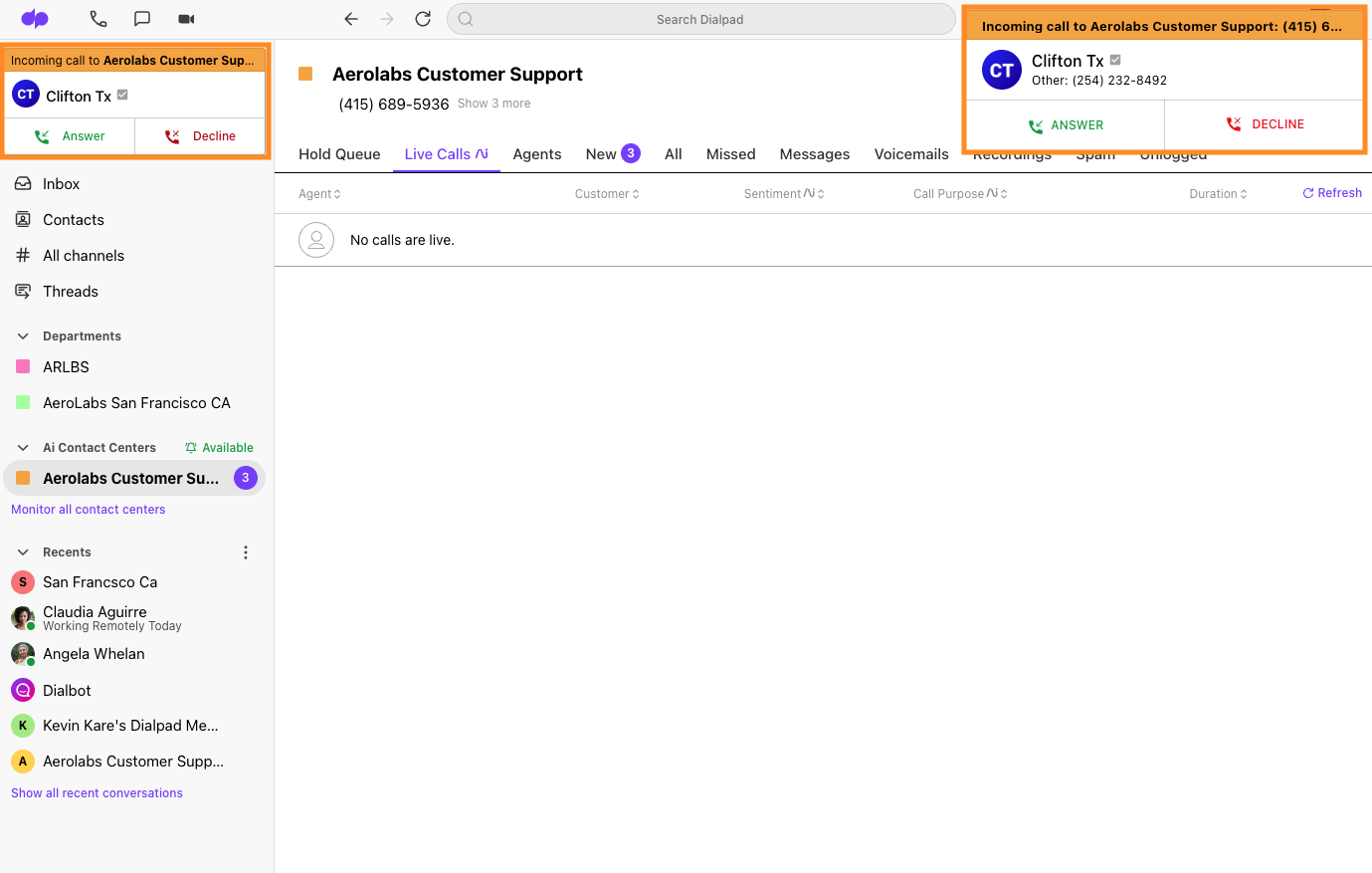 Departments ring out to Operators based on the routing rules set by the Department's Admin(s). If no Operator answers, the call gets moved into the hold queue or a fallback option.
Keep in mind that you cannot block a number as an Operator; only an Admin may block a number for a Shared Line.
Call waiting
If enabled by your Department Administrator, Department lines can feature call waiting. All Operators must be busy in order for a call waiting to appear. You'll have the following options:
Answer: Puts the first caller on hold while you interact with the second
Merge: Joins both first and second caller on an active call
Decline: Sends your second incoming call directly to your voicemail
Click the desired option and Dialpad will take care of the rest.

Note:
Answer-Merge is currently only available through your desktop app.
Place a call
Operators can place calls using the Department's number instead of their own direct number.
To call from a department number:
Select Make A Call (that's the phone icon)
Click the drop-down menu beside your name
Select the desired Department's number
Both primary and secondary numbers belonging to this Shared Line can be used to place outbound calls
That's it, you're good to go! Enter the phone number and complete the call.
Your caller ID will remain set as that department until you change it again.
Call recording
If enabled by the Admin, Operators in a Department can stop and restart a call recording.
If the call is automatically being recorded, you'll see a 'Stop admin rec' icon at the bottom of your call bar.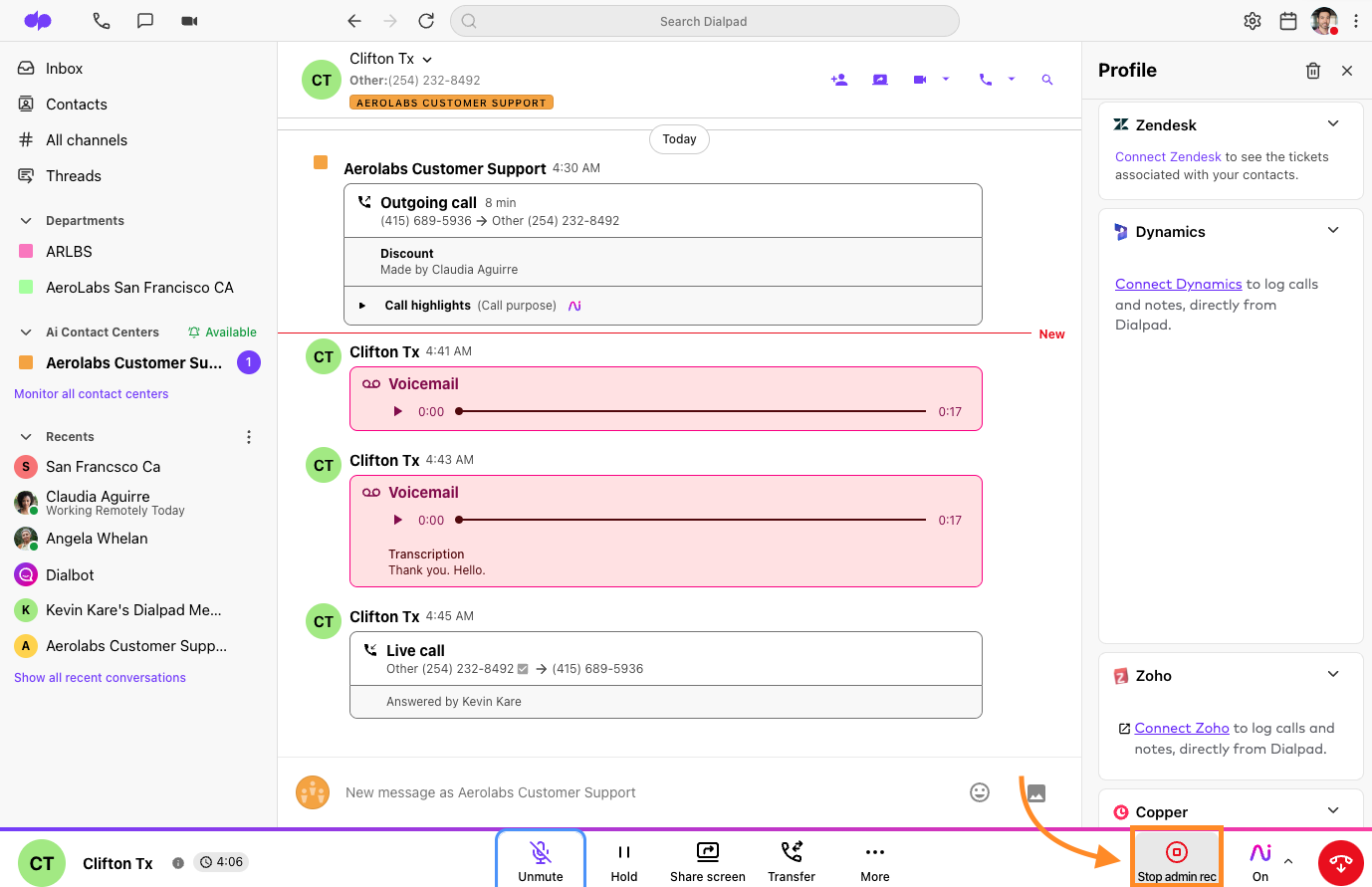 To stop the recording, select 'CLICK TO STOP' in the call recording banner
To restart the recording, select 'CLICK TO RESTART'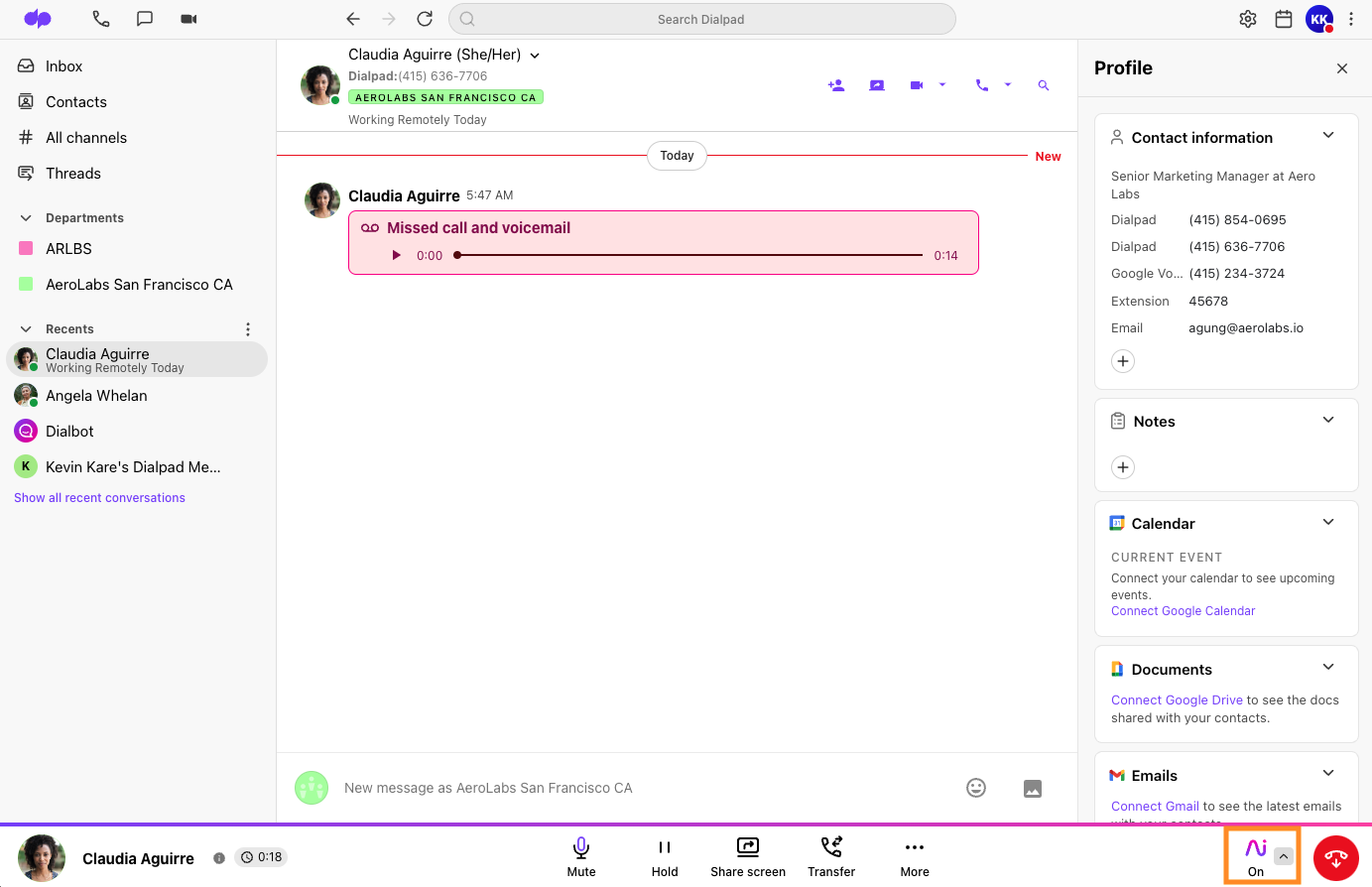 Transfer call
Operators can transfer calls to another Shared Line or person.
Select Transfer
Enter a name or number to transfer the call to
Select Ask First or Transfer Now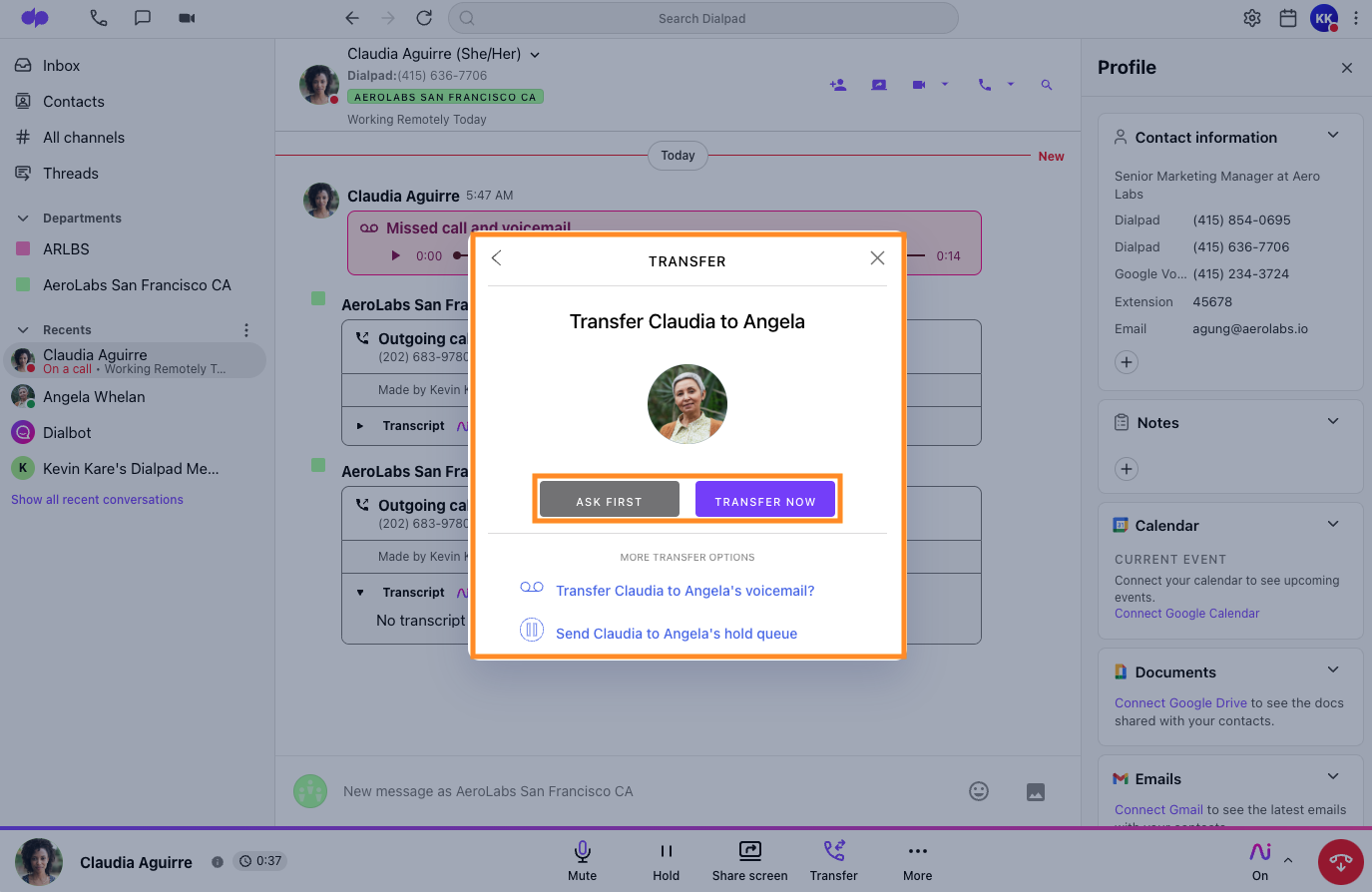 Recipients of a transferred call will have the option to answer or decline.
When a call is transferred between multiple Departments, the incoming transfer will display only the Department name that the call is being directly transferred from, not the details of previous transfers.
Note:
Calls can only be warm transferred to a Contact Center or a Department if they already have an assigned number.
Send a message
Operators can send and receive messages from the Department they're assigned to.
During an active call, type your message into the text box and press enter to send.
Search contact
Search for a known caller who's contacted your Department.
From the Dialpad app, select Search
Enter a name or number and you'll see a color tag and department name.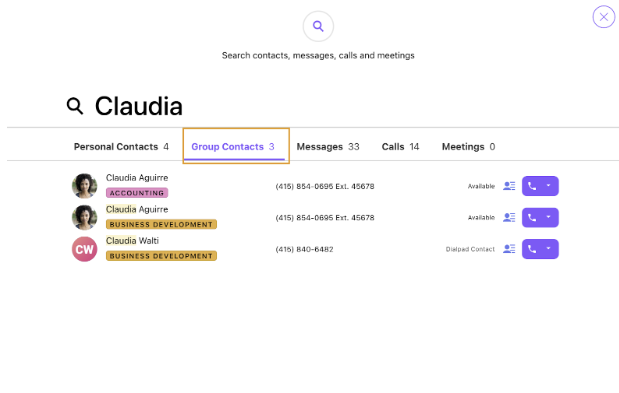 Department inbox
Department inbox displays the hold queue, live calls, Operators, new notifications, missed calls, voicemails, all notifications, recordings, interactions flagged as spam, and faxes.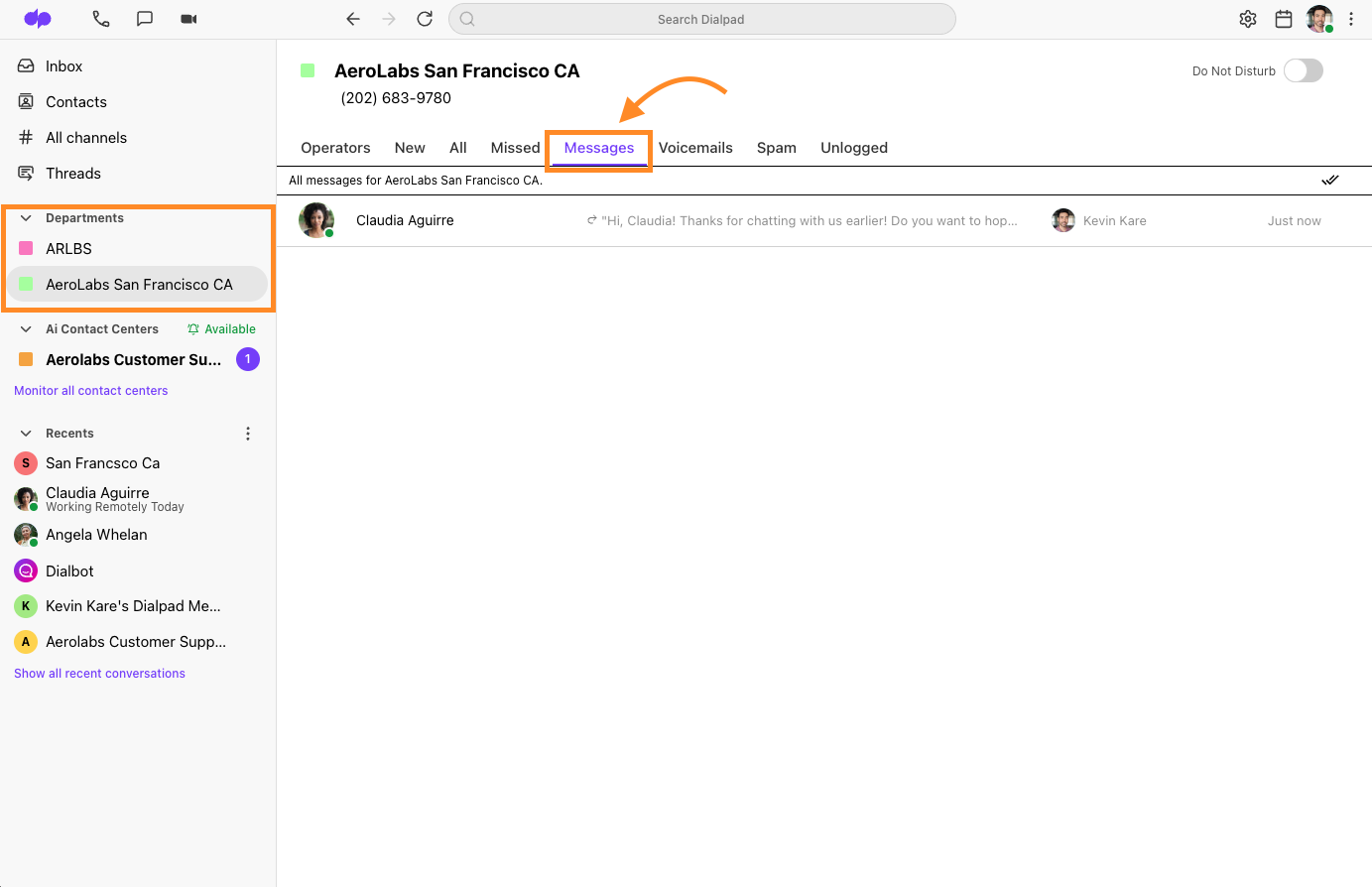 Hold queue
Operators can see a list of all calls awaiting an Operator to pick up and how long callers have been on hold for.
From the Dialpad app, select Hold Queue.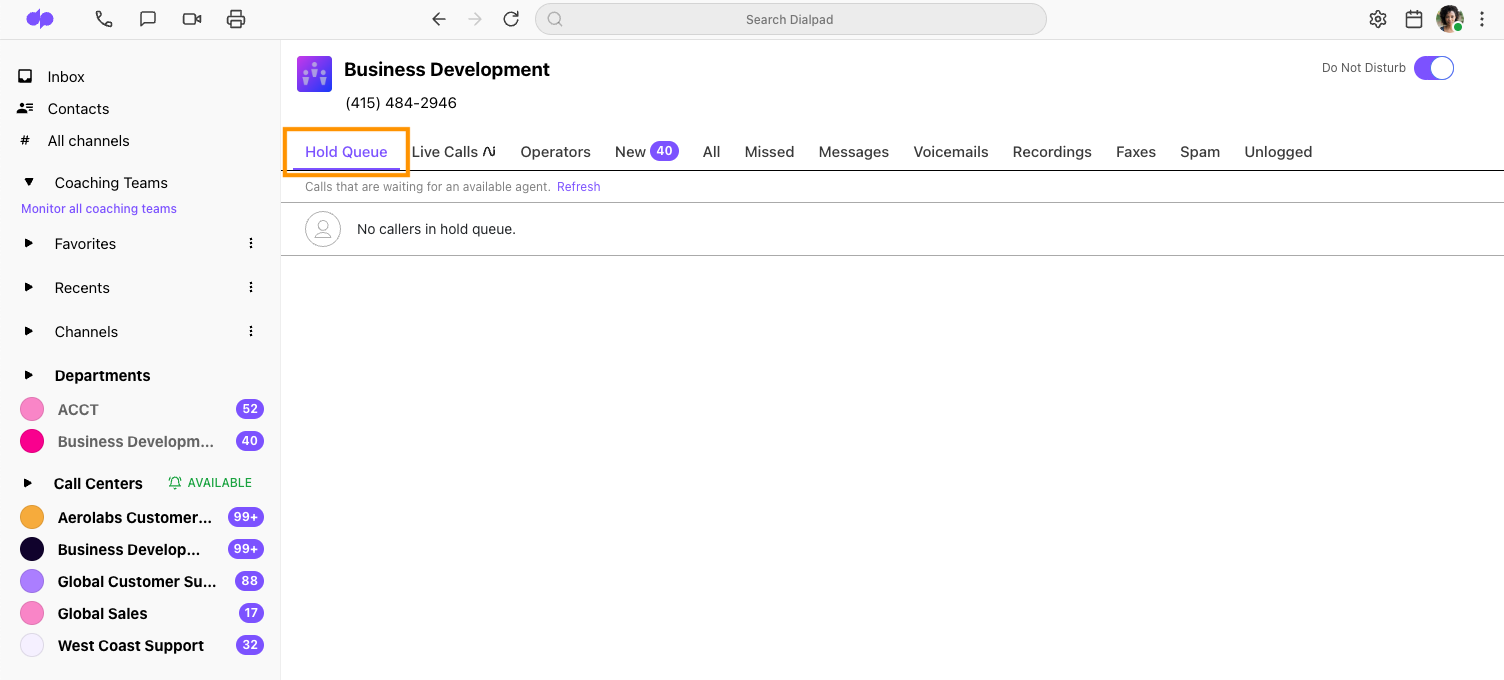 Select Refresh to update the view at any time.
Ask your Department Admin to customize the hold queue.
Enable email notifications
To enable your Department email notifications, head to your Admin Settings from Dialpad.com
Select Departments
Select the desired Department
At the top of the page, choose how you'd like to receive notifications in addition to the types of notifications this Department shares with you.

Operators must enable or disable email notifications manually; the setting depends on each Operator, not what a Department Admin selects.
Global DND status
Set your Global Status to DND to prohibit inbound calls on your Department's line.
When enabled, Global DND updates your status to Unavailable and you will not receive calls on the Shared Line.You can still set yourself to DND within a department, Global DND is used only when you want to prevent inbound calls to your individual line, mainline, and departments.
Personal working hours
Set your Personal Working Hours to ensure that you don't accidentally receive a call on your Department's line outside of your work day. When enabled, your status automatically updates and prohibits inbound calls to your individual line, your mainline, and any Departments that you are assigned.
---
Was this article helpful?
---
---
What's Next