Ai Recap - Early Adopter Program
25 Sep 2023

5 Minutes to read
Ai Recap - Early Adopter Program
Updated on 25 Sep 2023

5 Minutes to read
---
Share feedback
Thanks for sharing your feedback!
Say goodbye to lengthy call reviews with Dialpad's newest feature - Ai Recap.
Ai Recap harnesses the power of Chat GPT's generative Ai and pairs it with Dialpad's native Ai to create bite-sized summaries of your calls and meetings.
Ai Recaps make it easy to stay on top of your calls and meetings, track progress, and take action where necessary. Whether you are a busy executive or a customer support representative, Ai Recap helps you streamline your workflows and save valuable time.
Let's dive into the details!
Ai Recap is currently in an Early Adopter Program and is not yet available to all Users.
Ai Recap will be available to Dialpad Users on all plans and licenses.
Contact your Customer Success Manager to sign up for the Ai Recap waitlist today!
What is an Ai Recap?
Ai Recap combines ChatGPT's summarization and text generation capabilities with Dialpad's proprietary NLP and NLU models. Dialpad's Ai Recap instantly summarizes your calls and meetings, collecting valuable Ai insights and action items to keep your team on track and ensure your clients receive the service they deserve.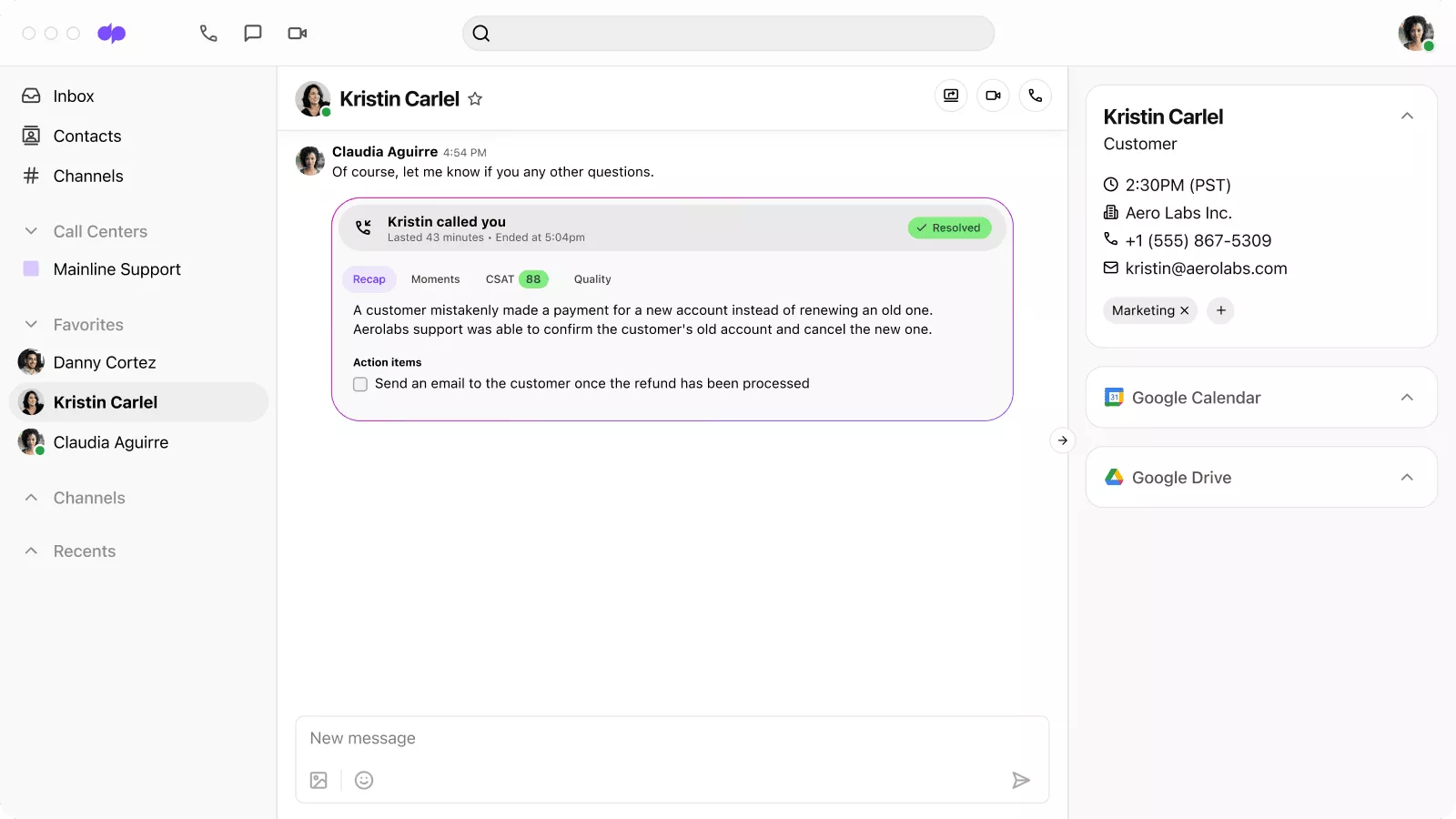 Ai Recap combines the following four Ai features into a single, easy-to-read, format:
Ai Call Summary

- Ai-generated summary of the call

A 4-sentence summary of key conversation points and topics

Ai Outcomes

- The call outcome, defined by Ai

Was the issue resolved? Do you need to circle back?

Ai Call Purpose

- The reason for the call, categorized by Ai

Call purpose categories let you

quickly spot patterns and easily track conversations related to the same topic

Ai

Action Items

- Follow-up tasks, determined by Ai

Action Items

remind you about tasks discussed in the call, such as sending a report or follow-up email.
Note:
As we fine-tune Ai Recaps, we will be adding more and more functionality. To start, your Ai Recap will include only the Ai Call summary, Call Purpose tags and Ai Action Items. Outcomes are coming soon! Currently, Ai Recap is available only in English.
Turn on Ai Recaps
Once you're enrolled in our Early Adopter Program, there's only one thing you need to do in order to use Ai Recap — make sure Ai is turned on.
To turn on Ai:
Head to Your Settings from Dialpad.com
Navigate Dialpad Ai
Check the box beside Turn on Ai for my calls
Note:
Ai must be enabled at the Company level before you can configure Ai preferences for Offices, Contact Centers, Departments, individual Users and Coaching Groups.
If you don't see the Ai option in your settings, reach out to your Admin.
How to use Ai Recaps
Seconds after the call or meeting has finished, your Ai Recap is ready to be viewed.
Access your Ai Recap from four unique places:
In-app Conversation Panel »

Access your Ai Recap from the conversation thread. Once generated, it will appear in the conversation overview.

Web Call History »

Access Ai Recaps from your

Web Call History

by clicking

the

Ai icon

beside the call

Email

» Access Ai Recaps from your email. Simply select

View call summary

from the automated email

Inbox » Access Ai Recaps directly from the Calls tab of your inbox. Select Generate Ai Recap

Once generated, the Ai Recap appears on the right sidebar. Select

Next or Previous

to navigate through calls.


If you come across a call without an Ai recap, select Generate Ai Recap.
Share an Ai Recap
Need to share the call details with a colleague? No problem!
Share your Ai Recap and the call transcript by clicking the Share icon.
Dialpad offers the ability to share the call details to anyone with the URL, or to restrict access to people within your company.
Choose your preference, and click Create link to generate a unique URL that you can share with others.
Learn more about sharing Call Summaries in this handy Help Center article.
Edit an Ai Recap
Do you want to add something to the recap, or update someone's name? No problem, Ai Recaps can be edited, right within the Dialpad app.
Select the Edit icon (that's the pencil and paper) beside your action items or Summary
Enter the desired edits
Select Save changes

Ai Recap for mobile
Ai Recap is supported on Android and iOS devices.
From the conversation view, click the call and the Ai Recap instantly opens.
Currently, it is not possible to edit Ai Recaps using the mobile app.
Frequently asked questions
Is there a cost to use Ai Recap?
Nope! This feature is included in your Dialpad plan.
How do I join the Early Adopter Program?
Contact your Customer Success Manager to sign up for the Ai Recap waitlist today!
Why can't I share a Meeting recap?
Ai Recaps are only viewable by the meeting's Host. But, that doesn't mean you can't share them! The Host can easily share the Ai Recap from their Call History page.
How do I share feedback on Ai Recaps?
We'd love to hear your thoughts on our newest feature! Please email [email protected] with your thoughts — good or bad, we want it all!
Why don't I see an Ai Recap for all my calls?
Even if Ai is turned on, there are certain times an Ai Recap is not generated.
If the call is very short, with less than 100 words spoken
If the call was not answered by a person and went to voicemail
Can I opt out of using Ai Recap?
Ai Recap is a native Ai feature for all Dialpad users. If you do not want to have Ai Recap enabled, you'll have to turn off Dialpad Ai.
Why don't I see Ai Outcomes?
Outcomes are still in Beta, but they'll be live soon — stay tuned!
Do Ai Recaps work for voicemails?
No, not at this time.
What do I do if my Ai Recap doesn't look right?
If the Ai Summary seems out of context, or downright incorrect, we want to know about it.
Please email [email protected] with the Ai Summary details.
Is my data secure?
Yes! Dialpad rigorously reviews the systems and services of the third parties that process data on our behalf. Be sure to read this Help Center article for more information on how we protect your data.
Are Ai Recaps GDPR Compliant?
Yes. OpenAI has signed a DPA and limits processing solely to service delivery. Your data will not be used for any other purpose, including inclusion in or training of their language model.
Are Ai Recaps HIPAA Compliant?
Not at this time. US healthcare customers that require a BAA to use an underlying vendor will not be able to do so without obtaining a waiver from their customers.
We are currently building additional functionality to allow companies to opt out of enhanced summaries based on Office location.
What languages does Ai Recap support?
Currently, Ai Recap is available in English only.
Is Ai Recap available on all Dialpad platforms?
Not just yet, but we're working on it! Currently, Ai Recap is available only on the Web App and the Native App. You will not see Ai Recap on your Dialpad Mobile apps.
Can I try Ai Recap during my free trial?
Not at this time. Ai Recap is available on all paid plans, but not free trials.
---
Was this article helpful?
---
---
What's Next