Dialpad + Intercom
17 Aug 2023

2 Minutes to read
Dialpad + Intercom
Updated on 17 Aug 2023

2 Minutes to read
---
Share feedback
Thanks for sharing your feedback!
The Dialpad and Intercom integration brings your agents a comprehensive and seamless experience that's designed for better customer support and sales interactions.
It's the best of both worlds: Intercom's great website and mobile-based chat, and Dialpad's Ai-powered voice and business text messaging experience. The end result? Your agents can provide even more personalized and immediate support — without having to leave the Intercom inbox.
Let's dive into the details.
Key Features
Dialpad lets you start voice calls right from within your Intercom environment, but that's not where the integration's functionality ends.
This integration provides:
Seamless Calling
Instantly initiate a call at any point during an Intercom chat conversation by sending a Call Me card, where customers enter their number and connect with you in seconds. When the call begins, a live transcription with real-time coaching prompts is automatically started in the Dialpad Everywhere widget, giving you a seamless transition between chat, voice, and video meetings.
Call Logging
Details are logged directly in the Intercom chat history, with an active link to the call recording and Dialpad's Ai call summary transcript and features.
Coach from Anywhere
Arm agents with the right answers with real-time assist cards that include responses to frequently asked questions as well as a hyperlink to more information.
Connect Dialpad to Intercom
Once installed from the Intercom app store, the Dialpad app is ready for all users in that Intercom instance.
Each user must authenticate with Dialpad from within the Intercom inbox.
In any chat window, select the Dialpad icon
Log in with your Dialpad credentials
Select Allow to connect Intercom with Dialpad
Select Reload in the Intercom inbox to complete the connection
Note:
Make sure your User has a Dialpad Ai Voice, Contact Center, or Ai Sales license.
Send a Dialpad Call Invite
Instantly initiate a call from your Intercom chat conversation by sending a Call Me Card.
Call Me Cards appear in the Intercom chat — once the customer enters their phone number, Dialpad will dial the customer.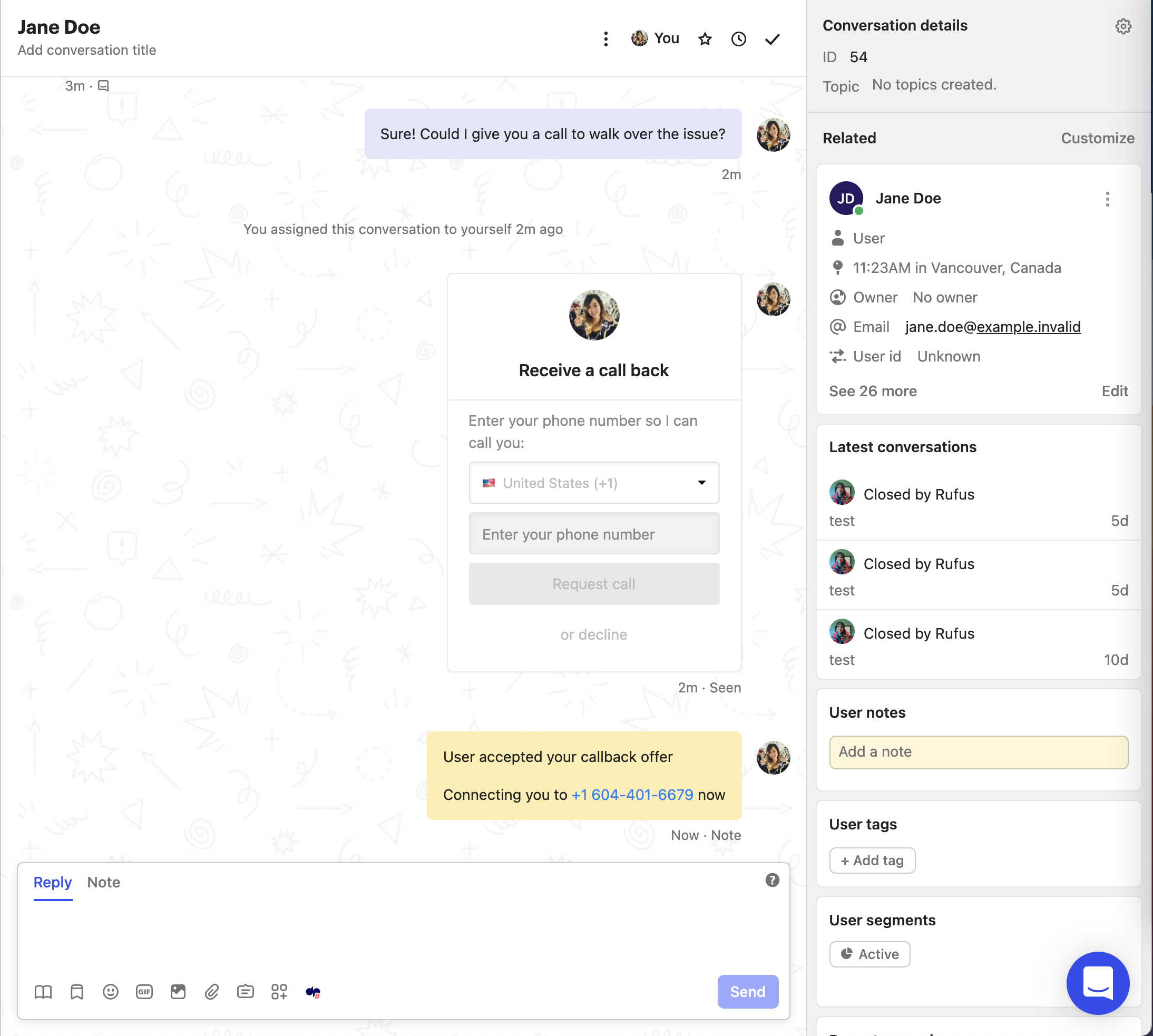 To send a Dialpad Call Me card:
Open the shortcut menu during a live chat

Ctrl+K for Windows
⌘+K for Mac

Select the Dialpad icon
Select the phone number to dial from
Review the Call Me card details
Select Send to send the card to the customer
Once the customer enters their phone number, Dialpad will dial the client by first ringing the Agent. As soon as the Agent answers the call, Dialpad will complete the outbound call.
Note:
Call-back requests expire in 2 minutes.
Post Call View
After the call is completed, Dialpad will log call details such as start time, end time, and duration.
If Ai is enabled in Dialpad, a link to the summary will also be logged.
To access the Ai Call Summary, select Call Review.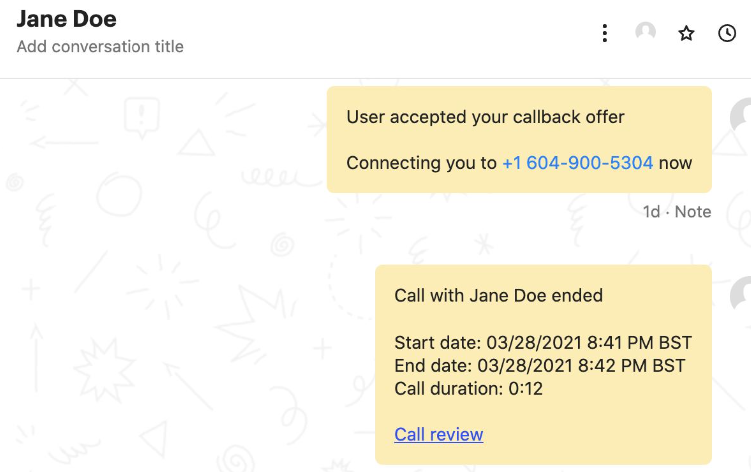 ---
Was this article helpful?
---
---
What's Next