Customize Your Contact Center Dashboard
03 Oct 2023

2 Minutes to read
Customize Your Contact Center Dashboard
Updated on 03 Oct 2023

2 Minutes to read
---
Share feedback
Thanks for sharing your feedback!
Customize Dialpad's built-in dashboards to display specific information from your Contact Centers.
The Contact Center Dashboard displays metrics in a simple table format, providing enhanced customization options with 17 activity filters on top of the ability to filter by specific Contact Center(s) and time.
Let's dive into the details of your customizing dashboard.
View Contact Center dashboard
To view your Contact Center dashboard, head to Dialpad.com
Select the

Live Dashboard icon

from the left sidebar (that's the ECG icon)
Select Contact Center

Click Full Screen (located on the top right corner) to move your dashboard into full-screen mode — This is especially useful if you want to display your Contact Center metrics on a television.
Customize dashboard
Customize your dashboards to display the exact information you need and nothing extra.
Dialpad offers the following ways to configure your data:
Filter by call center(s)
Filter by time
Filter by Activity column(s)
Filter by Contact Center(s)
Display all Contact Centers at the same time, view a single call center, or focus on a specific set of Contact Centers.
Select the drop-down menu beside Contact Centers
Check the box beside the desired Contact Centers
Select Apply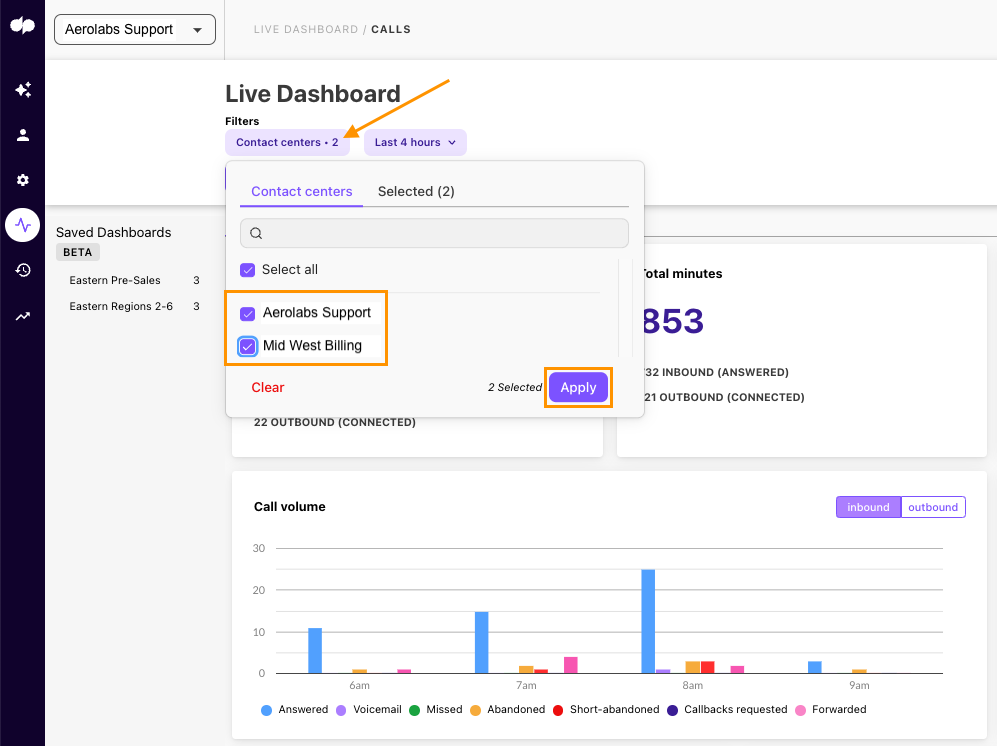 You can also remove Contact Centers using the same drop-down and unchecking the boxes.
Filter by activity column(s)
Monitor specific data points by using Dialpad's column category filter.
Select the Columns drop-down menu
Check the box beside each Activity column you'd like to add
Select Apply

Your dashboard can be filtered by the following key points:
Contact Center Name
Abbreviated name
Longest wait time
Queued calls
Longest wait time
Number of available agents
Number of agents on a call
Number of agents in wrap-up
Total number of inbound calls
Number of inbound calls answered
Number of inbound calls abandoned
Number of inbound calls missed
Number of voicemails
Number of outbound calls connected
Number of outbound calls canceled
Average speed to answer (ASA)
Service level
Average call duration (ACD)
Filter by timeframe
Determine the timeframe that you want your dashboard to display. You can choose the entire day, the last 8 hours, the last 4 hours, the last 2 hours, the previous hour, all day or the current hour.
Select the Last Hours drop-down menu
Select the desired time frame
That's it! Your dashboard will instantly update.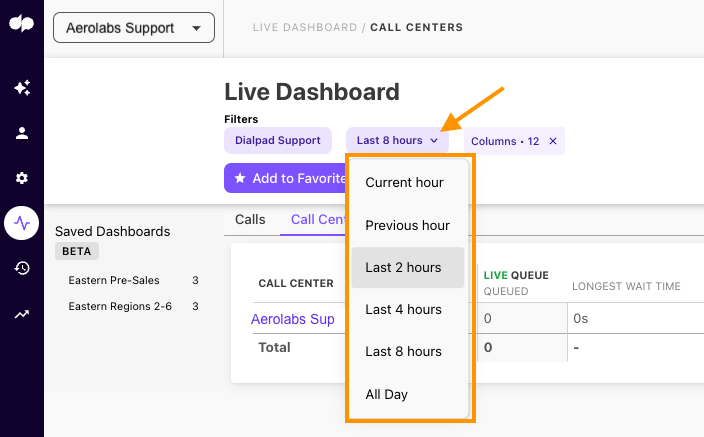 Note:
Metrics categorized and labelled as "Live" are calculated as of their present status, and are independent of the timeframe chosen.
Fullscreen view
Dialpad's built-in dashboard includes a full-screen option, which can easily be projected onto a large monitor in a physical, in-person setting.
Select the Fullscreen button and just like that, the dashboard will fill your entire screen.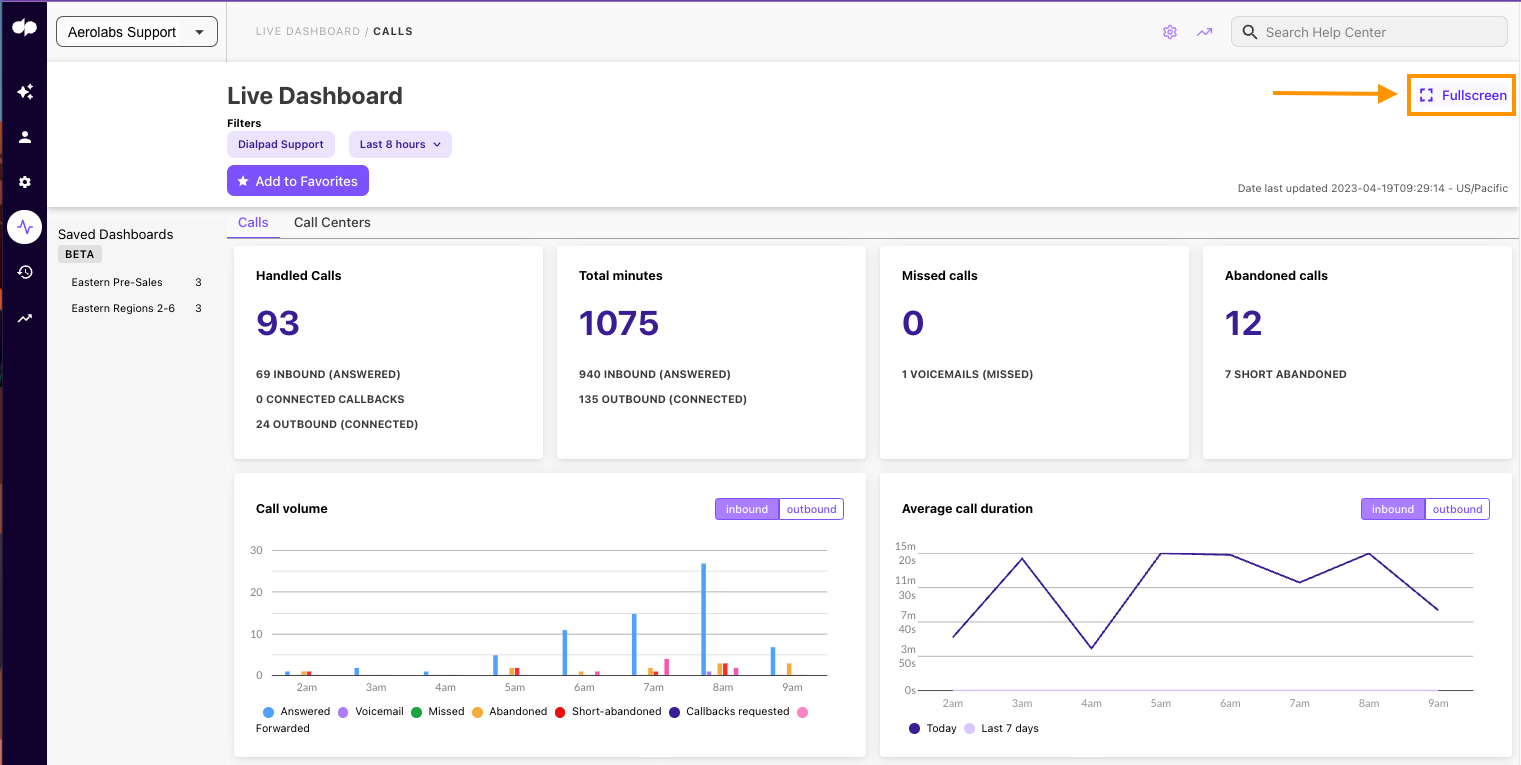 Save a dashboard
Save your customized dashboard so that you don't have to reset your parameters each time — this is available to both the calls dashboard and the Contact Centers Dashboard.
Select the desired filters

Select Save new dashboard

That's it! Your saved live dashboard will now appear in the Saved Dashboards sidebar, ready to be viewed again at your leisure.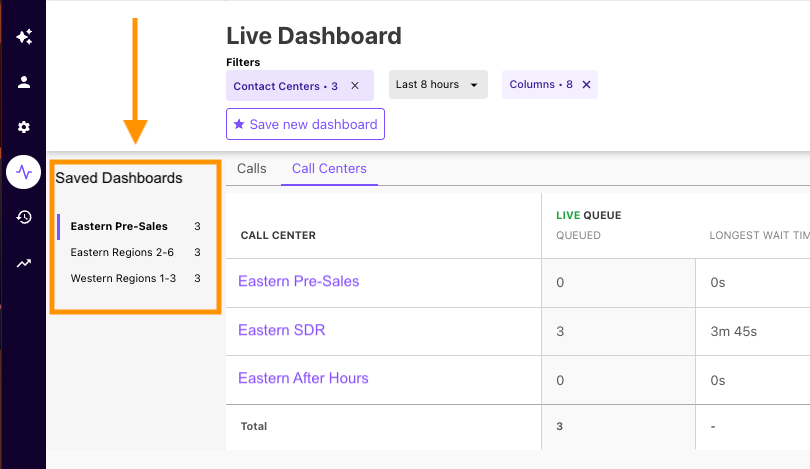 Edit a saved dashboard
Need to make changes to a saved dashboard? No problem.
First, head to Dialpad.com
Select Live Dashboard
Select the desired dashboard from your Saved Dashboards list

Add or remove the filter(s)
The Dashboard will automatically update.
Delete a saved dashboard
To remove a saved dashboard completely, select the dashboard you'd like to remove and simply click the trashcan icon.

Contact center alerts
Contact Center alerts also appear on your dashboard, allowing you to keep tabs on your high-risk stats in a quick glance. You'll recognize them when cells and rows turn red.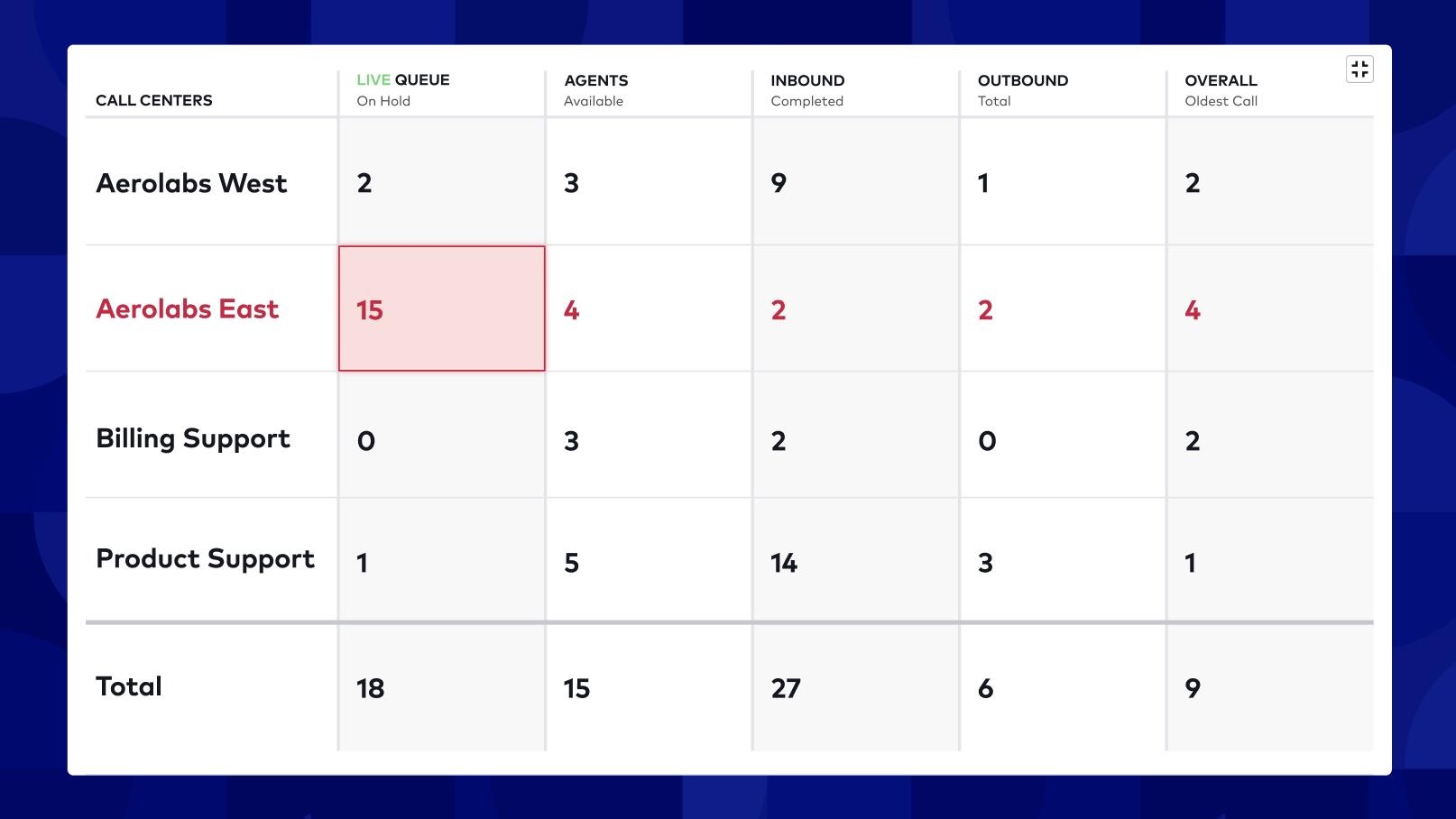 ---
Was this article helpful?
---
---