Use Salesforce for Dialpad
01 Dec 2023

3 Minutes to read
Use Salesforce for Dialpad
Updated on 01 Dec 2023

3 Minutes to read
---
Share feedback
Thanks for sharing your feedback!
The Dialpad for Salesforce integration brings smarter workflows, increased call efficiency, and better customer interactions to Salesforce—so your teams can focus on driving more sales and closing deals faster.
Let's dive into the details of this integration.
Who can use this feature
The Salesforce integration is free to install but requires
a Pro or Enterprise Dialpad plan type.
The
Dialpad integration is compatible with both Service
and Sales Cloud.
Requirements
In order to successfully integrate Salesforce within Dialpad, you must:
Have either Enterprise or Unlimited editions of Salesforce
Be using the lastest Salesforce package — we're currently on v1.749
Enable API access
Note:
Dialpad does not store Salesforce activities. It only does a real-time fetch to display information using Salesforce APIs.
Permission options
Dialpad for Salesforce offers two permission options.
Be sure to review the below details to make sure that you're using the correct permissions.
1. Dialpad For Salesforce - Administrator
This permission set is meant for Admins who need access to the 'Dialpad_Lightning' Tab.
With this permission set, Admins can manage the following features:
Powerdialer list management
List prioritization
Contact Center prioritization
Salesforce settings
2. Dialpad For Salesforce - Standard User
This permission set is intended for Agents or non-admin users.
With this permission set, agents can access the 'My Dialpad' Tab, where they can see their assigned lists and upcoming records from the Powerdialer.
If your organization does not use Powerdialer, this permission set is required to ensure proper access to call logging objects and field
Connect Salesforce
To enable and connect Salesforce for Dialpad, your Admin will need to:
Scroll to the bottom of your contact's profile
Click Connect to Salesforce
Enter your credentials to authenticate the connection
Salesforce contact matching
Once you've authenticated this connection you'll see a Salesforce match populate on your Contact's sidebar whenever you have a match.
Multiple Matches
If multiple matches appear:
Click on the # of matches
Select the right contact from the populated list
This contact will now sync with your contact in Dialpad

Once you connect, your Salesforce panel will display the following:
Salesforce Record Info
View Contact (in Salesforce)
Log Activity
Open Activities
Activity History
Salesforce Record
This section displays:
Title & Company associated with the Record
Record Owner
Opportunity Stage (if applicable)
Log an Activity
No need to toggle between Dialpad and Salesforce. Click on Log Activity to enter a subject line and any notes.
You can log open activities as well as closed activities. Let's take a look at each option.
Log an Open Activity
To log an open activity:
Navigate to your contact
Click Create Task before you place a call
Save Activity before you place a call
The open activity will then show up under Open Activities
Log a Completed Activity
To log a completed activity:
Navigate to your contact
Place a call to your contact
On your active call, start typing in your notes
After you're done, click Save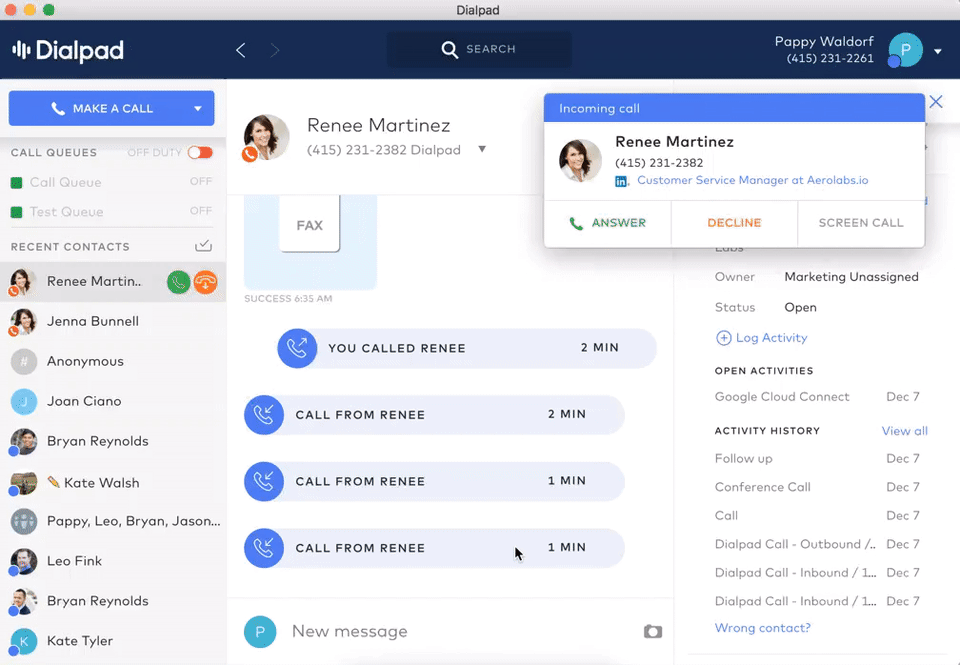 Dialpad Tip:
Until you navigate to another contact, you can still enter subject/notes and we'll associate it with the right call info.
Just like your desktop app, you can view Salesforce activity for your contacts including an option to log activity and to select the right match when multiple appear. Just tap on the Info icon to display your Salesforce sidebar.
And if you enter notes during a call (or long-press on a past call), we'll automatically log them as closed activities.
Just like your desktop app, you can view Salesforce activity for your contacts including an option to log activity and select the right match when multiple appear. Just "Tap to View Profile" and scroll to the Salesforce section.
Looking to log an activity on your iOS or Android device?
Log a call
As long as you've matched the right contact in Dialpad to Salesforce, all active inbound and outbound calls will automatically log in Salesforce as completed activities.
The activity will be listed with the default title Dialpad Call and basic call info (call duration, call type).
Record a call or leave a voicemail in Dialpad and we'll automatically log it back to the associated record in Salesforce.
Note:
If you receive a call from another Dialpad user in your same company, that call will not log to your Salesforce.
Calls placed via a desk phone will still automatically log as long as there is a contact match. If multiple contacts are found, you will need to select the contact to log against in the desktop app in order for the call to be logged.
Activity history
Under Activity History, completed tasks will include:
Assigned To: Dialpad user who received/placed the call
Subject: Dialpad Call, inbound/outbound, and call duration
Call Type: Records call direction
Call Duration: Records call duration (in seconds)
Start Date/Due Date: Date the call was received/made
We do not currently log against Type.
To view all activities in Salesforce, use the View All hyperlink beside the 'Activity History' section. Make sure you have the latest version of our package installed in your Salesforce instance before you click on the hyperlink. You may use the following links to install it right away:
Visit this Help Center article to find answers for frequently asked questions regarding Salesforce for Dialpad.
---
Was this article helpful?
---
---
What's Next