Salesforce Custom Objects
07 Jun 2023

3 Minutes to read
Salesforce Custom Objects
Updated on 07 Jun 2023

3 Minutes to read
---
Share feedback
Thanks for sharing your feedback!
Custom Objects in Salesforce are created to store information unique to an organization or industry.
Just like Opportunities and Cases, if you have Custom Objects that are related to Contacts, Accounts, or Leads, this feature will allow you to associate your calls against these custom objects in addition to logging against the account or contact record.
Let's take a look at how to set up Custom Objects.
Who Can Use This Feature
Users on a Pro or Enterprise
Dialpad Ai Voice
,
Ai Sales
, or
Contact Center
plan can use this integration.
Dialpad Users must have Office Admin permissions to get started.
Agents must also remain connected to the same Salesforce instance as their respective Office Admin.
Enable Custom Objects in Dialpad
Salesforce Users with System Admin access must enable and configure the integration.
To enable Salesforce, head to your Admin Settings from Dialpad.com
Navigate to Office
Select Integrations
Select Options beside Salesforce
Select Manage Settings




Navigate to Custom and Standard Objects
Toggle on or off any Object you'd like to enable

Indicate custom object fields that identify Name, Email, and Phone Number against each custom object type.
Note:
Keep in mind that you'll need the latest version of the Salesforce package installed from Salesforce AppExchange in your Salesforce instance.
Any Dialpad field can be mapped with just one field of the custom object.
Dialpad will execute a search based on these fields to identify matches from the connected Salesforce instance.
For each object type that is enabled for call logging, you'll also indicate an object field, using the 'Label' selection, that uniquely identifies the records belonging to that object type. Information in this field is what Reps see for selecting any specific record to log a call.

Indicate related objects that Reps can use to associate their calls. Both standard and custom objects are supported for logging calls against related objects.
For example, if you wish to associate your calls to Salesforce cases or Salesforce opportunities, here is the place in which you'd need to indicate that.
Log Call Against Salesforce Custom Object Records
Connect a Dialpad contact to custom object records from Salesforce when required.
Dialpad fetches the matching records from Salesforce using the information in 'Name,' 'Phone Number,' and 'Email Address' fields in the object record as indicated by the Dialpad Admin in the object configuration.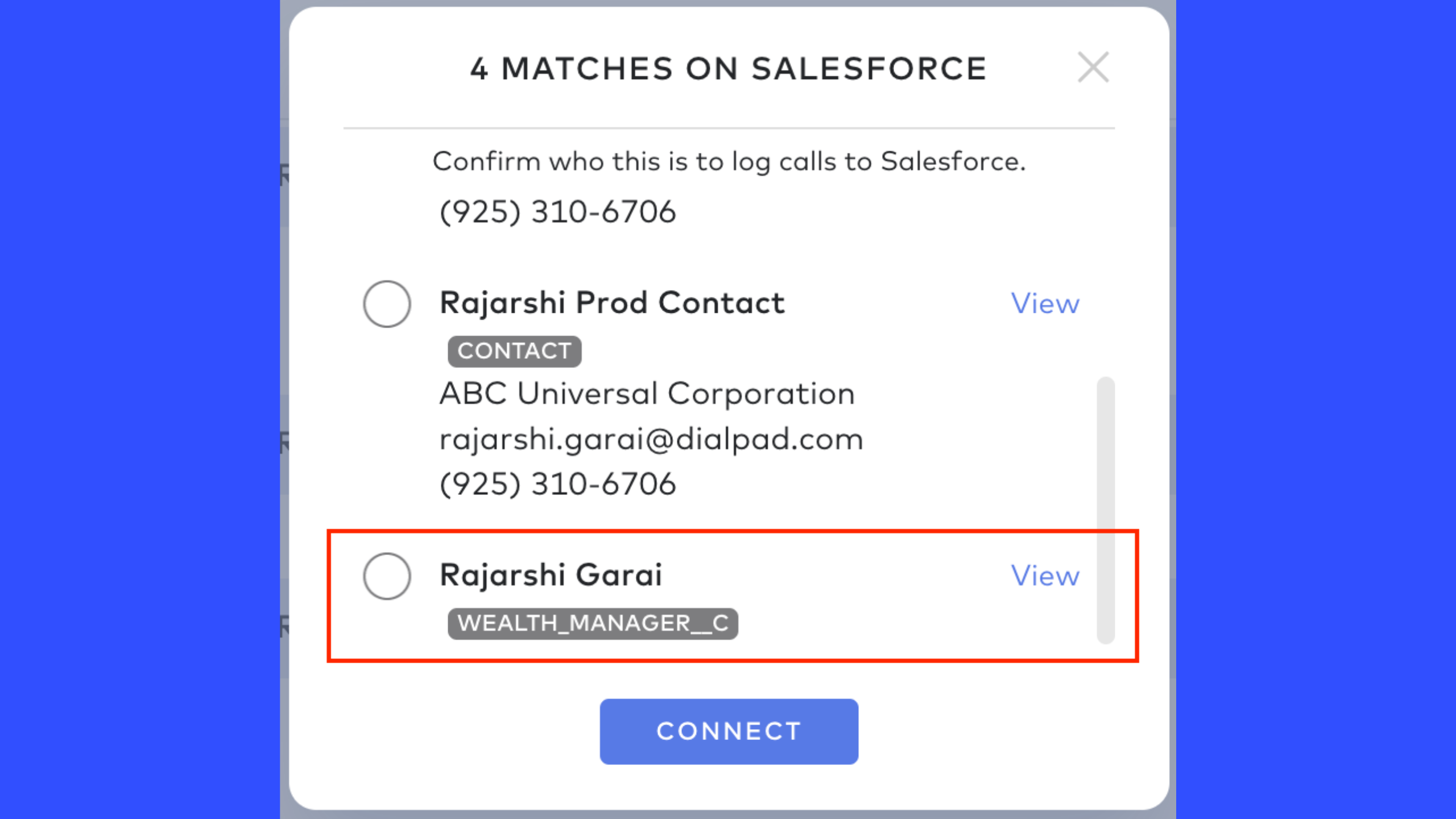 Use the Dialpad desktop app's sidebar (left) or Dialpad Everywhere (right) to take call notes and associate the call with multiple related records belonging to standard (cases and opportunities) and custom object types.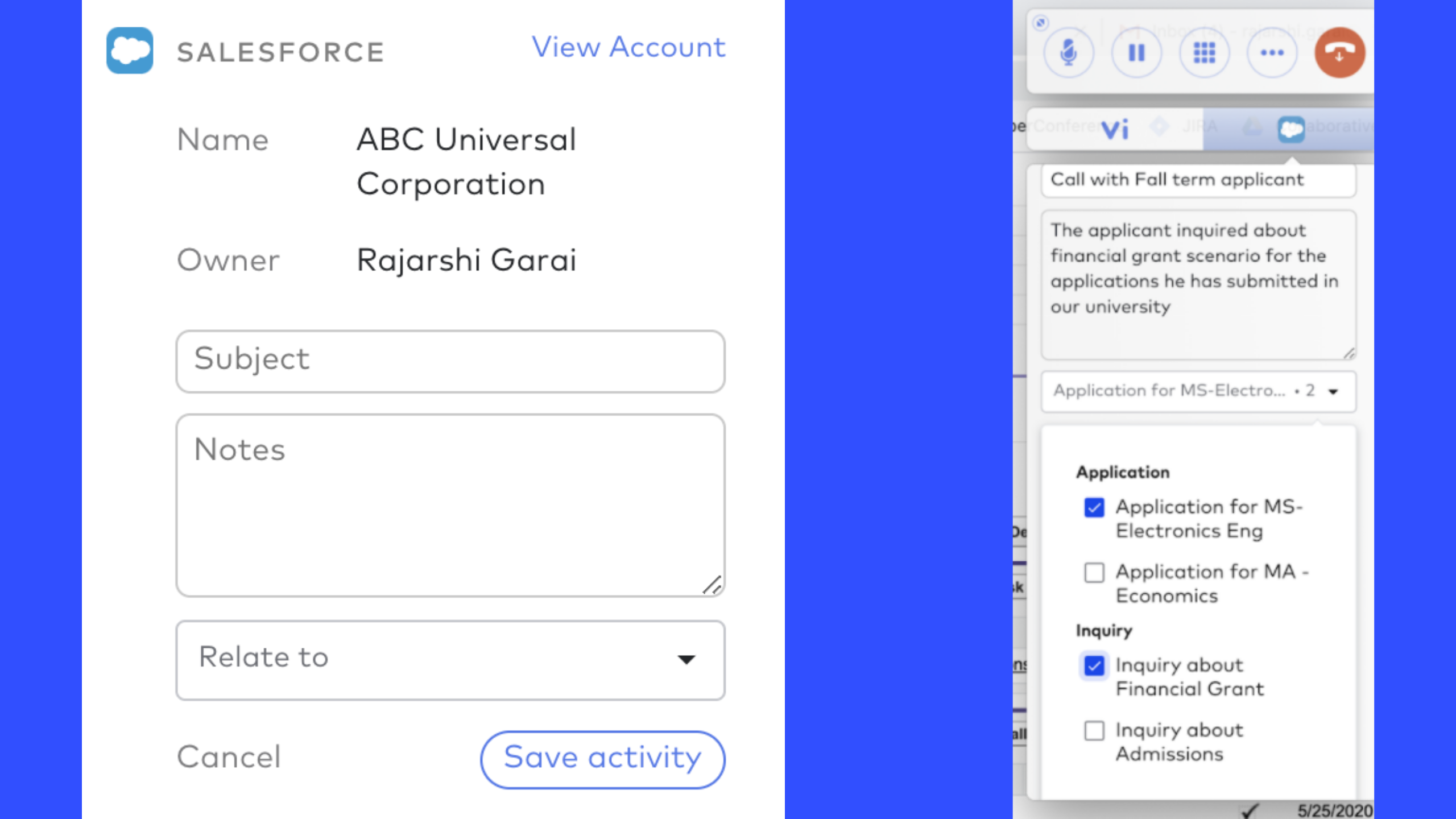 The 'Relate to' drop-down menu is where we display the object records related to the parent object ('ABC Universal Corporation in the example above) for Agents to select in order to associate a call.

Object types that the Agent gets to select from are driven by what the Office Admin has configured against the parent object type in the settings (as shown above).
Frequently Asked Questions (FAQs)
Is there a specific Dialpad package version needed?
You'll need Dialpad package version 1.605 or above to use the custom object integration. If your Dialpad package version has not been updated, you'll see a blank result after navigating to the Object tab.
Sales Manager / Rep: How do I verify if a call has been correctly logged against all the related object records in Salesforce?
Open all the related object records in Salesforce individually and look for recent activity created with the call notes saved in the comments field.
Sales Manager / Rep: Other than call notes, what else is logged in Salesforce for custom objects and related objects?
Call notes and other items such as voicemails, messages, and call recording links (if turned on) are logged to the newly-created Salesforce activity.
Sales Manager / Rep: Why don't I see the drop-down to relate my call to opportunity records in the sidebar when I am in a call?
The drop-down to select an opportunity record has been removed because opportunities are available in the related objects drop-down with other types of related object records for selection. In fact, you can relate your call to multiple opportunities now.
Salesforce Admin: Why don't I see a new custom object in my object list to turn on call logging?
Make sure you've checked 'Allow Activities' when creating the custom object definition in Salesforce. Only those objects that allow activities to be created can be used for call logging.
Can I log a text message to an opportunity?
No, SMS messages cannot be logged to an opportunity, only calls.
Why does it only display a few "objects" under "Custom objects" while configuring the SF integration settings, despite the fact that we have more custom objects built on the Salesforce side?
Track Activities must be enabled for the custom objects in the customer instance.
Also, for a Custom Object to show in the 'Related To' Lookup list for an Event or Task, the 'Allow Activities' (Track Activities) checkbox must be checked in the Custom Object Definition.
To enable this, use this link.

---
Was this article helpful?
---
---
What's Next