Opt In and Out of SMS Messages
31 Oct 2023

2 Minutes to read
Opt In and Out of SMS Messages
Updated on 31 Oct 2023

2 Minutes to read
---
Share feedback
Thanks for sharing your feedback!
Messages sent through Dialpad are delivered via an internet connection. This starts a 'chat' between Dialpad users.
But you can also send a message to someone who isn't using the Dialpad platform. That communication goes through traditional SMS/MMS-based networks and appears as a text.
The Dialpad-to-SMS communication is considered Application-to-Person (A2P) by U.S. carriers.

Dialpad Glossary | Application-to-Person (A2P)
The activity of sending mobile messages from a business application, like Dialpad, to a mobile recipient.
A2P Requires compliance with the Telephone Consumer Protection Act (TCPA) and adherence to the Cellular Telecommunications and Internet Association (CTIA) guidelines, which means the recipient has the option to stop communications from that number or continue them again.
Recipient text commands
After a recipient has received a message from a Dialpad user, they have the option to enter one of three text commands: STOP, UNSTOP, or HELP.
Currently, these commands do not apply to toll-free numbers.

Tip:
Make sure to check for extra spaces when entering a command. If the recipient enters a command with extra spaces at the end, it will not trigger the desired action in the Dialpad SMS.
Let's take a look at these three commands in greater detail.
Stop
Once a recipient replies STOP to a message, they will no longer receive texts from your organization. As the sender, you won't be able to send them any messages because the input field will become inaccessible.

If your company has registered their A2P messaging campaign, all numbers attached to the same campaign are prevented from texting that recipient back.
If you're sending a message from a number that is not associated with an A2P messaging camping, when a recipient replies STOP to a number, all numbers for the entire company are prevented from texting that recipient back.
A message will also appear in a gray box on the bottom of the screen letting you know that the recipient has replied with STOP. This is what it looks like in your Dialpad app: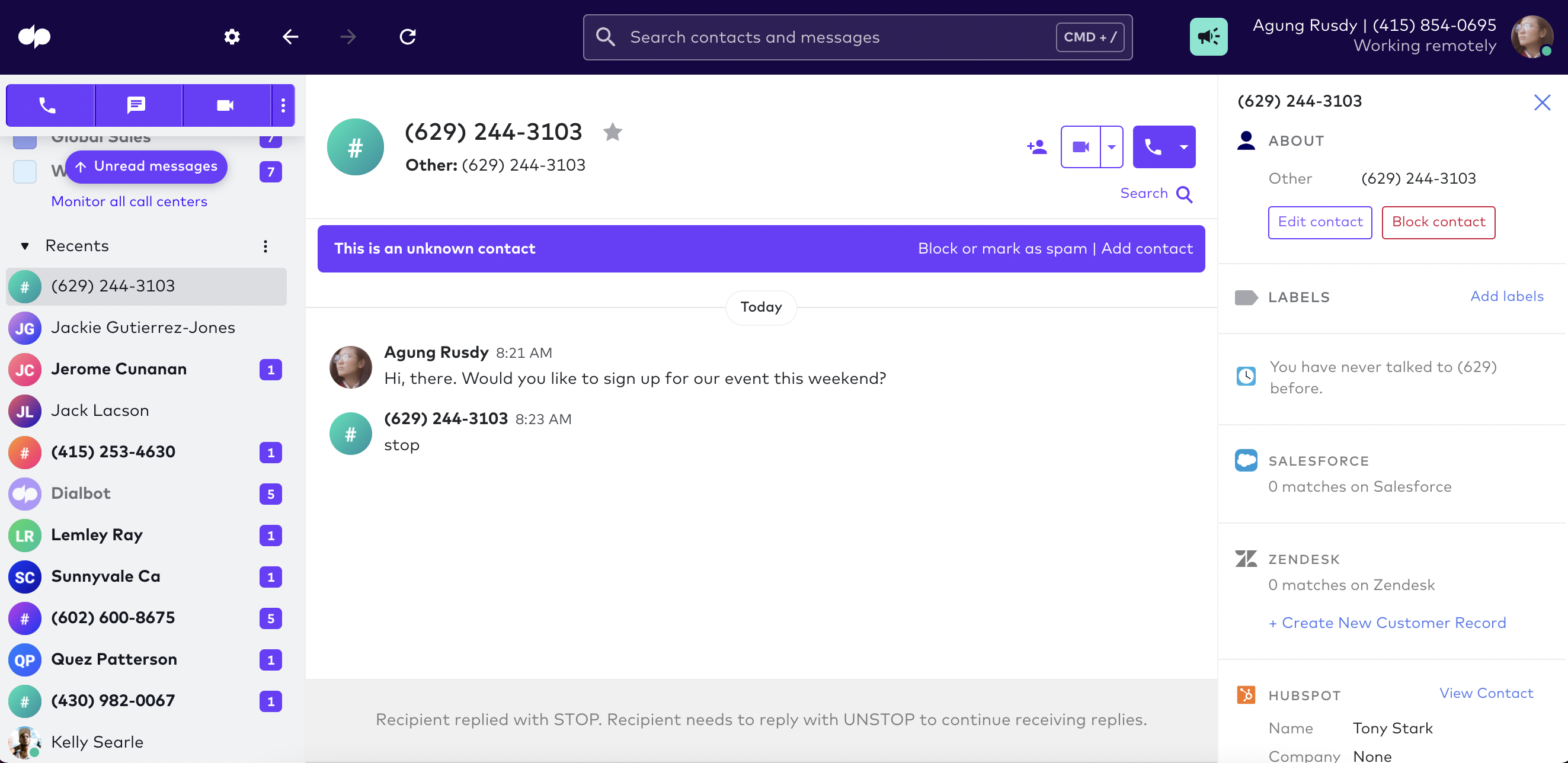 Note:
If a recipient replies STOP to a message, they can still receive phone calls from that number — the STOP command only applies to SMS messages.
Unstop
Sometimes, people change their minds — it happens. In that case, the recipient has the option to reply with the UNSTOP command. That opts them back into receiving messages from your organization. As the sender, you'll be able to send them messages again, too.
Help
When the HELP command is entered, the recipient will receive an automated message to contact the main line number for further assistance. This message can also be customized for our company (see below).
Customize HELP auto-reply
Instead of opting for a canned response, you have the ability to customize the message a customer receives when they reply to an SMS message with HELP. Office and Company Admins can edit this message from their Office Settings.
To edit your auto-reply Help Message, head to your Admin Settings from Dialpad.com
Navigate to Office
Select Office Settings
Navigate to Help Message
Enter your custom message, then select Save
Your HELP auto-reply must include the following information:
Business name

Contact information (phone number or email) for the business

Language about any associated fees or charges

Instructions on how to opt-out (ex: Reply STOP to opt-out.)
---
Was this article helpful?
---
---
What's Next