Local Presence
22 Sep 2023

5 Minutes to read
Local Presence
Updated on 22 Sep 2023

5 Minutes to read
---
Share feedback
Thanks for sharing your feedback!
Cold calling is hard enough on your sales team. One simple thing you can do to help their outreach efforts is to give them phone numbers with area codes that recipients recognize, meaning you're increasing the odds that prospects will take the call.
With Dialpad's local presence dialing, sales teams can leverage a bundle of area codes that match up with their territories throughout the US automatically—without any extra work for your call center team.
Let's take a look at Local Presence in Dialpad.
Who can use this feature
How local presence works
Dialpad's local presence packages give sales managers and teams three options for purchasing local presence numbers. Once you've purchased your local presence bundle, you can assign the feature to any of the contact centers associated with your Dialpad account (meaning more than one Contact Center within an office can leverage this feature!)
Sales reps then choose the local presence option when placing an outbound call from their Dialpad app to automatically detect and match the recipient's number.
When a call is returned, rather than routing to whichever rep is available to take a call, Dialpad will automatically route to the specific rep who originally placed the call. If that rep can't answer for some reason, the call will be routed to the next available rep in the group (or follow the call routing options the manager has set).
Purchase local presence
To purchase a Local Presence package head to your Admin Settings from Dialpad.com.
Navigate to Office
Select Office Settings
Navigate to Local Presence
Local Presence is available through three purchase options:
Top 100 Metro Areas: Covers around 80% of the U.S. population
Individual Phone Numbers: A single phone number important to your business
Complete Package: Covers around 95% of the U.S. population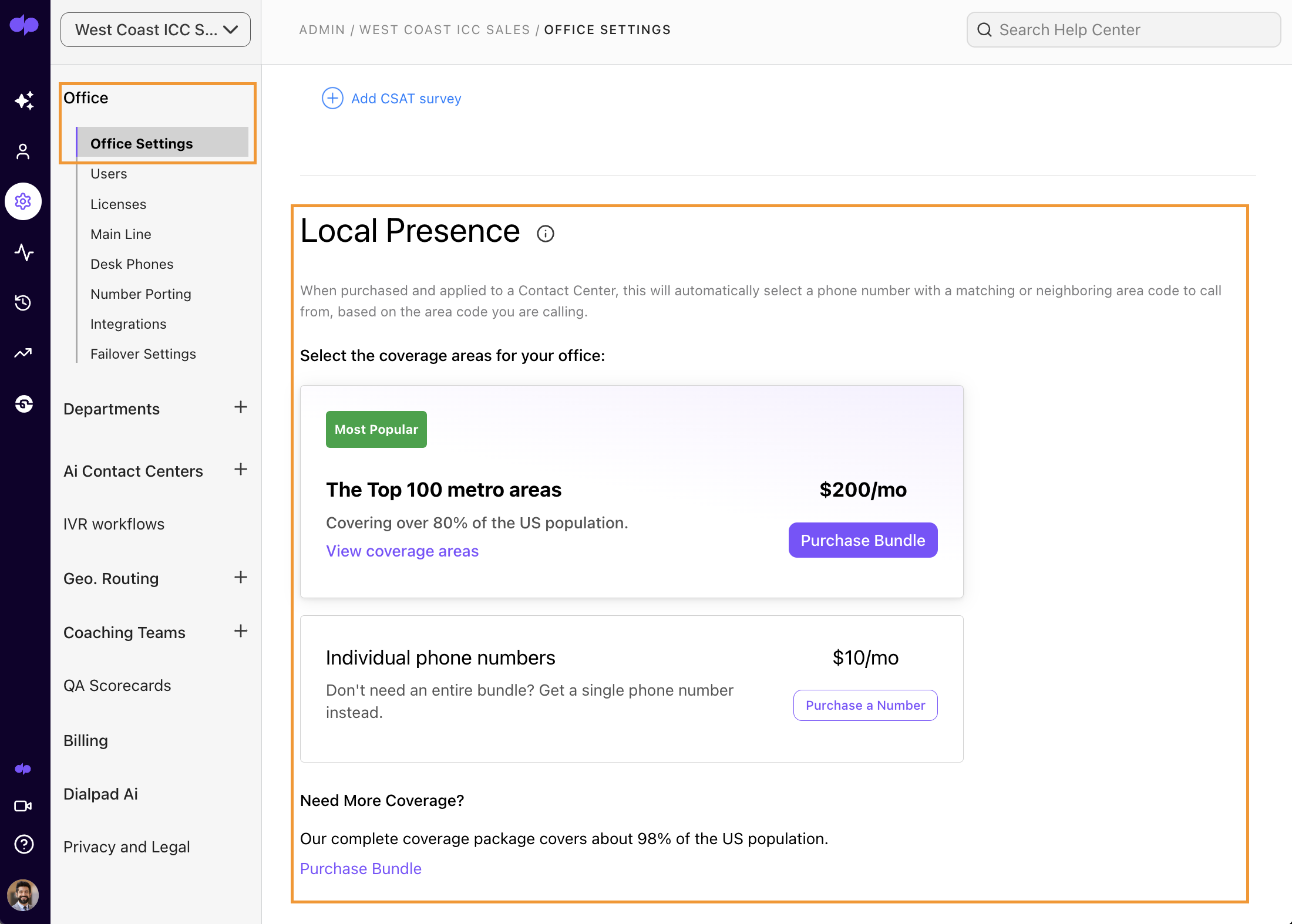 Choose a purchase option, then follow the purchase flow to successfully add Local Presence to your Dialpad account.
Plan on choosing the Top 100 Metro Areas purchase option?
Select View Coverage Areas and you'll see a list of area codes and cities defining this purchase option's coverage areas. Enter your desired area code into the search bar to see if we provide coverage for your region.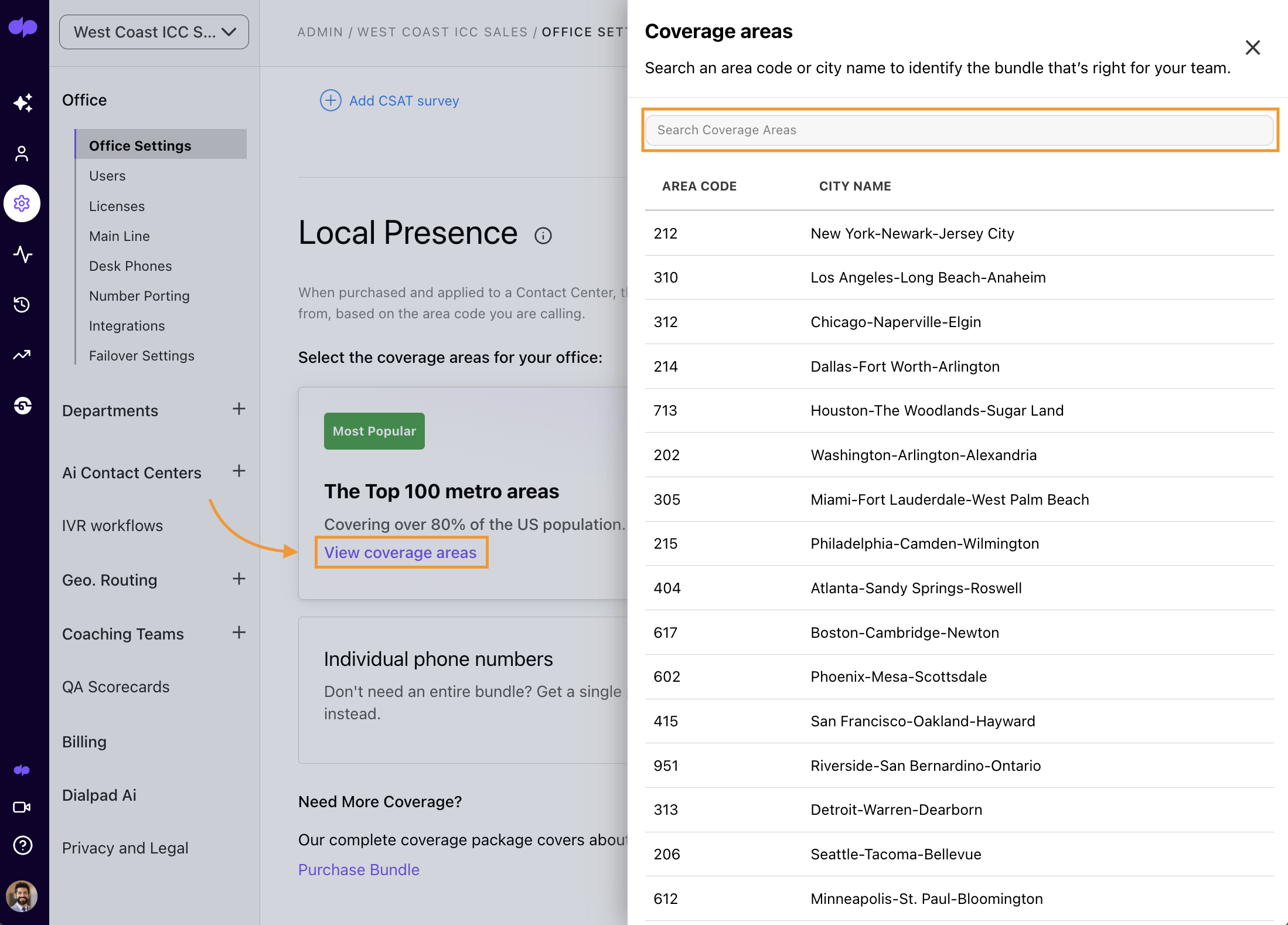 Once you've chosen a bundle, the Local Presence's coverage area appears and indicates the coverage area. You can also purchase single numbers to use.
Select View Numbers to see the list of available numbers included in your package.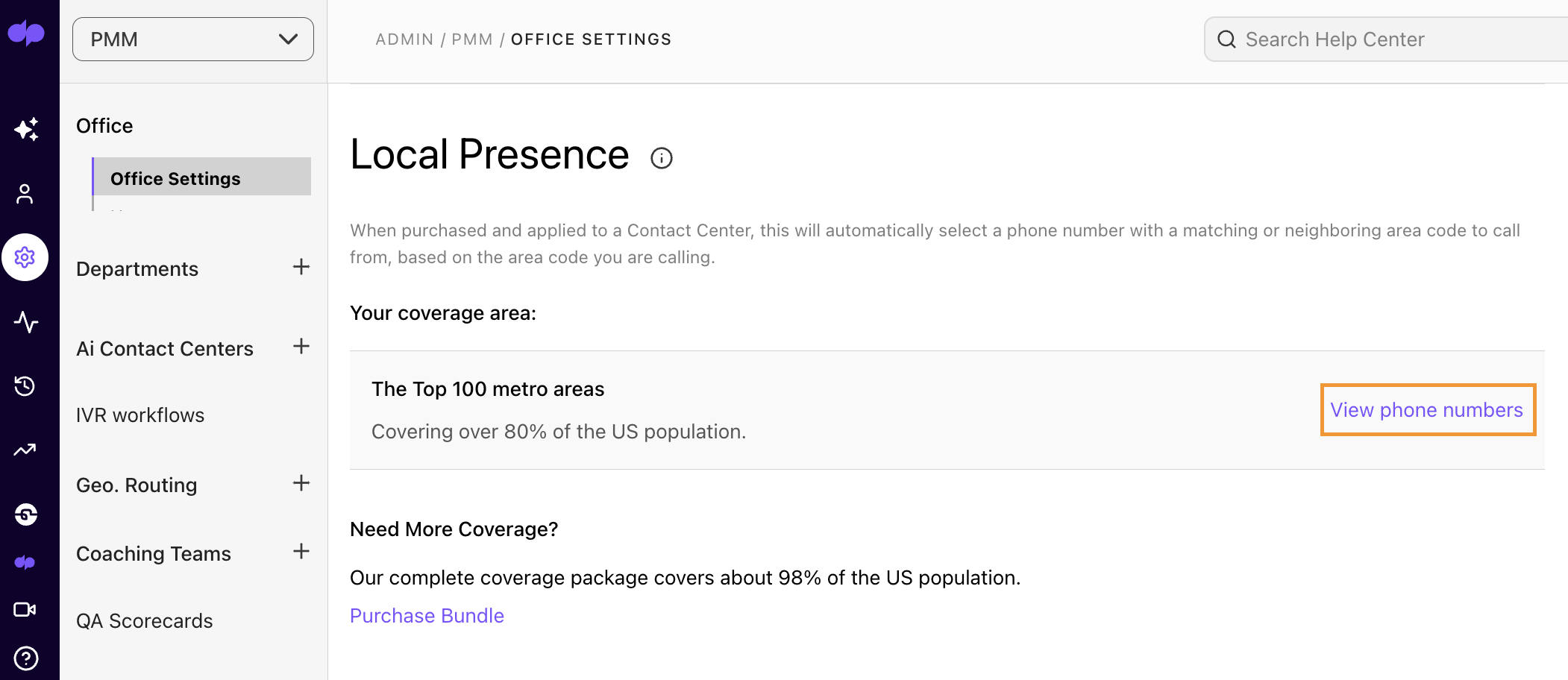 Be sure to read this handy Help Center article to learn more about the most popular local presence area codes, and which are included in certain packages.

Enable local presence for a contact center
To enable Local Presence for a Contact Center, head to your Admin Settings from Dialpad.com
Navigate to Contact Centers

Select the desired Contact Center

Select Advanced Settings
Under Contact Center Caller ID, select Local Presence
You'll only see this if the Contact Center is assigned with at least one number.
If you want Agents to be able to choose whether they make an outbound call based on the Contact Center's main DID, or utilize local presence, click on the Allow agents to toggle local presence on and off checkbox.

Use local presence as a contact center agent
If you're on an Ai Sales license, and your Admins have configured Local Presence as your Contact Center's default number, you won't have to do anything — your caller ID will automatically be placed with a Local Presence number.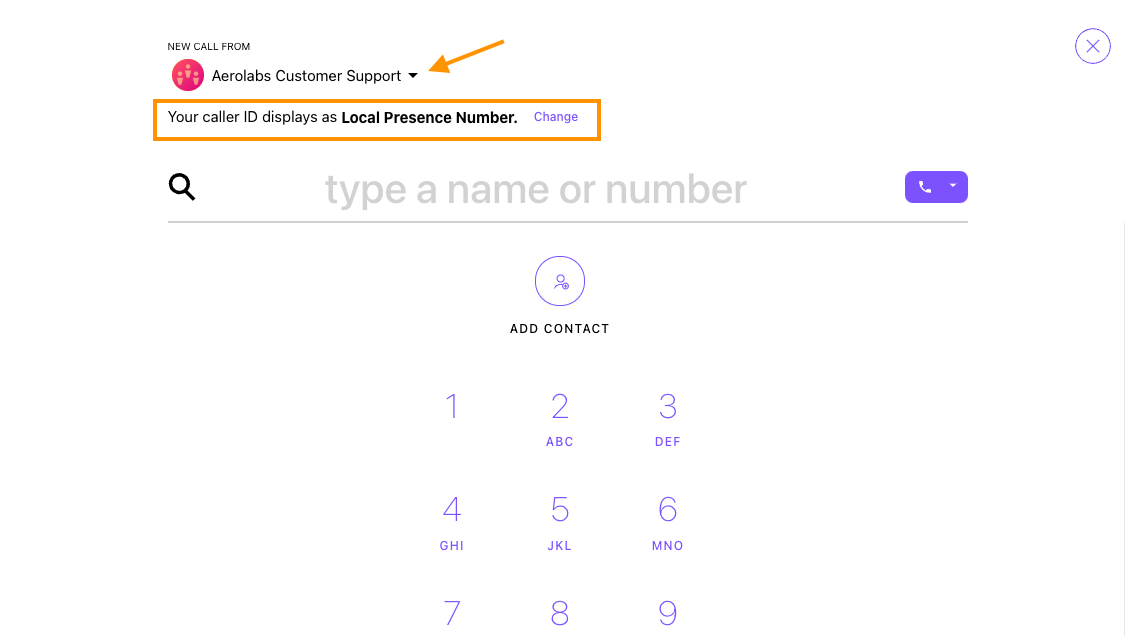 If your Admins have set a non-Local Presence number as the default, and have granted Agents permission to turn Local Presence on or off, you can change to a Local Presence number before placing your call.
From the Dialer:
Select Change
Select Local Presence Number
During the call, you'll see a special label indicating Local Presence is active.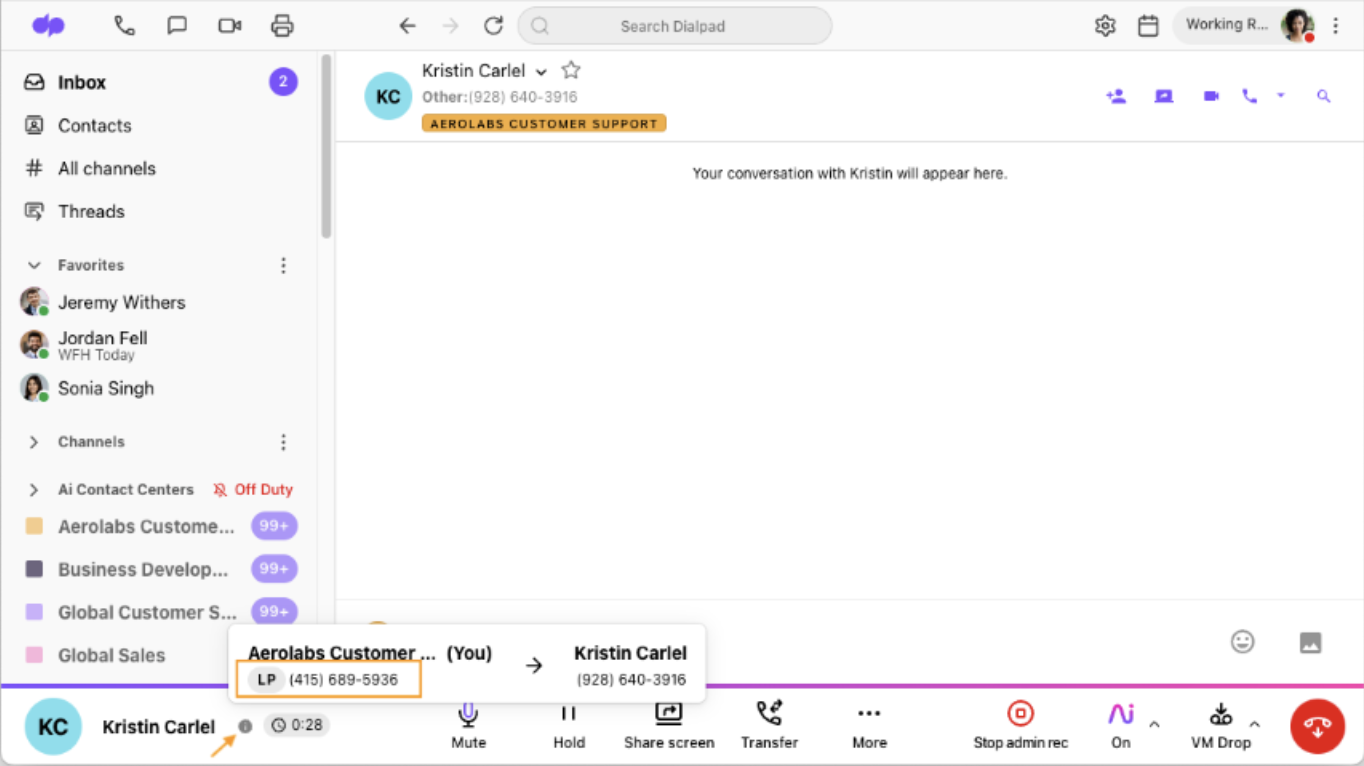 Note
If the call recipient's area code matches the Contact Center's, Local Presence may not be used.
Use local presence in coaching teams
You can also apply Local Presence to Contact Center Coaching Teams.
Head to your Admin Settings from Dialpad.com
Navigate to Coaching Teams

Select the desired Coaching Team

Navigate to Local Presence
Check the box beside Use this office's Local Presence numbers for members of this Coaching Team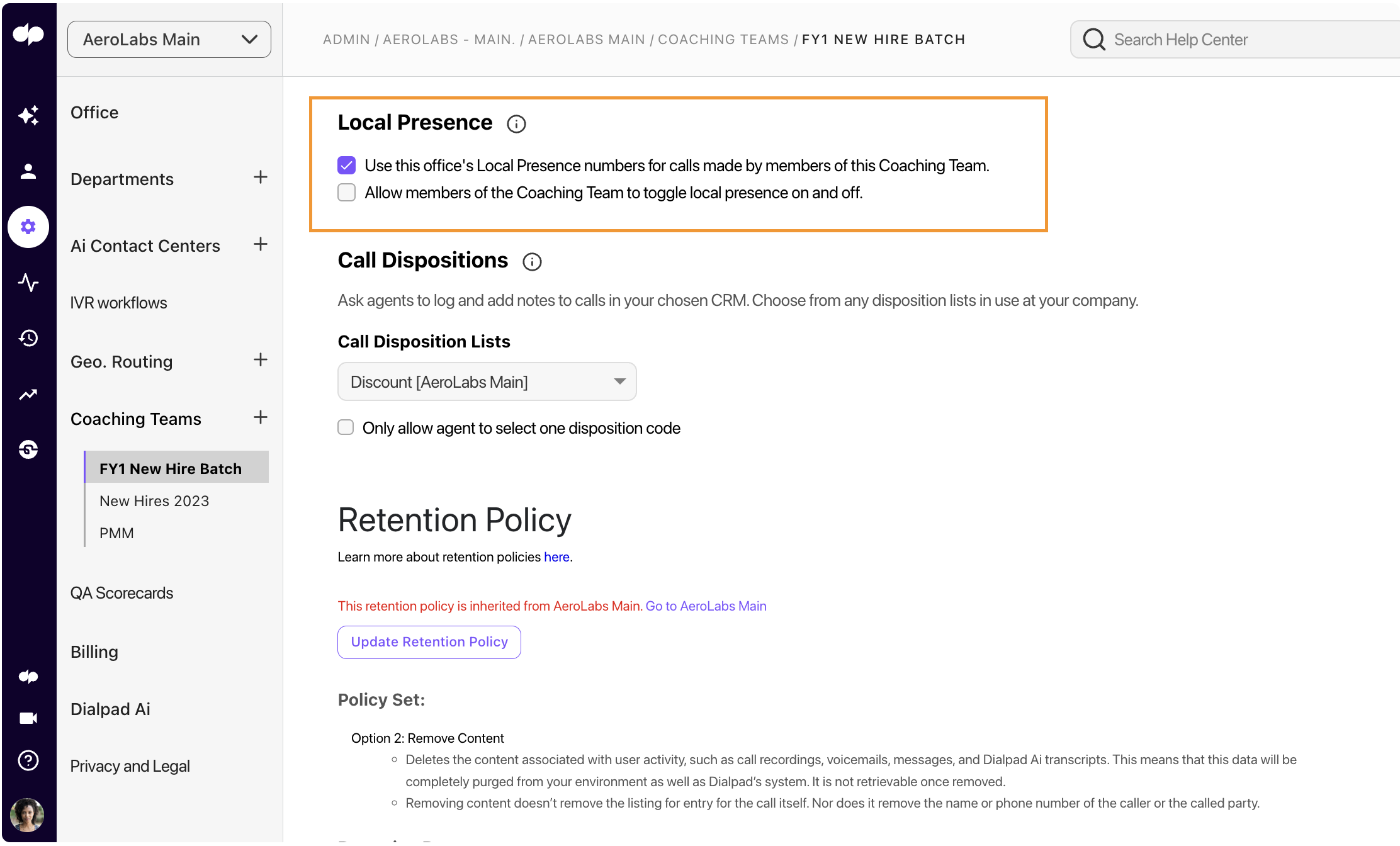 Check Allow members of the Coaching Team to toggle local presence on and off if you want trainees to be able to choose to use Local Presence or their personal number.
Frequently asked questions
What happens when someone calls back?
If the recipient of a call makes a call back to a Local Presence-based number, the call will be routed to the Contact Center using the same Local Presence number. Dialpad attempts to reach the Agent who made the outbound call first, then routes to another agent.
For Coaching Teams, if the recipient of an outbound call returns the call by dialing that Local Presence-based number, it'll be routed to that agent's voicemail. However, if they dial a Local Presence-based number that did not originate from an agent, the call will be routed to the main line voicemail.
What happens if we play phone tag (I call someone back after they returned my call) will my Local Presence number change after the second call?
The original Local Presence Number will be used as you are calling the same number/region. We associate dedicated DIDs/Phone numbers to the regions you are calling that persist every time you call that specific region.
What happens if a rep calls a number whose area code is not part of the number bundle I've purchased?
If the area code being dialed is not in the Local Presence number bundle, Dialpad will try to find a nearby area code in your purchased bundle based on LATA (Local Access and Transport Area). This lookup occurs automatically when a call is placed, and if no suitable area codes are available in the bundle, Dialpad will default to the Contact Center area code.
What should I do if Local Presence reads 'unable to allocate a number for this area'?
We may run out of area code-specific numbers from time to time. If you don't see your desired area code, please reach out to our Support Team for assistance.
What happens if a rep calls into an area with overlapping area codes, such as a dense metro area?
Local Presence will automatically choose the area code that is part of the bundle that you've purchased, thus the outbound area code might not exactly match the area code being called. For example, when dialing a 646 area code in Manhattan the outbound number might show as the 212 overlapping area code.
What does 'Dynamic Caller' mean in call logs?
An inbound call back to a local presence phone number will be labeled as 'DynamicCaller' in the call logs. There is no charge for outbound calls that appear as normal outbound calls from the Contact Center.
What happens if someone texts a local presence number?
We do not offer SMS service on local presence numbers.
Will Local Presence work if an Agent is assigned to a Contact Center that uses Salesforce Powerdialer?
Yes. Local Presence must be enabled in the Contact Center from the Dialpad Admin portal.
Agents should verify the caller ID that they are using is set to Local Presence before dialing out using the Salesforce Powerdialer.
What if I don't want to use Local Presence?
If your Admin has enabled the option to allow agents to toggle local presence on or off, you can manually change your caller ID number off of Local Presence by selecting Change and choosing a different number.

---
Was this article helpful?
---
---
What's Next