Dialpad Ai Meetings Billing
06 Sep 2023

2 Minutes to read
Dialpad Ai Meetings Billing
Updated on 06 Sep 2023

2 Minutes to read
---
Share feedback
Thanks for sharing your feedback!
Dialpad Ai Meetings Business accounts can easily update their payment method and access their payment history from within the app.
Let's dive into the details.
Access Dialpad Ai Meetings billing
To access your Billing Menu:
Select MENU from your Dialpad Ai Meetings dashboard
Select Billing

Here, you'll see a summary of your subscription plan, cost, billing date, payment method and payment history.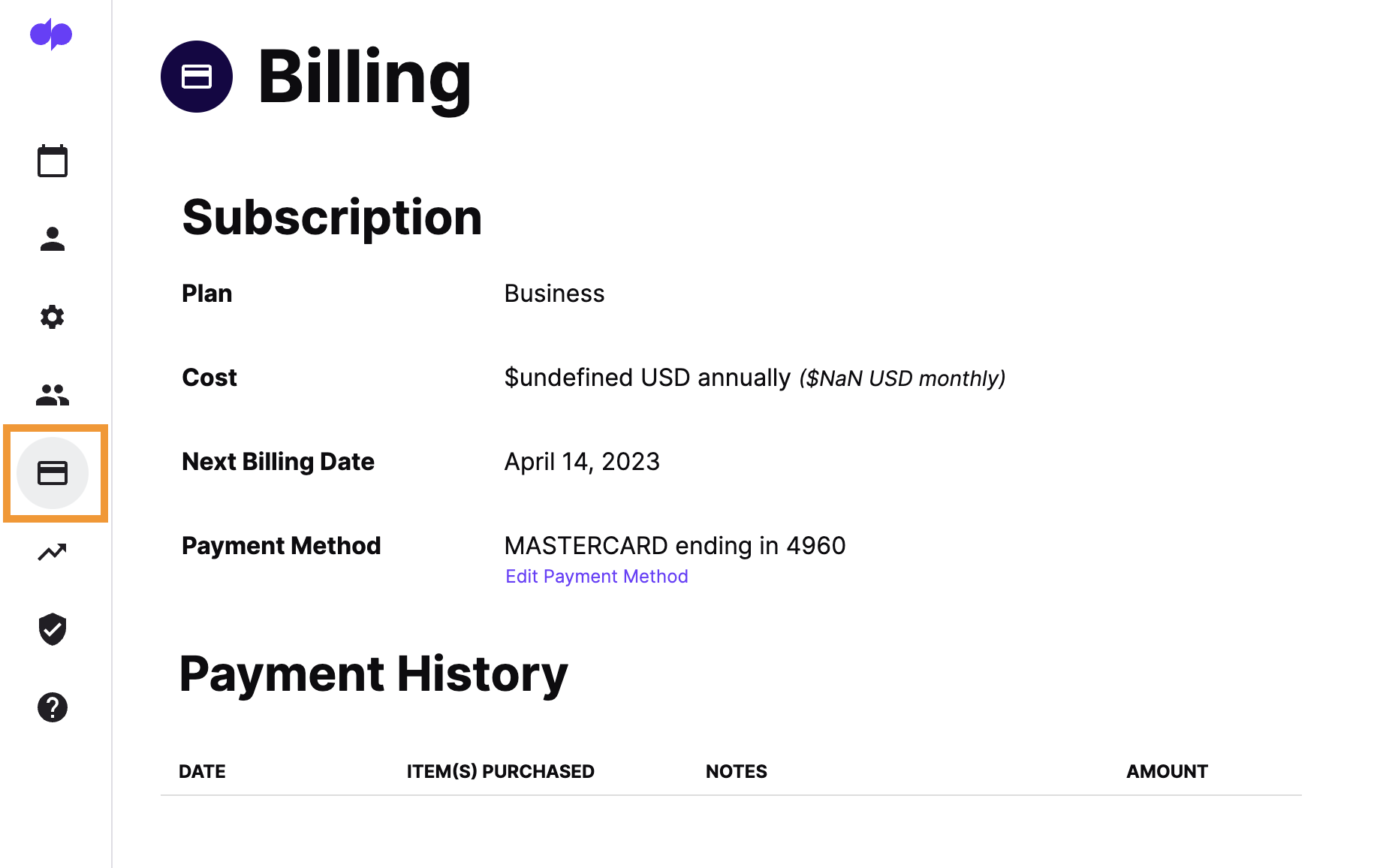 Note:
Accounts managed through Dialpad rather than Dialpad Meetings will not display any Billing or Subscription info in this section; instead, you'll see a notice that states
"Your teams' billing is managed out of Dialpad. To make changes to your teams' billing details, please login to your Dialpad account."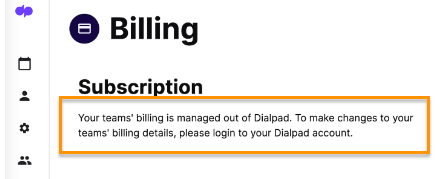 Update payment method
Need to update your payment method? No problem, Dialpad Meetings allows the payment method to change at any time.
Select Edit Payment Method
Enter your credit card number, the cardholder's name, the expiration date, the CVV, and zip code (or declare this is a non-U.S. card)
Select Update Payment Method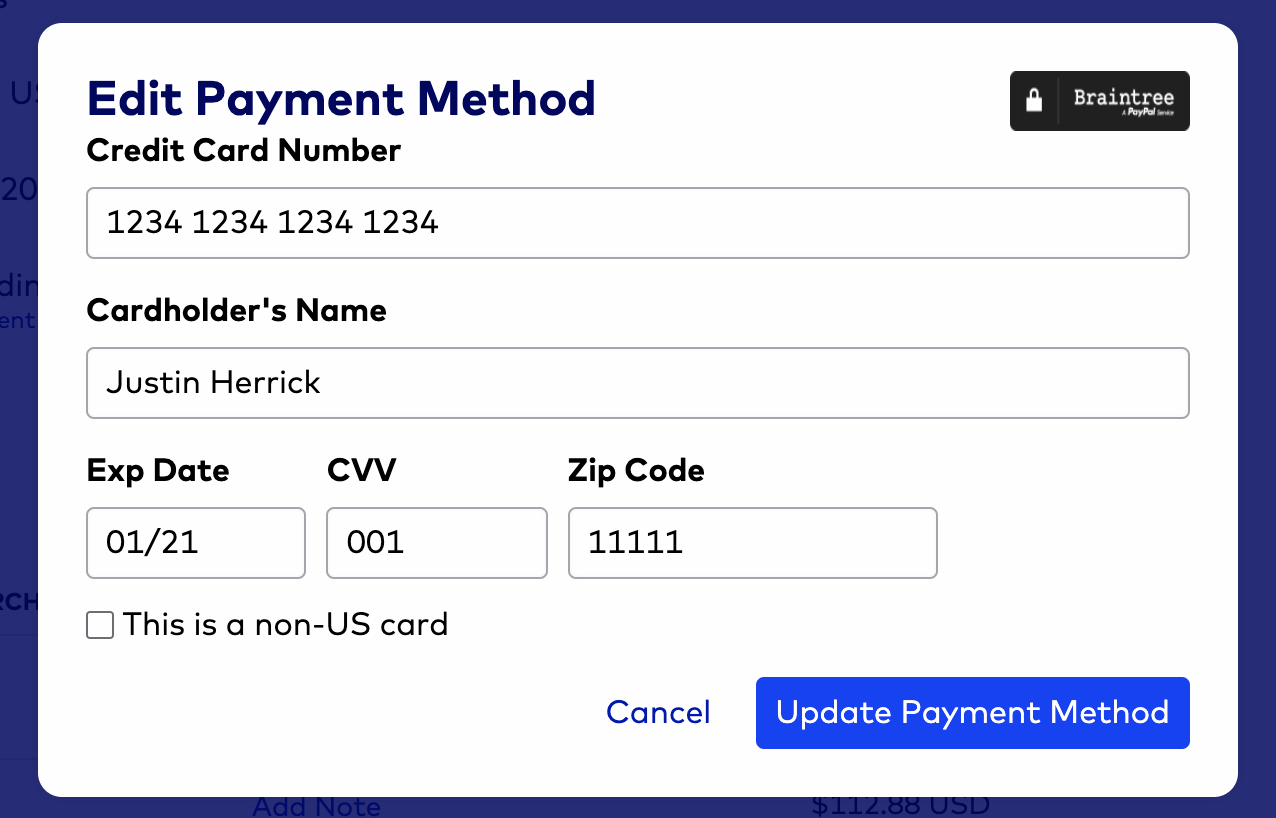 * Payment by check is only possible for Dialpad Meetings Users on a contract plan.
View payment history (Receipts)
View receipts in the Payment History section. It organizes all transactions with the date, item(s) purchased, and total amount.
Select a date in the Payment History section to open its receipt. You'll see a description that includes the Dialpad Meetings lines as well as any taxes and fees applied.
You can also print this receipt by selecting Print at the top left of the document.
Add notes to payment history
You can add a note to your receipts by selecting Add Note in Payment History. Notes will then appear at the bottom of your invoices.
Upgrade to a Business Account
Dialpad Meetings is built to serve all your conference-related needs. You'll get the basics with a Dialpad Meetings Free account, but upgrading to Dialpad Meetings Business unlocks premium features including co-hosts, custom action items, and Diapad Ai.
To upgrade your free account, head to your Dialpad Meetings dashboard.
Right underneath where your meeting info is, click Upgrade now!
Dialpad Meetings will open a billing page where you'll enter the number of licenses necessary as well as a payment method.
When you're finished, select Preview Purchase to review. You'll then get to complete the purchase and successfully upgrade to Dialpad Meetings Business.
Switch to annual plan
Want to save money? Upgrade to an annual plan!
If you are currently on monthly billing and would like to switch to annual billing, you will need to reach out to our Support Team. Once our team switches your account to yearly billing, you will be charged for 12 months of service on your next bill date.
For example, if you are currently being billed on the 1st of each month, and you reach out to support on January 20th, on February 1st you will be charged for 12 months of service and your new billing cycle will be February - February.
Just like monthly billing, annual billing is recurring and you will be automatically charged on your next bill date for another year of service. As a courtesy, Dialpad Meetings will send an email to the primary email address on file, 30 days prior to the renewal date as a reminder.
Charges to call Dialpad Meetings
Dialpad Meetings doesn't charge Participants to connect to a local Dialpad Meetings number.
Depending on the Participants' phone carrier plans, however, their providers may charge them for a long-distance call.
If Participants are located internationally and want to dial into your meeting, they should use one of our international access numbers to avoid long-distance charges.
Note:
Please note international access numbers are not available for Dialpad Meetings Free account holders.
For more information on applicable charges, please have participants contact their respective carriers. Learn more about using international access numbers.
---
Was this article helpful?
---
---
What's Next