Call Blocking & Spam Prevention
31 May 2023

1 Minute to read
Call Blocking & Spam Prevention
Updated on 31 May 2023

1 Minute to read
---
Share feedback
Thanks for sharing your feedback!
Dialpad Meetings uses both an automatic spam blocking system, which applies to any call entering the platform, and user-level settings that provide more granular control over how calls to your Dialpad Meetings room are handled.
Let's take a look at call blocking and spam prevention in Dialpad Meetings.
Automatic Spam Blocking
Dialpad Meetings relies on the spam score tied to inbound calls to determine whether or not to allow them to reach a meeting. Inbound calls with a spam score of 100 (the highest possible) are automatically blocked from reaching users in Dialpad Meetings.
Reliable third-party sources feed information back to Dialpad Meetings on each inbound call, declaring the spam score.
Custom Spam Blocking
Users can control what occurs when a 'spammy' call reaches their Dialpad Meetings meeting. Decide which types of callers are considered spam and how they're handled.
From meetings.dialpad.com, navigate to Settings then scroll down to Call Blocking and Spam Prevention.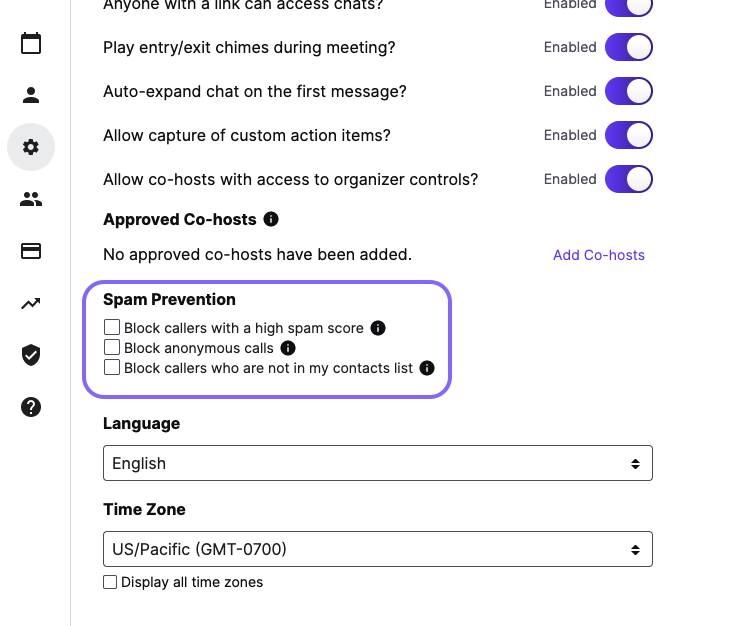 Choose whether or not to prevent calls from anonymous callers, callers already not in your Contacts list, and callers with a high spam score by checking off their respective boxes.
You can block individual contacts from the Contacts section on your account page. Search for an existing contact and click on Block at the bottom of the page. You can also edit blocked contacts from your Contacts page.
Accounts blocked on your Dialpad account will also be automatically blocked on Dialpad Meetings.
---
Was this article helpful?
---
What's Next