Assigned as a Call Center Supervisor? Learn more about your Call Center's features and how to use coaching features like Listen or Barge In from either your softphone or mobile apps.
Call Center Inbox
If you've been assigned as an Operator or Agent on another line, then the Call Center Inbox should look pretty familiar to you.
Note: If your admin has enabled Voice Intelligence you will see call sentiment displayed in real time. e.g. Negative, Neutral, Positive, or Manager Attention.
Desktop App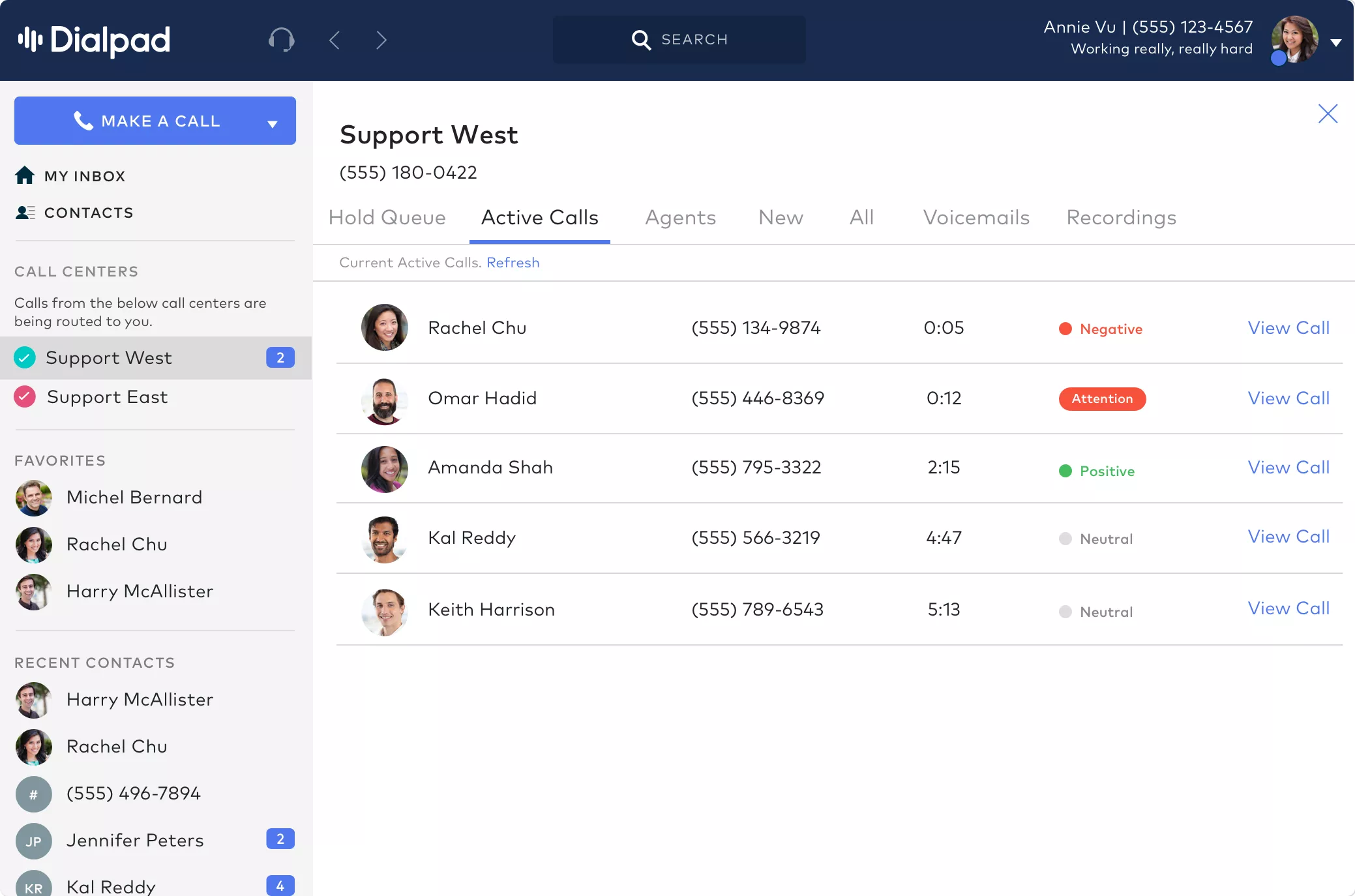 Mobile App
Similarly to other shared lines, Supervisors will find the following under their Call Center Inbox:
Hold Queue
Active Calls
Agents
New Notifications
All Notifications
Voicemails
Recordings
Assigned as a Supervisor or Admin to more than one Call Center? No problem!
Supervisors and Admins can easily view the Hold Queue and Active Calls for all of their call centers by clicking on the Monitor option in their app.
Let's take a closer look at the specific areas most important to Supervisors, starting with listening into active Agent calls.
Listen In
Whether you're coaching an Agent through a new call or simply running some QA checks, Supervisors can listen into any active Call Center calls.
Just navigate to Active Calls and select Listen In to ring out to the active call.
Desktop App
Mobile App
From this screen, you'll have the option to Record, Hold, or Hangup the call. You'll also have the option to Barge In/Take Over the call.
Keep in mind that if you select either Hold or Hangup, those actions will affect your portion of the call (so not your Agent or the customer).
Barge In/Take Over
Maybe a call you've been listening in on needs a little extra TLC. With Barge In, Supervisors are able to join existing active Agents calls to offer help or assistance.
And if needed, Supervisors can take over control of the call completely. Just hit Take Over to accept the call on your line, dropping your current Agent.
Desktop App
Mobile App
Monitor Your Agents
Easily manage Agents from one central location. Check out what your agents are currently doing in your call center in the Agents tab of your Call Center inbox.
The following agent status' will appear depending on your agent's availability:
On a Call: Will appear when your agents are currently on an inbound or outbound call. Please note, for "On a Call" to appear when an agent places an outbound call they need to be "available" or "on-duty". If an agent is "Off Duty" when they place the outbound call, their status will not change.
Idle/Available: Will appear when your agents are currently available to receive a call
Off Duty: Will appear when your agents have set themselves to Off Duty
Off Duty [Do Not Disturb]: Will appear when your agents have set themselves to DND.
Wrap Up: If your Call Center admin has enabled the Post Wrap-Up time, "Wrap-Up" will appear when your agents have completed a call and are in their post-call wrap-up.
Set Agents to Available/Unavailable
Supervisors not only are able to get a rundown of all their Agents but quickly toggle Agents to available or unavailable for individual call centers.
Desktop App
Mobile App
Have more questions about Call Centers? Check out FAQ.