Chrome CTI Extension - Early Adopter Program
19 Sep 2023

4 Minutes to read
Chrome CTI Extension - Early Adopter Program
Updated on 19 Sep 2023

4 Minutes to read
---
Share feedback
Thanks for sharing your feedback!
Our newest Chrome extension allows you to access Dialpad for answering & placing calls, sending & receiving messages, managing Contact Center availability/statuses (and more!) while remaining active in the products and services you use every day.
This lets Agents access a mini version of Dialpad while they are on specific websites, (like Salesforce or Hubspot) — eliminating the need to navigate between different apps and windows.
Let's dive into the details of the CTI Chrome Extension.
This feature is currently a part of our Early Adopter Program (EAP) and is not yet available to all Users.
Download CTI Chrome Extension
First things first, you'll need to download the CTI Chrome Extension from the Chrome Web Store.
This extension is available for Chrome 88 and above.
Once you've downloaded the extension:
Click on the Puzzle Icon (Extensions) on the top right

Click on Dialpad CTI Extension

Log-in

Make sure you are on a Google website/domain* and refresh your browser tab

Click on Dialpad CTI Extension again and 'Launch CTI'
Compatibility
Out of the box, the Chrome-CTI extension is compatible with the following websites:
https://*.zendesk.com

https://*.kustomerapp.com

https://*.zoho.in

https://*.zoho.com

https://*.zoho.eu

https://*.zoho.com.au

https://*.zoho.com.cn

https://*.app.hubspot.com

https://*.app.copper.com

https://*.dynamics.com

https://drive.google.com

https://docs.google.com

https://mail.google.com
Note:
For websites that are not included with the package (your own company page or preferred website/email/system) you'll need to add the domains to your Dialpad Settings first. Refer to the next section for more information.
Configure for your company
To use the CTI Chrome Extension with any other websites or domains other than the ones listed previously, they must be configured by your Dialpad Company Admin or Super Admin. These Admins can also enable/disable the extension, uncheck default domains, and determine which websites their users will be allowed to use the CTI with.
If you are not a Company Admin or Super Admin, please contact your Company Admin or your Dialpad Representative to enable such permissions for one of your Users.
If you are a Company Admin, configure the Chrome extension from your Admin Settings at Dialpad.com.
Select My Company

Navigate to

Integrations

Navigate to

Dialpad Chrome CTI

Select

Options

Select

Configure


Select

Enable

In the Domain and Service Name fields, enter the URL and Service Name (any name to identify the domain, no spaces or special characters) of the website you want to allow the extension to be used on by your agents/users and click

Add URL

.

Please allow up to 6 hours for the settings to take effect for your company and users.

If you are customizing a specific website for a domain that's also added as a default domain, we suggest that you tick the box to remove the default domain. Default domain settings can override the customized one if less specific.

You can enter as many URLs or domains as you like, as long as each one has a different service name. The service name will be used to identify your setting, so make sure it's plain text, no spaces, and is descriptive of the URL or domain that it was added.

Select Save
Customize for your office
Once enabled on a Company-level, you can choose to have individual offices inherit the company presets, or customize it.
By default, offices will inherit the company-wide parameters.
To customize the Chrome CTI Extension settings for your office, head to your Admin Settings from Dailpad.com
Navigate to Office Settings
Select Integrations

Navigate to

Dialpad Chrome CTI

Select

Options

Select

Configure
Select Customize for this office

Select the desired preferences
Select Save
Use the CTI Chrome Extension
Once the CTI Chrome Extension has been installed, when you click the extension icon for the first time, you will be prompted to login. If you are in one of the domains listed above, such as Gmail or Drive, or as long as your Company/Office Dialpad Admin has enabled the extension for your Company/Office, you'll be able to login with your Dialpad credentials and start using the CTI.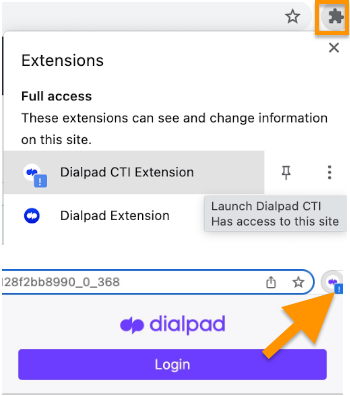 Once logged in, open the extension by clicking the extension's icon in the Chrome menu bar.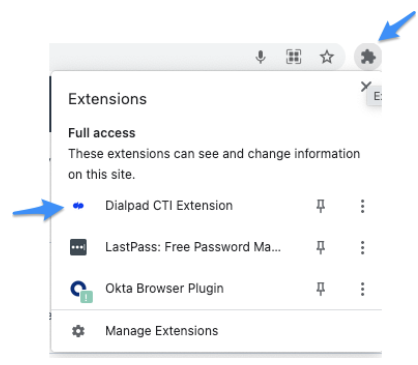 Next, click Launch CTI.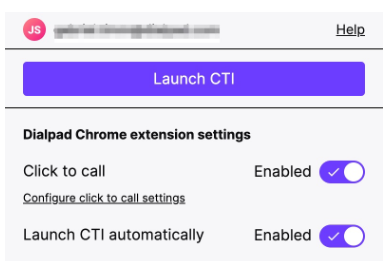 From there, the extension will pop up whenever you're on a page or website that your Admin configured for your Company/Office. If you close the CTI, or when you come in the next day, just follow the two steps above to get the extension to pop up again.
Use Click-to-Call and SMS
The best thing about this integration? Being able to Click-to-call and click-to-sms, allowing you to configure a Dialpad application to place the calls or send the SMS via extension Options in the extension menu.
To set it up, click the extension menu (that's the puzzle piece)
Click the 3 dot menu beside Dialpad

Select Options

Select your preferred Dialpad device

Note:
Each time you change a device setting, you'll need or refresh your browser tab.
Once enabled, phone numbers will be highlighted and you are able to click-to-call or click-to-message.
Click-to-call by left-clicking on the number
Click-to-message by right-clicking the number and selecting message this number
More information on click-to-call can be found here.
Frequently asked questions
How do wildcards work?
Wild cards can be used as replacements for domain prefixes such as app.hubspot.com.
By inserting a *. (for example, *.hubspot.com) the CTI Extension will be granted permissions for the entire hubspot.com domain.
Wildcards at the end of the domain will not work though (for example regionalized domains such as zoho.au, zoho.com). For these, please add each domain individually.
What is a Service Name?
Service Names are used to identify your individual domains. This allows the CTI to keep multiple instances active on different pages in the same browser session. Because of this duplicated Service Names are not allowed. Please make sure your Service Name is a simple identifier with no spaces or special characters.
How do I sign up for the Early Adopter Program?
If you'd like to join this EAP, please reach out to your Customer Success Manager.
I still can't get my CTI Extension to work. Who should I reach out to for help?
Please email [email protected] — our API team will be happy to look into it!
---
Was this article helpful?
---
---
What's Next