Dialpad Ai in Spanish
11 Oct 2023

3 Minutes to read
Dialpad Ai in Spanish
Updated on 11 Oct 2023

3 Minutes to read
---
Share feedback
Thanks for sharing your feedback!
Here at Dialpad, we know and appreciate that business communication takes place in thousands of different languages across the globe. Dialpad's incredible Ai is available in Spanish and English, allowing our Spanish to reap the benefits of transcription and access the power of our Real-Time Assist cards and Custom Moments.
Let's dive into the details of how Dialpad's Spanish Ai works.
Who can use this feature
Dialpad Ai in Spanish is currently available for offices in the United States, Canada, Australia, New Zealand, Mexico, Puerto Rico, and Spain.
*Spanish Ai is not yet available for Dialpad Meetings
Enable Spanish Ai
Before you can enable Spanish Ai, you'll need to turn on Ai for your company and/or department.
To turn on Ai at the company (and office) level, follow the directions in this article.
To turn on Ai at the department and contact center level, follow the directions in this article.
To change your contact center or department's Ai language to Spanish:
Navigate to your Admin Settings at Dialpad.com

Navigate to the contact center or department you'd like to enable Spanish Ai

Click the IVR, Voicemail, and Ai Language drop-down menu

Select

Spanish (either USA, Mexico or Spain)

Click

Save
After changing the language to Spanish, all calls with Ai enabled will be transcribed in Spanish.
You can also change your Ai language to Spanish in your settings.
To enable Spanish Ai on a user level:
Navigate to Your Settings from Dialpad.com
Select Show advanced options
Navigate to IVR, Voicemail, and Ai Language
Click the drop-down menu and select Spanish
Changing your personal language settings only changes the language of the app.
View Spanish transcripts
Dialpad's offers several ways for you to view Spanish transcripts.
During a call: In an active call, click the Ai button and your real-time transcript will appear.

Live Call Inbox: Contact center and department admins and supervisors can view call transcripts in real-time from their Live Call Inbox.

Click

View Call to open the live transcript.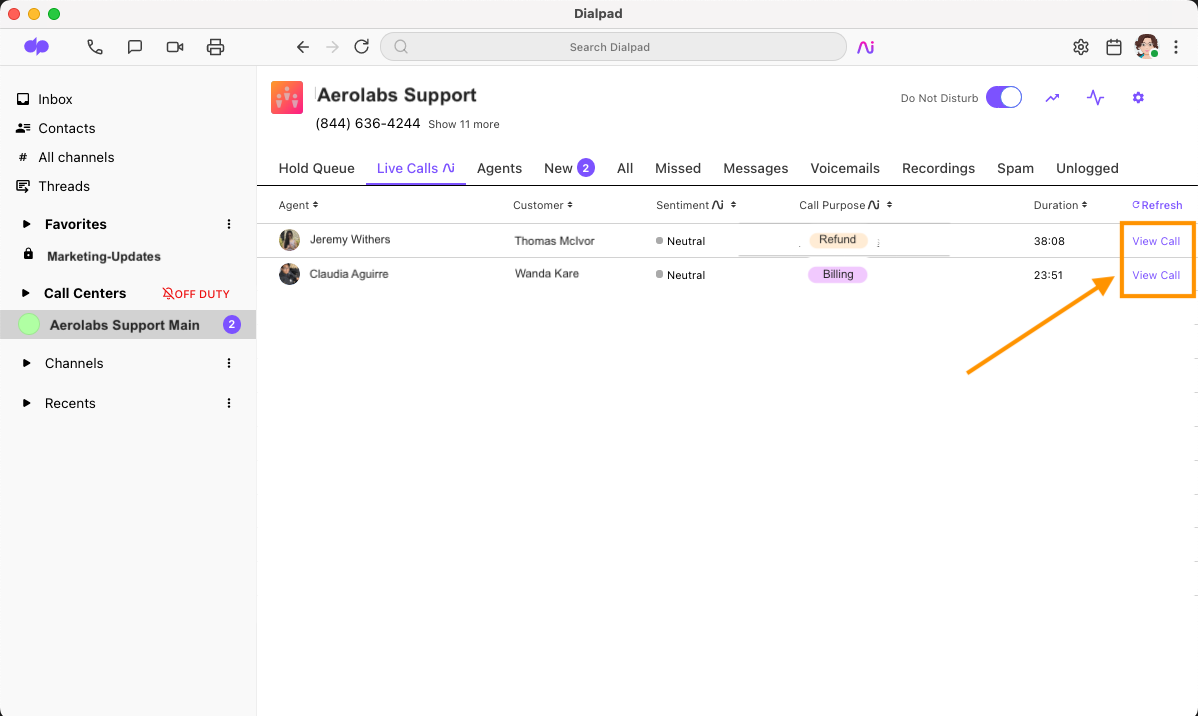 Web Call History:

Web Call History

allows you to review the entire transcript of the conversation and listen to the audio recording.

Contact: Contact-specific history is available on the desktop and web app. Navigate to a contact and click the dropdown labeled 'Transcript'

to preview a transcript.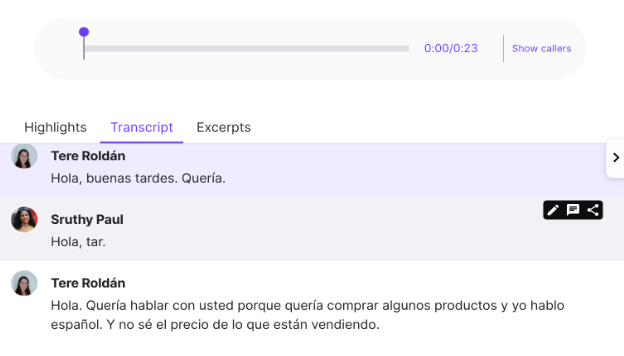 Click View Full Transcript or View Call Details to open a new browser with the full call details and transcript.
Spanish Ai features
Dialpad's Spanish Ai features include:
Live and Post-Call Transcripts

Listen-in

Share, comment, and download transcripts

Transcript commenting & download

Transcript rating & editing

Transcript search by keyword in call history, call review & analytics

Manual action items

Audio recording
Frequently asked questions
Are there any Ai features that are not available in Spanish?
Yes, there are a few things that we are still working on, and will be launching soon.
Speech Coaching

Toggle language transcript live in the call

Company Dictionary
Why didn't my search return any/correct results?
Only exact matches will be returned when searching transcript keywords in Call Review, Analytics, or Call History — this means accents are required.
If you search for a keyword that exists in both Spanish and English, you may get transcript results in both languages.
How can I submit entries to my company dictionary?
The in-product company dictionary feature is not yet available. Stay tuned though, it is coming!
Can personal calls be transcribed?
Yes, Spanish Ai can transcribe all Dialpad calls made through a shared line or personal line provided the IVR, Voicemail, and Ai language is set to Spanish. It is not yet available for Dialpad Meetings.
What level of accuracy can I expect?
Currently, the accuracy of Spanish Ai is around 70%, but rest assured this will continue to improve as we gather more Spanish call data.
How will my data be used?
Your data will be collected and processed to improve our services in accordance with Dialpad's Terms of Service. For more information on data processing as it relates to Ai, check out our Legal Guide.
When will more features be available?
We are working around the clock to improve our Spanish Ai. Over the next several quarters we will have many new features ready for you to use.
Do I need to change my personal language settings?
No, you only need to change the 'IVR, Voicemail, and Ai' language settings in order to access Spanish transcriptions. Changing your personal language settings only changes the language of the app.
Can I use English Ai at the same time as Spanish Ai?
No. Contact centers and departments with their language settings set to "English" who are in supported countries will get their calls transcribed in English.
What happens if I take a call in English to a Spanish Ai contact center?
Our models will then attempt to transcribe the call in Spanish, resulting in a nonsensical transcript. Recorded audio will not be affected.
Can I use Spanish Ai with Dialpad Meetings?
Not yet, but we are working on it!
---
Was this article helpful?
---
---
What's Next